SNL: Chance The Rapper Brings Back Lazlo Holmes
SNL: Chance The Rapper Brings Back Lazlo Holmes
Chance the Rapper killed on Saturday Night Live, but not without a slew of celebrity friends to cameo alongside.
The episode opened with the classic go-to for the past four years: Alec Baldwin as Donald Trump. This time around, Trump held a rally in honour of himself. But not without the help of Mark Zuckerberg, Bill Clinton (a Darrell Hammond cameo) and Recep Tayyip Erdoğan (a Fred Armisen cameo).
These Baldwin-Trump sketches are really coming back around to being funny and relevant again. After a season and a half of luke-warm political cold opens, season 45 seems to have re-found its footing. And the SNL alumni cameos never hurt, either!
Chance the Rapper gave his best monologue, rapping about all second-best things. This was in honour of his hometown, the second city Chicago Illinois. Kyle Mooney helped too, because when you have a cool guy doing an awesome rap, have the least cool guy around trying to rap beside him for hilarity.
And while they're a rarity from the main cast, a recurring character was brought back by Chance. Chance the Rapper's first SNL appearance featured Lazlo Holmes, a reporter who had no clue what hockey was all about but had to interview hockey players anyway. This time, Lazlo was caught up in the already-confusing world of e-sports.
It's neat to see some recurring characters these days, even if they are only being given to the hosts. It's not like the 1990s, where every episode had a Mango, or a Bill Brasky, or an Operaman. These days, it's only a few a season – a near perfect amount!
Joining Darrell Hammond and Fred Armisen in the cameo pool was Jason Momoa for some reason. If he showed up purely to be as outrageous as he could, well then he succeeded: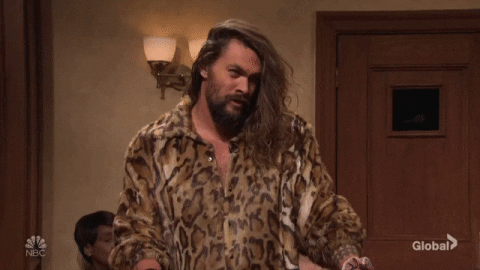 A notable episode indeed. Chance was hilarious – and he broke a few times, which is always fun. Plenty of celebrity cameos, from old cast members to big-time superheroes. And Michael Che made a pretty tone-deaf joke at Caitlyn Jenner's expense that he's sure to get into trouble for.
Tune in next week November 2 at 11.30 et/8.30 pt for host Kristen Stewart and musical guest Coldplay!
Catch Saturday Night Live airing Saturdays at 11.30 et/8.30 pt on Global, and watch the latest episodes online here on GlobalTV.com/Saturday-Night-Live!