Saturday Night Live: Chance the Rapper calls out Batman
Saturday Night Live: Chance the Rapper calls out Batman
Chance the Rapper hosted Saturday Night Live this weekend, with Eminem performing as the musical guest.
In a sketch featuring Bruce Wayne heading up a large-scale charitable food donation,  Chance the Rapper plays a kid who calls out the violence and over reaction that Batman displays against small-time rule breakers.

It's opening weekend for the film Justice League, so it's safe to say this sketch is appropriately timed from that angle. But a closer look shows much more than a typical superhero spoof. The sketch points out the idealogical flaws of the super powered vigilante, and how that concept, when explored, is potentially more damaging than good, on the petty crime level. Batman dishes out violent punishment for low level burglaries and delinquencies. The commentary being cleverly made here shows the flaw in a system that glorifies corporal punishment and severe incarceration over rehabilitation, and how that specifically and negatively affects lower income neighbourhoods in urban areas – a commentary that can be applied to western society at large. It's a thinker – leave it to Saturday Night Live to layer in important social commentary in a sketch about Batman.
Perhaps in what might be the continuation of a great new Thanksgiving tradition (following last year's Thanksgiving Song in Kristen Wiig's monologue), Chance the Rapper spent his monologue singing a brand new, original Thanksgiving anthem about those people in your family that you are obliged to invite. He sang, he danced, he… didn't rap. But it was a toe-tapper, and hopefully it catches on.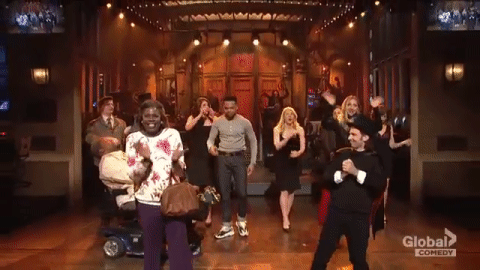 And in another hopefully-new-tradition-song, Chance the Rapper and Keenan Thompson teamed up again this year to honour the former President Barack Obama. In the same spirit of their "Jingle Barack" from last year (in that they used an out-of-date R&B sound), Chance, Keenan and newcomer Chris Redd sing "Come Back Barack" in hopes to woo Obama back into the presidency.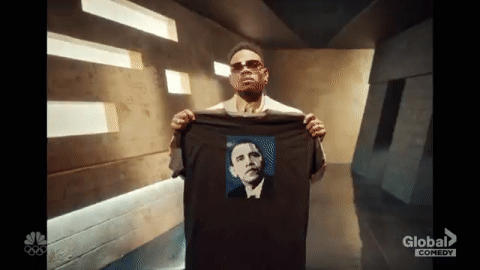 Eminem's set was a huge treat for any fan of his:  he did his new single, "Walk on Water" which led into "Stan" which in turn led into "Love the Way You Lie," with Skylar Grey accompanying him. These two had a good flow going – in all sincerity, this performance is one of the best in Saturday Night Live history.
And over at Weekend Update, Colin Jost and Michael Che had at what everyone's been on about this week. With Roy Moore making headlines for his abundant counts of inappropriate sexual behaviour, and former SNL writer Al Franken called out for his inappropriate actions, there was a lot to be said by the Weekend Update anchors on the issue. As always, Jost and Che serve up some top tier reporting/roasting.

Chance the Rapper was a truly special host to have – he was funny and charming, and you could just tell that the rest of the cast adores him.
Saturday Night Live returns live December 2 with host Saoirse Ronan and musical guest U2. Be sure to catch Saturday Night Live airing Saturdays at 11.30 et/pt on Global, and watch the latest episodes online here on GlobalTV.com!