Big Brother 20's Sam Bledsoe Compliments Kaycee's Game, Slams Angela's
Big Brother 20's Sam Bledsoe Compliments Kaycee's Game, Slams Angela's
By John Powell – GlobalTV.com
The MacGyver of Big Brother 20 is off to the jury house. Sam Bledsoe, the welder from Virginia, became the seventh member of the jury on last night's special eviction episode.
Known for cobbling together bits and bobs to make all manner of contraptions in the house, Sam is especially proud of her toilet tub.
"I would have to say my greatest invention to date is the Toilet Tub (copyright). Our bathroom inside the Big Brother house had no lock so I tied together a string of loops to the interior door handle for a sense of security. My art outside of the house had been stolen from me by my constant chasing of the almighty dollar. This experience gave it back to me," a grateful Sam told Global.
When Sam entered the house 85 days ago, her game and all of her plans were immediately scattered to the wind. She was forced to switch in and out of the house as a robot. Although she did survive the punishment and managed to revive her social game, Sam is still very secretive about how the whole robot twist worked but it might have opened a whole new career for her.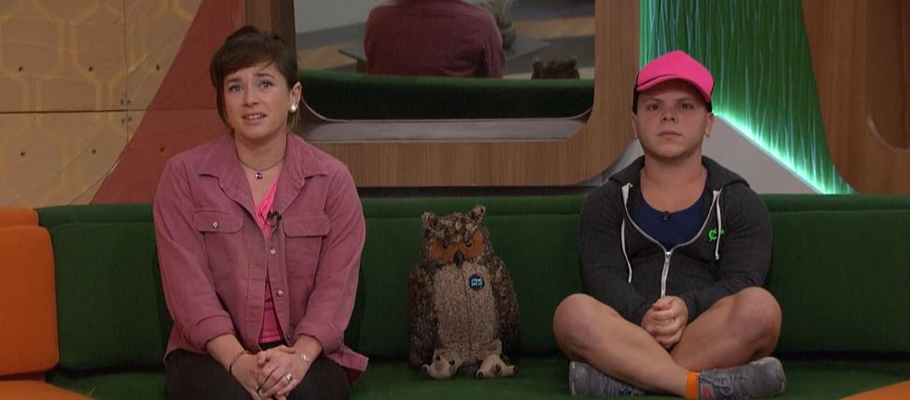 "I plead the Fifth and I have bright future as a radio DJ. Beep. Boop. Beep," she said when asked about what happened behind the scenes.
As HoH (Head of Household) during the fourth week, Sam courted controversy when she nominated Haleigh Broucher and Kaitlyn Herman for eviction.
"I think they (the men of the house) deserve more respect and I think it is the opposite of female empowerment and I think you both should respect yourselves more," said Sam in her nomination speech which focused on both women flirting with the men.
Sam isn't offering any apologies for her assessment of their behaviour or their games at the time.
"I think that Haleigh and Kaitlyn were attempting to duplicate strategies they had seen as successful in previous seasons. I was unaware that being on this show gave you a free pass to act a fool. I see them now as young women experimenting and at the beginning of finding themselves. I can't fault them for that," she said.
Stating that her strategy from the very start was to just be "one hundred percent honest" and to "appreciate every minute" in the house, Sam has a very clear idea of who is the playing the best and who is playing the worst of the final four.
"I think Kaycee [Clark] is playing the best game so far because she is maintaining a high energy, submissive position. I think Angela [Rummans] is playing the worst because she has been lulled into a false sense of security," said Sam.
Big Brother airs Sundays and Wednesdays at 8 et/pt and Thursdays at 9 et/pt on Global. Watch Big Brother online the day after broadcast on GlobalTV.com/BigBrother or on the free Global Go app for iOS and Android.
CATCH UP NOW: Big Brother Full Episodes – Season 20