Rockstar: I was right about Brett
Rockstar: I was right about Brett
By John Powell – GlobalTV.com
Now that she is out of the Big Brother house and part of the jury, Angie "Rockstar" Lantry isn't mincing her words when it comes to her former houseguests.
In the house, Rockstar had a love/hate relationship with Brett. After he threw her under the bus weeks ago claiming she was going to turn on her alliance and flip the vote, the two became bitter enemies to the point that Rockstar tormented him by shadowing him and clanging pots and pans. Since then, they buried the hatchet. Brett's harsh goodbye message to her though really opened her eyes about what Brett really thought about her.
"I was giving myself a little wrist smack for maybe judging him too harshly and maybe thinking I had learned a life lesson about people, however, after the goodbye message I realize that my initial thought was true and that I am a good judge of character," she said of Brett.
Even though she is not impressed with Brett, the person, she is with Brett, the player.
John Powell: Who do you think is playing the best and worst games and why?
Angie "Rockstar" Lantry: "Best game is probably Brett because he has manipulated himself week after week through the game without winning anything. The worst? I really don't think Kaycee is playing a good game. She is paying a very passive, floater game."
 
John Powell: Why is it that your side of the house is constantly blindsided when it comes to the final vote? Who do you blame for that?
Angie "Rockstar" Lantry: "Whoever is flipping votes, I guess!"
John Powell: You made no bones about how you feel about Angela. Is it her personality, her gameplay, what irritates you so much about her?
Angie "Rockstar" Lantry: "Both. It is actually possible to be very pretty, cool and not stuck up. Her gameplay is a floater strategy and that got on my nerves."
 
John Powell: We saw you debate things back and forth inside the house and sometimes it really tore you up inside. Would you have rather gone out pre-jury and returned home to your children or are you content to head to the jury house?
Angie "Rockstar" Lantry: "Don't get me twisted – I love my kids but I think it is really cool as a fan to be a part of the whole process and get to be a part of deciding who the winner is and who played the best game."
John Powell: As a member of the jury what characteristics in a player are most important to you?
Angie "Rockstar" Lantry: "I value strategic gameplay above everything else."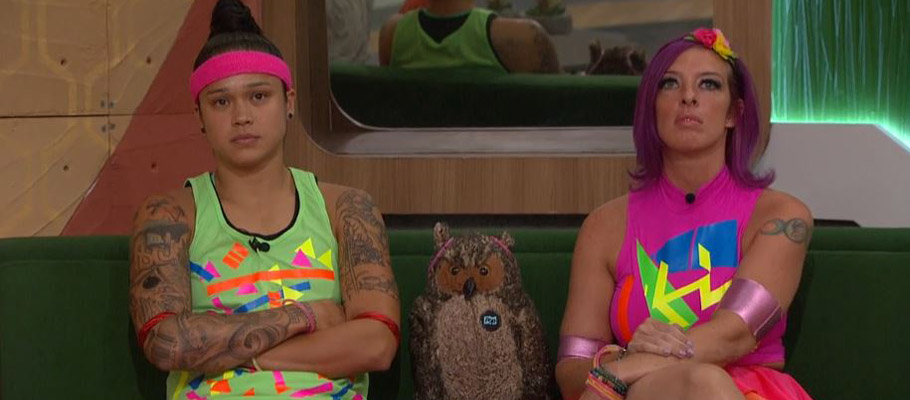 John Powell: Do you regret giving Tyler the answer in the Veto Competition and why did you do that?
Angie "Rockstar" Lantry: "Of course I regret that. I was doubting myself and was overwhelmed. It was less of me giving him the answer and more me checking myself. I should have been surer of myself. The competitions are not as easy as they look."
 
John Powell: Do you feel you were the victim of other people's games like Bayleigh and Haleigh?
Angie "Rockstar" Lantry: "Not ever winning HOH prevents you from playing your best game unless they (the HoH) take your advice and they didn't seem to want to do that throughout my game."
Big Brother airs Sundays and Wednesdays at 8 et/pt and Thursdays at 9 et/pt on Global. Watch Big Brother online the day after broadcast on GlobalTV.com/BigBrother or on the free Global Go app for iOS and Android.
CATCH UP NOW: Big Brother Full Episodes – Season 20