Richard Burgi Talks Joining The Young & The Restless
Richard Burgi Talks Joining The Young & The Restless
Richard Burgi has a healthy resume, including runs as The Sentinel and a Desperate Housewives hubby. But the charming actor actually got his start in soap operas in the late '80s – and after all these years in the business, he's thrilled to be back in daytime and getting into the drama as The Young and the Restless newcomer, Ashland Locke.
While Ashland is certainly a juicy character, "What attracted me to the role was the medium," says Burgi – who got his start on One Life to Live, Another World and As the World Turns in the late '80s, got into trouble as Days of Our Lives' Phillip Collier in the '90s and played serial killing D.A. Paul on General Hospital five years ago. "Y&R came along, and I'd never been on the show and had heard a lot of good things about it and the cast members. And I just love the challenges of daytime."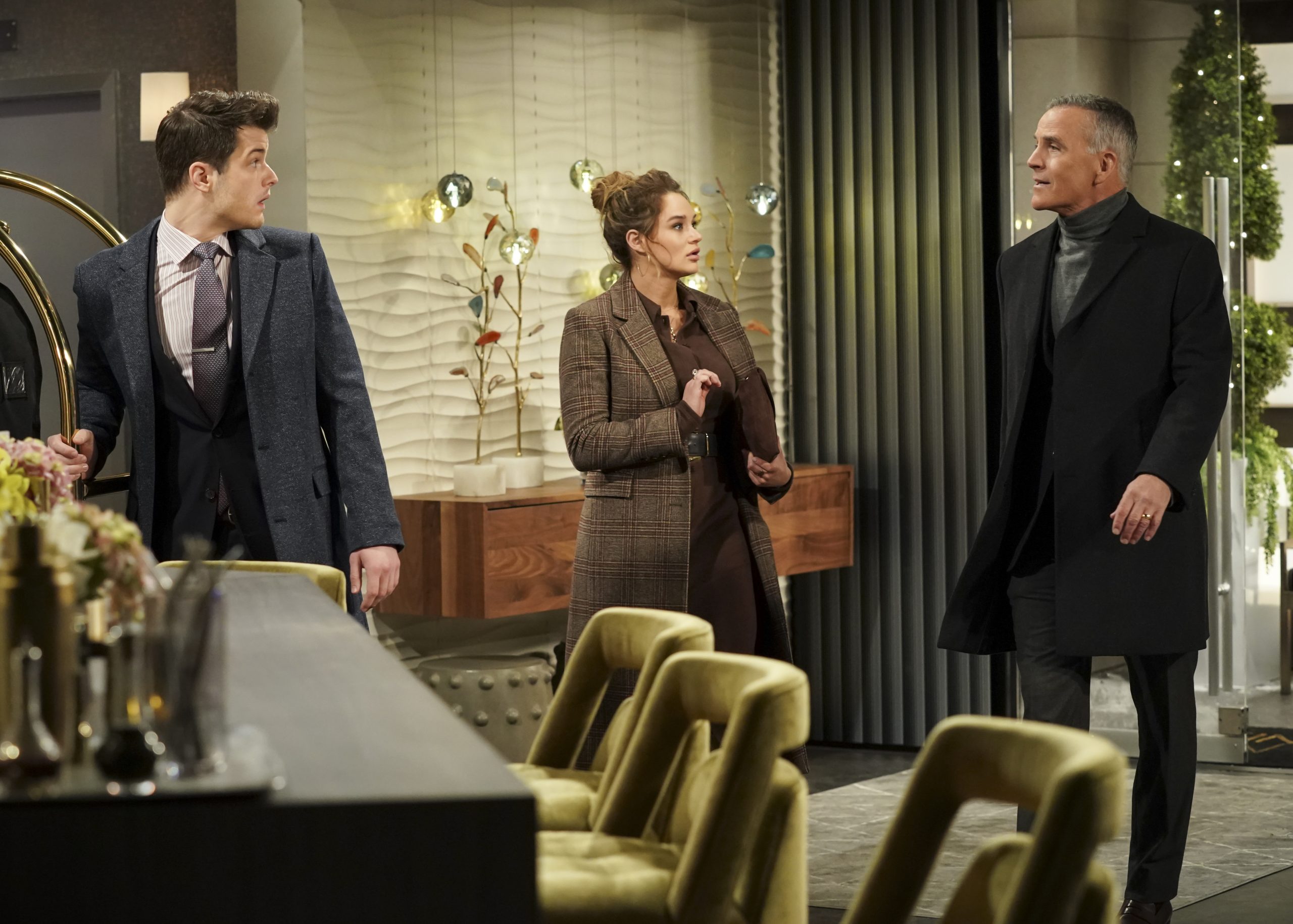 With his character now airing, Burgi says his decision to join the iconic soap has already paid off. "I hate blowing smoke up everybody's kilts… but it's just a great group of people here and I'm so excited to get to work and play with these folks," he grins.
And since Ashland hits Genoa City running, Burgi did too! During his first days at work, the actor immediately got down to business with Michael Mealor (Kyle), Hunter King (Summer), Christel Khalil (Lily), Jason Thompson (Billy) and Mark Grossman (Adam). He was also thrilled to reconnect with Peter Bergman (Jack), but sharing the screen with Eric Braeden (Victor Newman) was a special treat – and not just because Burgi was already a fan of The Mustache's! The Y&R newcomer was tickled when Braeden came to set… and started quoting Burgi's 1994 Seinfeld episode, The Hamptons! Burgi marvels that in spite of Braeden's gravitas, the daytime legend turned out to be "sweet, funny, engaging and self-effacing."
Burgi is still looking forward to crossing with the Y&R legacy players he hasn't yet met. "I was in Doug Davidson's (Paul) dressing room for a week and his room is just full of books – and I'm always curious about a guy who studies chess and life!" he says. "And while I was in Doug's room, I inadvertently opened what I thought was a script for me… but it was a book by Melody Thomas Scott (Nikki). I started reading ["Always Young and Restless: My Life On and Off America's #1 Daytime Drama"] and her story just blew me away. I couldn't put it down! Fortunately, I had a lot of time. I was able to get through half the book and it was riveting. So I would love to work with her.
"I'm really looking forward to meeting more of the old guard, if the chance ever comes around… but I'm also so impressed with the younger guard," Burgi adds. "These younger actors are terrific. I'm really blessed."
Character Matters
Before Burgi's new character ever arrived in Genoa City, Ashland had already been set up as a dangerous businessman who enjoys crushing his competition.
"Like any other businessperson, he probably thinks he walks on water and has the line on how to do things the right way," Burgi concedes. "But he has respect for all of the people he is in negotiations with and considering for possible business deals. Like any athlete sizing up another, you have to trust your game and respect the other… but ultimately have complete faith in your approach before you step on the court."
While his shrewdness should breed exciting story with the Abbotts and Newmans, this new guy has some viewers worried for Kyle – who had an affair with Ashland's wife, Tara, and is the bio-dad to her son! Tara has warned Kyle to stay quiet about the kid's paternity for his own sake, but we all know Kyle!
"Kyle tends to get a little over the tips of the skis and you know, Ashland's an old ski jumper," Burgi warns. "Ashland tends to let those tips stay in front of him until the last minute when he's ready for the hard landing." In other words, young Kyle better watch his form if he's going to compete with Ashland!
All that said, Burgi insists this charming, talented character also has a good side and even maintains he'd be friends with Ashland… sort of. "I spend a lot of time around very questionable personalities and individuals," he winks. "I actually am from New Jersey and I've been in this business over 30 years, so how should we say… not everybody is a stand-up guy! It's that old adage: Keep your friends close and your enemies closer."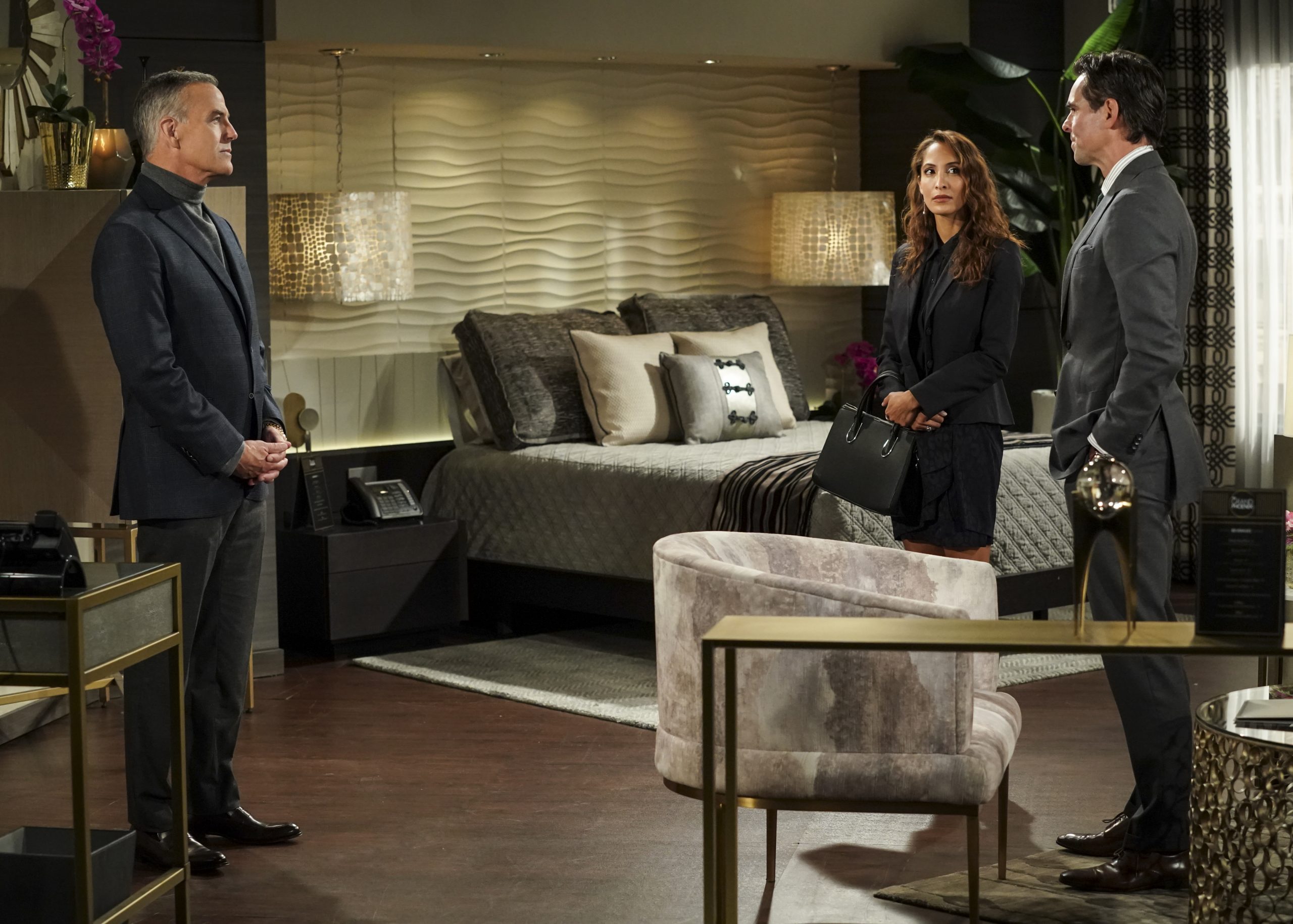 The COVID Affect
Having started his career in daytime decades ago, Burgi has enjoyed coming home a bit older and wiser. "I'm not sure if I'm 'grown up' yet, but I'm getting there," he cracks. "Working in daytime still feels the same, but I'm much more disciplined about my approach. I always took it very seriously, but when you're younger, you are more facile and pliable. Your body recovers faster, so you can have much more fun. Now, I don't stay out that late or beat myself up the night before. And I used to love to goof around on set, back in the old days. I don't do that now.
"So I feel different, but my intention is the same," he continues. "I'm there to support the other actors and to explore these wonderful, weird little moments that come out of this crazy medium – where all of a sudden, you notice something and magic happens! It's really fun when that happens."
With Ashland's time in Genoa City open-ended, the actor has high hopes for his run on Y&R. "I'm looking for some wood to knock on, because it's been a delightful experience and I just keep hoping it stays that way," he concludes. "For however long or short I'm a part of this, it'll be a great time. I will make sure that!"
---
The Young And The Restless can be streamed live and On Demand on the new Global TV App and on STACKTV. Global is also available through all major TV service providers.