Live Feed Spoilers: Veto changes noms, Anthony's exit confirmed
Live Feed Spoilers: Veto changes noms, Anthony's exit confirmed
By: John Powell – GlobalTV.com
Canadian comedian Tom Green has escaped eviction.
Veto winner Kato pulled Tom off the block at the meeting today.
Ryan, this week's Head of Household, nominated Joey in his place.
The final nominations for this week are Kandi, Jonathan and Joey.
Missed the latest episode? Watch Celebrity Big Brother Season 2, Episode 3
Kandi and Tom spoke in the bathroom following the meeting while in one of the bedrooms Tamar was under the covers crying.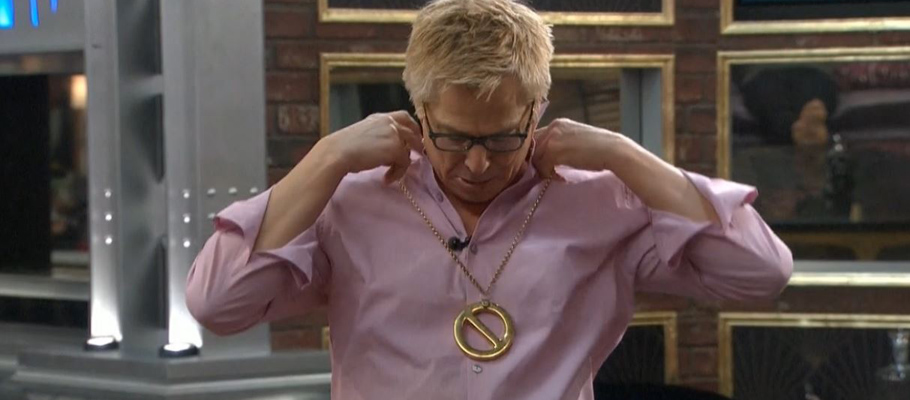 "I think I am going to be the first one out," said a downcast Kandi while she curled her hair on the live feeds.
"I don't think so. I would stay positive," said Tom trying to reassure Kandi of her safety.
"I think my personal issues with Tamar are going to cloud everything. She is making comments and whispering in people's ears," said Kandi.
"It isn't about that. Everyone in here wants to win. They don't care if you are arguing with Tamar or not," clarified Tom saying the general consensus is the houseguests want the most athletic players out first. All Kandi needs to do now is steer the votes to one of the guys.
Tom said Kandi should try to make friends with Tamar.
Related Blog: Live Feed Spoilers – Tamar Tells Tom About Kandi's "Mental Abuse"
"Don't let her drag you into any kind of argument," he said.
Lolo and Natalie Eva Marie chatted about Tamar continually breaking down while they conferred in the storage room.
"Tamar is in her bed crying again. I just cannot do this," said a frustrated Natalie.
The women agreed Tamar is playing with emotion no matter how times she declares she is not.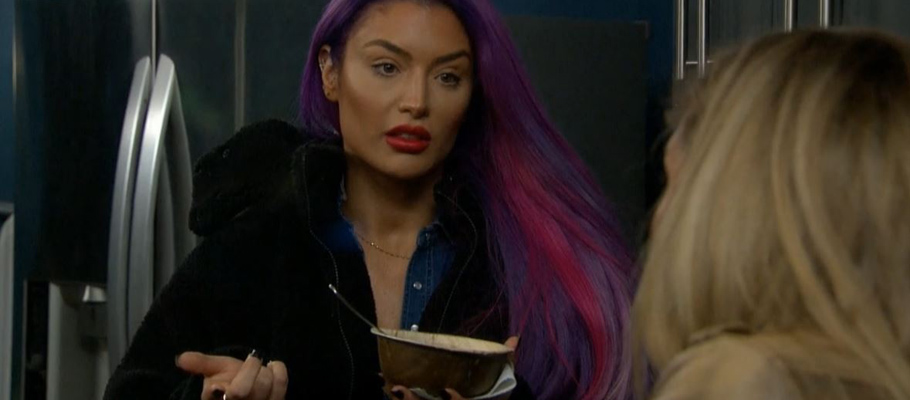 "I cannot keep doing this anymore. I am cold. I am tired. I am sick. I don't have the emotional patience," said Natalie.
"You shouldn't be stressed out when you are completely safe," laughed Lolo.
"I am safe and I feel like a lunatic," joked Natalie.
Ricky entered the storage room. He thought they should just leave Tamar alone for today. Jojo said they should treat her like a sulking child and let her snap out of it herself.
As they touched base in the sitting room, Tom thanked Kato for saving him.
"We can make anything we want to happen. Ryan doesn't know something. Ryan doesn't know about our alliance with two women. You and I can basically decide right now who goes. I just did the math on it," Tom confirmed.
Related Blog: Celebrity Big Brother Season, Episode 3 Recap
"We have to decide who we want to save: Jonathan, Kandi or Joey," Tom continued as they both sat down.
Tom said they should keep Kandi as they can easily beat her in competitions.
Natalie, Lolo and Ricky joined the meeting agreeing that Jonathan has to go home this week.
"Five votes, Jonathan is out of here," confirmed Ricky.
"He said to me do what you have to do to win the game," Kato said about Jonathan.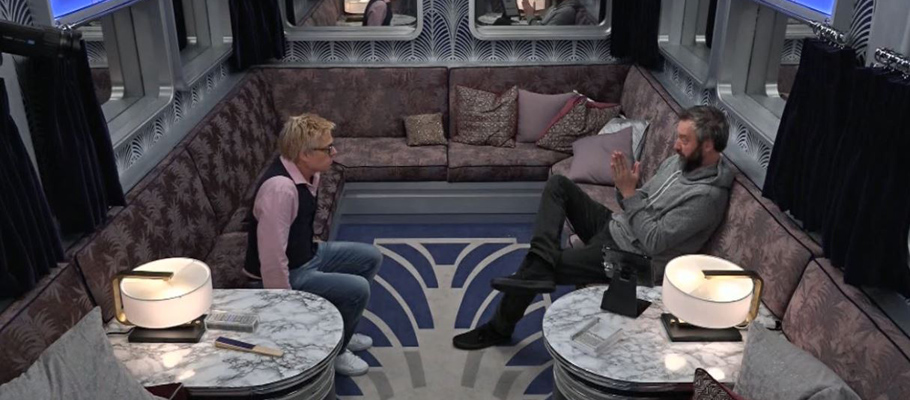 "He gave you permission to vote him out," said Ricky as the chat ended.
Ryan admitted to Joey and Jonathan as they worked out in the gym that he may have made the wrong move putting Joey on the block.
"I think I f—ked up. I don't know if that was a good choice," he confessed thinking it might be a double elimination this week.
Ryan felt like they have been tricked.
"I think we have been too," said Joey.
Jonathan is certain this week is only going to be a single elimination.
"I don't think there are two because here is why: Anthony has already left so now we are down to the normal starting of the show. If they take two out there are only nine people left for the next three weeks," he said.
"That is not enough people," Ryan agreed.
Some houseguests have expressed the idea that Anthony was never a player but a mole put into the game by the producers to stir up trouble. Since the live feeds began Anthony has not been spotted in the Big Brother house. It is not clear why he left the game and the house.
On tonight's episode on Global the Power of Veto will be played.
Here is the full Celebrity Big Brother schedule:
| | |
| --- | --- |
| Wednesday, Jan. 23 | |
| 8:00-9:00 PM, ET/PT | |
| | |
| Friday, Jan. 25 | |
| 8:00-9:00 PM, ET/PT | |
| | |
| Sunday, Jan. 27 | |
| 8:00-9:00 PM, ET/PT | |
| | |
| Monday, Jan. 28 | |
| 8:00-9:00 PM, ET/PT | |
| | |
| Wednesday, Jan. 30 | |
| 8:00-9:00 PM, ET/PT | |
| | |
| Saturday, Feb. 2 | |
| 8:00-9:00 PM, ET/PT | |
| | |
| Monday, Feb. 4 | |
| 9:00-10:00 PM, ET/PT | |
| | |
| Thursday, Feb. 7 | |
| 9:00-10:00 PM, ET/PT | |
| | |
| Friday, Feb. 8 | |
| 8:00-10:00 PM, ET/PT | (2-Hour Episode) |
| | |
| Monday, Feb. 11 | |
| 9:00-10:00 PM, ET/PT | |
| | |
| Wednesday, Feb. 13 | |
| 8:00-10:00 PM, ET/PT | BIG BROTHER: CELEBRITY EDITION Finale |