Big Brother Spoilers: Showmance Partner Wants Out
Big Brother Spoilers: Showmance Partner Wants Out
By John Powell – GlobalTV.com
They've lost that loving feeling and it's gone, really gone. One half of an impulsive showmance wants to hit the eject button.
Jackson has been grousing for days about how ever since Kathryn has been on the block her turbulent gameplay has been one big migraine for him. Last night's argument might have been the very last straw. Jackson and Kathryn got into spat about her being too paranoid when houseguests have expressed to her over and over that she is safe this week and Ovi is the target.
In the storage room, Jackson shared his frustration with Tommy today.
"We might be telling Ovi something to keep him calm and be nice. Have you ever f—–g thought of that?" said Jackson describing the argument with Kathryn.
Jackson said Kathryn needs to learn how to play the game. For one, she doesn't understand that Jackson distancing himself from her lately will take the heat off their showmance.
"If you want me to be buddy-buddy and close with you and hold your hand every day with you in the bathroom you can go ahead and pack your s—t. I will open the door for you and you will leave," said Jackson about Kathryn.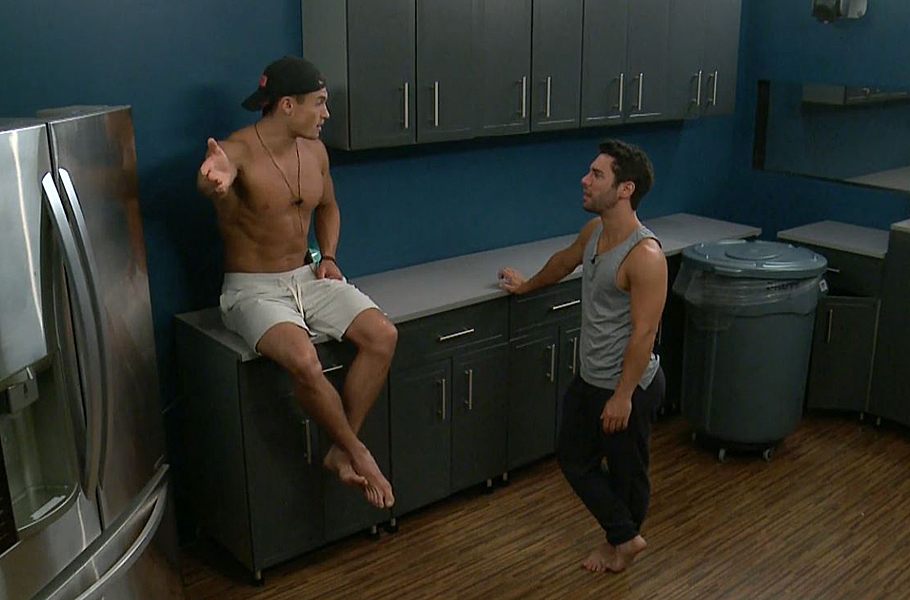 Jackson let Tommy know why he thinks Kathryn is floundering so badly.
"She has never seen the show. She binge-watched it two months ago because she had this opportunity. She doesn't know Big Brother," he said.
"It has been exhausting. I am so sick of it," complained Jackson floating a new plan. He wants to keep Ovi and vote out Kathryn instead.
"He is terrified. We have broken him down to nothing. If we throw him an olive branch he will forever be indebted to us," Jackson said of Ovi.
"She is here for Instagram followers but more importantly she is a loose f—–g cannon," Jackson said of Kathryn.
"I completely agree with you," replied Tommy.
"I don't know if I have it in me to do this for another two weeks," said Jackson of his partnership with Kathryn.
"It is not worth it," said Tommy.
"I didn't come here to f—–g babysit somebody," said Jackson.
On tomorrow night's show, either Ovi or Kathryn will be evicted from the Big Brother house.
Starting Wednesday, July 10, Big Brother moves to Wednesdays and Thursdays at 9et/pt, with the Sunday broadcast remaining at 8et/pt.
The first live eviction airs Wednesday, July 3.
Return to Global TV for all of the latest Big Brother news and episodes.