Big Brother Spoilers: Panic Before Veto Meeting
Big Brother Spoilers: Panic Before Veto Meeting
By John Powell – GlobalTV.com
Firmly convinced they were going on the block, one houseguest broke down before the Veto Meeting.
Although everyone was assuring her that she was safe and not the target this week, Christie began to sob uncontrollably.
"It is going to be one of two ways. Either Nicole goes up and s—t hits the fan or you go up and s—t hits the fan but either way you aren't going anywhere," said Jackson taking her head in his hands and speaking to her softly.
"I don't trust anyone," she cried.
"You are not going anywhere. Either they (Bella and Nick) are going to draw the line in the sand or they aren't," said Jackson.
"What did I even do to them?" she sobbed even harder.
"Stay calm. No matter what happens it doesn't change the outcome," said Jackson.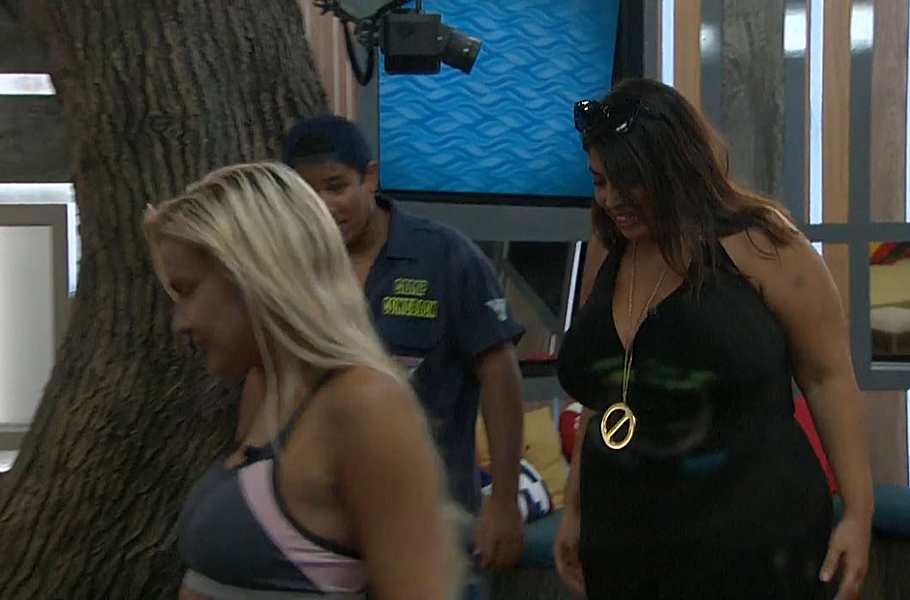 Christie was indeed safe at the meeting as Kathryn used the Power of Veto to take Jessica off the block. As HoH, Nick nominated Nicole in her place.
Either Cliff or Nicole will be voted out on Thursday's live eviction show.
"I knew how this was going and there is no problem at all," Cliff said to Kathryn after the meeting.
"I wouldn't have done it if I wasn't confident you were staying," Kathryn whispered to him.
"The way you performed in that Veto Meeting, I am so proud of you," said Cliff hugging her.
"Thanks, Dad," said Kathryn.
Kathryn turned around to hug Jessica.
"How does it feel? It is heavy right?" she said to Jessica who had the Veto necklace hanging around her neck.
"Thank you. I love you so much," said a grateful Jessica.
A remorseful Christie then spoke with Bella and Nick in the HoH room.
"I am just really pent up with emotion. I was feeling great. I heard a series of comments and then Kemi got into my head. I f—–g freaked out," she explained breaking into tears again.
"I know with your disorder and your diagnosis…" began Nick, who himself is a therapist.
"I hate to call it a disorder but it literally is," said Christie admitting she deals with post-traumatic stress disorder (PTSD).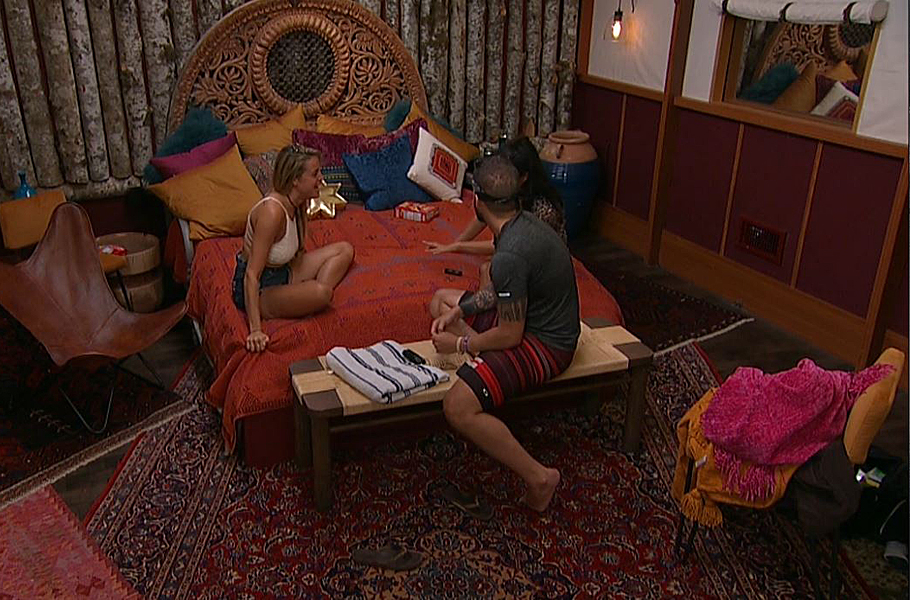 "I am not on anything. I don't want to be on anything. I spiral sometimes," admitted Christie. Christie said she usually centres herself by meditating but finds it hard to do in the Big Brother house.
Christie then broke the news that she won the Panic Power to Nick and Bella.
"I won the power," she confided.
"I knew you did," laughed Nick.
"I have the power and it is called the Diamond Power of Veto. Basically, if someone comes down I get to choose who goes up instead of the HoH," said Christie.
Technically, Christie has it wrong. The wording of her power states that the Panic Power allows her to turn a Golden Power of Veto into a Diamond Power of Veto. The Veto holder can then take someone off the block and name the replacement too.
Big Brother airs Wednesdays and Thursdays at 9et/pt and Sundays at 8et/pt on Global TV.
Return to Global TV for all of the latest Big Brother news and episodes.