Big Brother Spoilers: Nominee Double-Crossed
Big Brother Spoilers: Nominee Double-Crossed
By John Powell – GlobalTV.com
Being nominated is hard enough. Being sold out by someone you believe is your ally is the salt in the wound. That is how things are in the house between Kemi and Bella.
Sam did not use the Power of Veto at today's meeting leaving Jessica and Kemi on the block. Jack is this week's HoH.
"How are you feeling?" Christie asked Kemi when the meeting was over.
"I just hope I don't go home," sighed Kemi with Nicole, Christie and Bella in the room.
Christie tried her best to brighten Kemi's mood.
"You have days to campaign. Anything can happen. The other person on the block could self-destruct. You really don't know what could happen," said Christie.
Kemi expressed disappointment about her loss in the Veto Competition. She hated the fact that the producers in the Diary Room kept asking about it.
"It will probably be one of those things where people just vote with the house again but you have time. Everyone is just going to do what Jack wants. This early in the game it is just whatever the HoH wants," said Christie adjusting her microphone.
Kemi began confiding in Bella after which Bella headed off to speak to Jackson alone.
Out in the backyard, Nicole warned Kemi about Bella.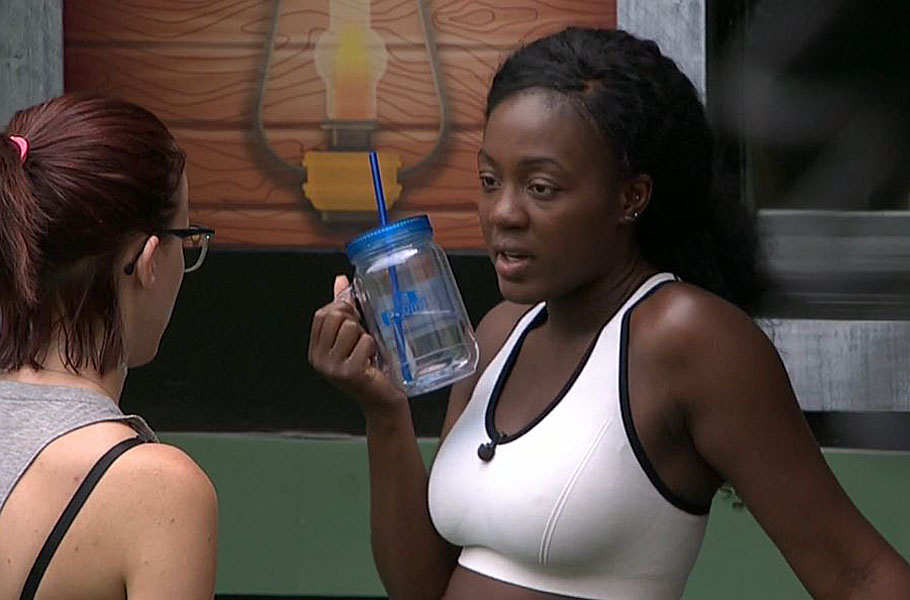 "I am telling you this because I trust you. Be very careful because I don't want to see you get screwed," she said quietly so the other houseguests couldn't hear her.
"I think that is what's going on right now. I think she is trying to cover her tracks," said Kemi having seen Bella and Jackson talking before she went outside.
Walking through the house with purpose, Kemi stopped and mumbled to herself in one of the bedrooms.
"What the f–k! Why can't she keep her f——g mouth shut, for once! Well, I guess I am out this week because my closest alliance member cannot keep her f—–g mouth shut. What the f–k is wrong with me thinking she could keep her mouth shut when she has proven she can't?" she said of Bella.
Starting Wednesday, July 10, Big Brother moves to Wednesdays and Thursdays at 9et/pt, with the Sunday broadcast remaining at 8et/pt.
Return to Global TV for all of the latest Big Brother news and episodes.