Big Brother Spoilers: Houseguests Concoct Veto Scheme
Big Brother Spoilers: Houseguests Concoct Veto Scheme
By John Powell – GlobalTV.com
The backdoor in the Big Brother house is fully operational.
The Veto winner, the Head of Household and one of the nominees met on the live feeds today to deliberate on how to handle the upcoming Veto Meeting.
Veto winner Sam and HoH Christie were the first to chat in the HoH Room.
"Do you know what you are doing? Cliff?" Christie asked Sam.
"Yeah, I am going to say Cliff," replied Sam.
"I feel sad. I feel bad. This is still a game and I am here to win. I still think this is the best move for everybody. I am not trying to make any move against the majority of the house. We have a good group of people who are working together. You and I, the boys, Holly and Sis (Analyse) feel the same way towards this decision and I am not going to go against that. I just don't like blindsiding someone Week One," said a regretful Christie.
"She doesn't really contribute. Ovi contributes more," said Sam of Kemi, the backdoor target.
Christie complained that she doesn't help with the chores either.
"You deserve to be here. You faced banishment your first day. If there is anyone here that deserves to be here for one more week, that is you, Cliff. Plus, I cannot let you sit here on your son's birthday," said Sam detailing his Veto meeting speech to Christie.
Christie responded by saying she is not going to get emotional at the meeting.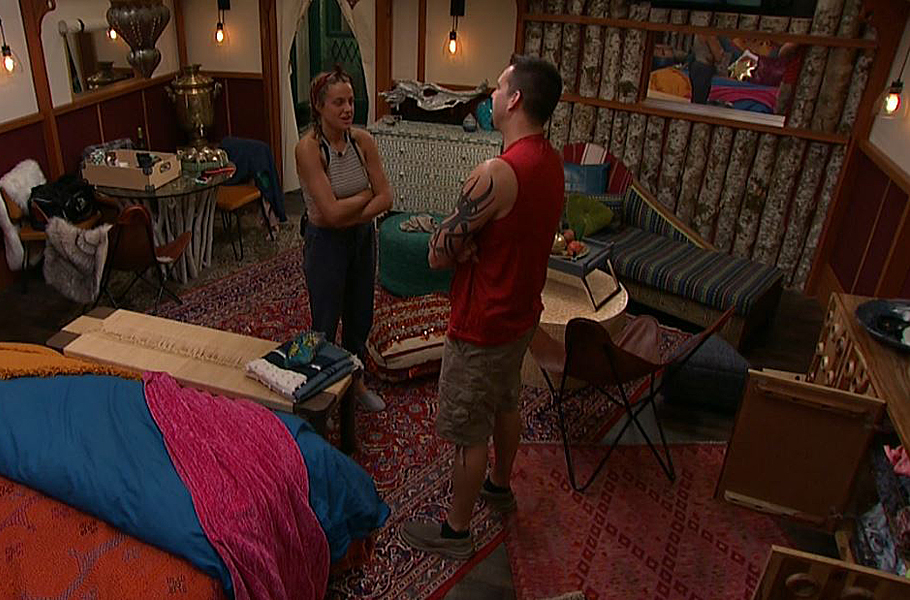 "I am going to say this is an unfortunate situation. The majority of the house feels the same way. This is nothing personal but this person name drops a lot," said Christie about Kemi's loose lips in the house.
Sam cut her off saying she shouldn't mention that at all but instead just make Kemi think she is a pawn and Kathryn is the target this week, even though she isn't. They both don't want Kathryn to start campaigning because that might be very messy. Christie fears Kathryn could become so paranoid that she sabotages her own game and flips the vote.
"Why don't you talk to Kat beforehand and during your speech bash Kat more than Kemi? Are you feeling guilty about Kemi?" asked a concerned Sam.
"No, it is just in our normal lives we don't have to make decisions like this," Christie responded.
Christie saw Cliff waiting at the HoH door. She invited him in.
Cliff volunteered to speak to Kathryn to calm her down. Christie cannot wait for this week to be over.
Sam and Christie gave Cliff the heads-up about how the Veto Meeting would go.
Earlier, Christie and Tommy, who know each other in the outside world, hunkered down in the HoH Room chatting as they made the bed.
"Everyone was crying yesterday. It was crazy," said Tommy.
"Day Nine, the day everyone cried," laughed Christie saying that today her goal is to be more social with the other side of the house.
"It is funny that we both got a vibe from Jack," said Tommy.
"I felt that," said Christie telling Tommy that she and the other women have spoken about him too. Analyse especially wants Jack gone when they are down to just eight players.
Tommy and Christie agreed that they have to keep playing into his ego at the present time. Tommy insisted they have to make him feel safe.
"I am not going to let him play this game better than me," Christie vowed.
Christie nominations (Cliff and Kathryn) and the new Whacktivity Comp will air on Sunday's broadcast on Global.
Starting Wednesday, July 10, Big Brother 21 moves to Wednesdays and Thursdays at 9et/pt, with the Sunday broadcast remaining at 8et/pt.
The first live eviction airs Wednesday, July 3.
Return to Global TV for all of the latest Big Brother news and episodes.