Live Feed Spoilers: House stays the course after veto meeting
Live Feed Spoilers: House stays the course after veto meeting
By John Powell – GlobalTV.com
This week's nominees are quickly running out of hope.
Blue and Jag are still on the block as the house leans toward giving Jag the boot due to his performances during the challenges. Red didn't use the Power of Veto at today's meeting leaving Cameron's nominations the same.
What could change things though is The Power of Invincibility, which was voted on by fans. The four houseguests with the most votes win the ability to compete for the Power of Invincibility. The top four vote-getters will face off in a competition shown on Thursday's eviction episode with the winner receiving the game-changing power. What is that power? It allows the houseguest to save an evicted player during one of the next two evictions. They can save themselves.
Red, Cameron, Cirie and Bowie chatted before the veto meeting. The consensus seemed to be that Jag leaves this week and then Blue and America are next in line to be booted.
"Everything is smooth so far. Next week we got a nine out of ten chance. Anyone but Blue. Blue or America goes. I don't really give a s—t. There are pros and cons for both. The bottom line is we bust up a couple. If we take Blue out we get Jared back and if America we get a little more focused Cory," said Cameron to the others.
Cirie couldn't believe that they are so close to the jury.
"They got to go. I don't give a s—t what order they go in," said Cameron about Blue and America.
"I agree," replied Cirie.
"As long as everyone stays solid there is no problem," Bowie chimed in.
"Has Blue talked to you at all?" asked Cirie.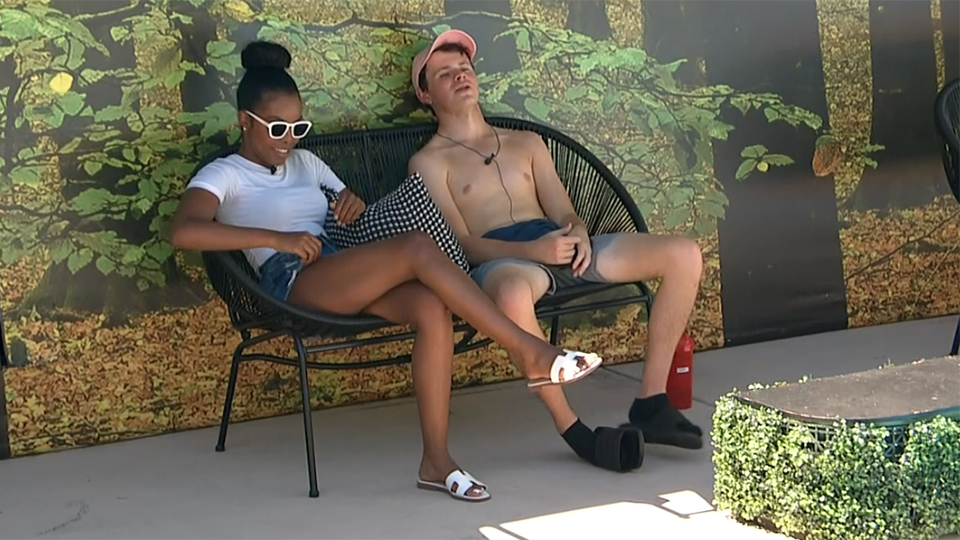 "The only thing I told her is to keep being herself. From my perspective, she looks okay. That was me telling her to be herself. We will get her next week," snickered Cameron.
When everyone left Cameron expressed the same sentiment to Felicia who joined him sitting outside on the patio.
"Next week we just work on the next two on the list and I don't give a s—t which one," he said.
"Who are we thinking?" asked Felicia.
"Blue or America. I don't care what order as long as we get Jag out this week," he answered.
"I am with that all day long," laughed Felicia.
Check back for all the latest Big Brother news and interviews.
Big Brother airs Sundays and Wednesdays (8:00-9:00 PM, ET/PT) and Thursdays (9:00-10:00 PM, live ET/delayed PT), featuring the live eviction show hosted by Julie Chen Moonves, on Global TV.