Live feed spoilers: HoH saves two from the block, condemns two to the block
Live feed spoilers: HoH saves two from the block, condemns two to the block
By John Powell – GlobalTV.com
Two are down and two are up.
At the nomination meeting today, HoH Reilly decided to take Jared and Cory off the block leaving Kirsten and Felicia as this week's pre-veto nominees. Reilly told Felicia earlier today that she has the votes and that Kirsten is the house's target because she continues to gossip and throw people under the bus.
Reilly sobbed in the HoH room after the ceremony. Jag came in to comfort her.
"I hated doing that to them. I feel so bad," said Reilly as Jag hugged her.
"It is part of the game and they know that," said Jag.
"I just feel awful," cried Reilly some more.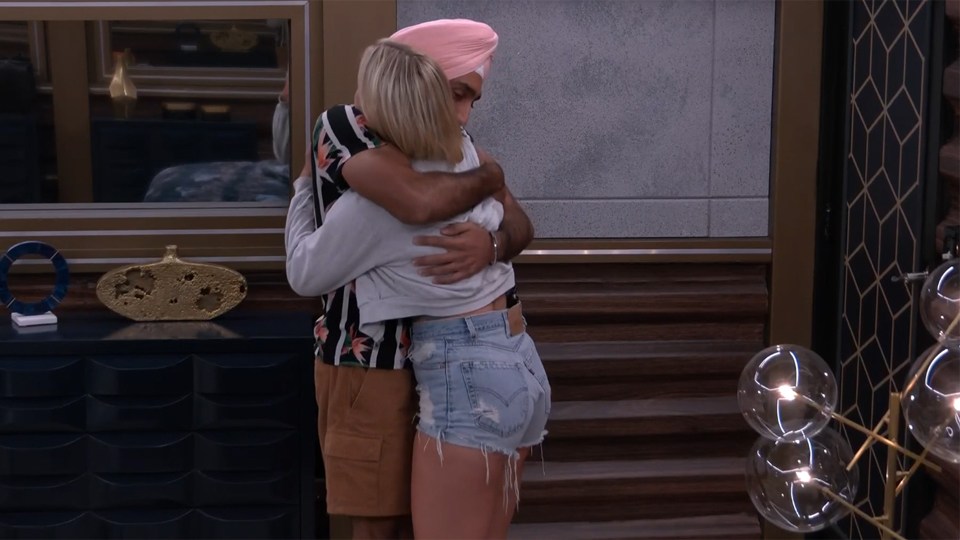 Reilly explained that she didn't even know where Kirsten went and wouldn't know what to say to her if she did find her.
"You are a good person. That is why you are feeling this way," said Jag rubbing her shoulders.
Blue joined them.
"I talked to America and I talked to Izzy and they are both solid," said Blue of their votes.
"I want to go forward with the people who talk to me. Luke hasn't spoken to me but neither has Matt but Matt is Matt. I cannot trust Luke as far as I can throw him. Jared is solid," said Reilly about having to cut Luke sooner or later and that Jared agreed they would.
"It is good to know he would vote Luke eventually, that he would voted with the majority," said Reilly.
Later, Jag and Blue found Kirsten and gave her some shoulders to cry on.
"I feel like I am a loner. I feel that when I talk to anyone they are already grouped up," said Kirsten tearing up.
"You have a few days. Anything could happen. This is a reason to light that fire. This is your opportunity to shine now," said Blue.
"There's the veto too. It is far from over. There is a lot of game left to be played. You want to be here," said Jag.
Check back for all the latest Big Brother news and interviews.
Starting on August 6th Big Brother will air Sundays and Wednesdays (8:00-9:00 PM, ET/PT) and Thursdays (9:00-10:00 PM, live ET/delayed PT), featuring the live eviction show hosted by Julie Chen Moonves, on Global TV.
Live Feed Spoilers: HoH puts their alliance plan into motion
Live Feed Spoilers: New HoH's power revealed as strategy talk ramps up