Live Feed Spoilers: Feuding houseguests make peace
Live Feed Spoilers: Feuding houseguests make peace
By John Powell – GlobalTV.com
Cory and Felicia finally sat down today to hash things out after the emotional veto ceremony yesterday.
Felicia ripped into Cory during her speech at the meeting and that angered America who then got into a very heated argument with Felicia while Cory ducked out of the room.
"You've made my vote pretty easy. You haven't come to campaign to me which I understand and appreciate. I wouldn't," said Cory as they sat across from one another.
"I don't know what the pitch would be," continued Cory as they both laughed. "You'd have to probably pull some rabbit out of a hat like: Cory, so actually, this is all the plan."
"I figured if I was going to go out I'd go out with a bang and I'd give America something to see," said Felicia smiling.
"I'm honestly glad that if you were to do that it was towards me. First of all, it was a fun little moment. I get to be yelled at in a speech. That's kind of a bucket list item for me! The truth is, I do really respect you as a person obviously but also as a player. I feel like you are the only person who might love the game as much as me," said Cory reassuring Felicia that he didn't take the argument personally and saw it as a game move on her part.
"I don't know how your campaign is going to everyone else. You might be gone Thursday. You might be here Friday but no matter what I don't want things to be awkward," he said.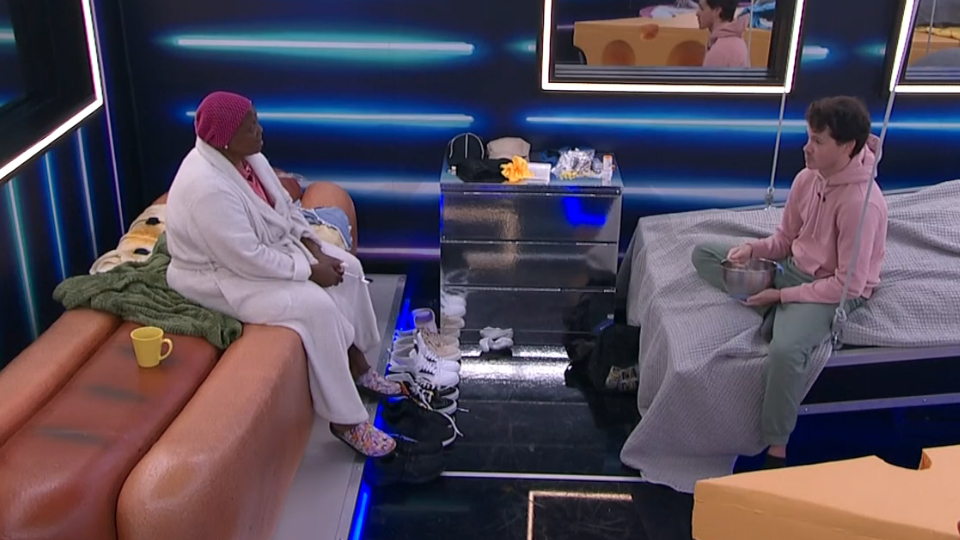 Cory stated that America defending him "warmed his heart".
"She was trying to defend my honor. I did not want anything to do with that fight in the kitchen…I don't know what a 'you-and-me' screaming match looks like. I don't think I want the smoke. I was trying to be the bigger man but really what I was trying to was get out of the room…That is the only part that made me feel bad is I didn't want to leave America hanging," Cory explained.
"It was silly s–t that didn't even make sense," Felicia admitted about her part in the argument.
"I am glad we talked. I don't like to talk when I feel like I really am upset because then I do say silly stuff and that day I talked and I was upset," said Felicia apologizing to Cory.
HoH Cameron has nominated Felicia and Mecole for eviction. He also won the Power of Veto but elected to leave his nominations the same.
Check back for all the latest Big Brother news and interviews.