Big Brother Spoilers: Diary Room Hide and Seek Worries Houseguests
Big Brother Spoilers: Diary Room Hide and Seek Worries Houseguests
By John Powell – GlobalTV.com
The houseguests received a scare Tuesday night when Kemi disappeared.
Kemi was taking a breather in the hallway leading to the Diary Room. Big Brother called her into the Diary Room numerous times.
Houseguests who were up at the time searched the house wondering where Kemi had gone and why the producers were repeatedly asking for her.
When Kemi finally came back into the house she went upstairs and into one of the bedrooms where Jessica and Nicole were sitting up.
"I am okay. It wasn't a big deal. I just wanted to be alone in the hallway and they (the producers) called me in like five times because I was in the hallway," she told Jessica and Nicole.
Nicole reminded Kemi that if she ever needed someone to talk to, she was always there for her. Nicole then gave Kemi a hug.
Kemi schemed against Jack with Jessica and Nicole.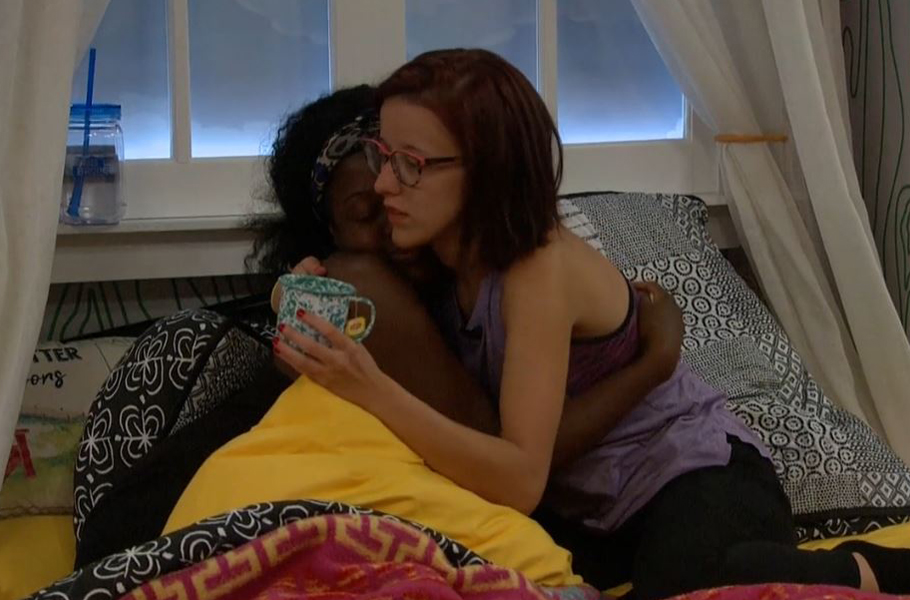 "Jack in the time we have been here, 14 days, from what I heard has created four separate alliances. There is a group of eight then there is a group of five which includes Christie, there's a final two with Ovi and then there is another group of five," she told them.
"That's insane," said a flustered Jessica.
This morning, some of the houseguests were not pleased with Kemi's disappearing act.
"Did anyone find Kemi?" Sam asked Holly as he prepared to get up.
"They did," Holly confirmed.
"Where was she?" asked Sam.
"In the hallway," said Holly.
"Sleeping?" said Sam.
"No, she was in the hallway in the Diary Room," replied Holly.
"So they kept calling her but she wasn't moving?" said Sam.
"I don't know if she could hear it. I am not sure," said Holly.
"You can't do that," said a ticked off Sam.
Holly rolled her eyes and shook her head.
"It is not like part of the game," said Sam.
"She was like hiding in there and then she went upstairs. Everyone was freaking out looking for her. Sis (Analyse) and I went to bed relatively early. We were in a deep sleep. People came busting in looking for her," Holly recalled.
Sam criticized Kemi for not revealing where she was in order to put everyone's mind at ease.
"That's ignorant. If you need a long time, just holler. Don't f—–g ignore people," grumbled Sam.
Holly thought Kemi should have found somewhere else to find some alone time.
"Just tell everyone you need some alone time," said Sam.
"…or walk into the Diary Room. Problem solved," said Holly.
Nick checked in on Kemi.
"Are you okay? I was worried about you," said Nick.
"No, I just went in there (the Diary Room) to ask for a bible and I just wanted to spend a minute by myself. I was sitting in the hallway and they called me in," said Kemi explaining that the producers told her the bible was in the storage room for her. When she was back to sit in the hallway they called her back in and told her to go upstairs.
"I got upset because I don't want them (the producers) to make this seem like a thing on television," she said.
On tonight's show, either Ovi or Kathryn will be evicted from the Big Brother house.
Starting Wednesday, July 10, Big Brother moves to Wednesdays and Thursdays at 9et/pt, with the Sunday broadcast remaining at 8et/pt.
Return to Global TV for all of the latest Big Brother news and episodes.