Live Feed Spoilers: Big Brother final two already decided?
Live Feed Spoilers: Big Brother final two already decided?
By John Powell – GlobalTV.com
The results of the final HoH of the season on tomorrow night's Big Brother finale may not make any difference.
Both Minutemen, Jag and Matt confirmed they are taking each other and not Bowie Jane.
Matt won the first part of the final HoH and Jag won the second. That means they will square off in the final round and the winner decides who they are taking to the jury vote and who will be the final juror of the season.
Jag and Matt spoke in the kitchen alone. Before they step into their booths for the final HoH Matt suggested they do their Minutemen hand gesture like how the opposing contestants shake hands before they compete on Family Feud.
"I just keep thinking about us sitting at the end," said Matt as the spoke while Bowie Jane was laying in a bedroom by herself.
"I know, no pressure for the third (competition)," replied Jag.
"She is saying to study for tomorrow but it doesn't matter even if she does say something," said Jag.
"I know," said Matt.
"I am taking you for sure," promised Jag.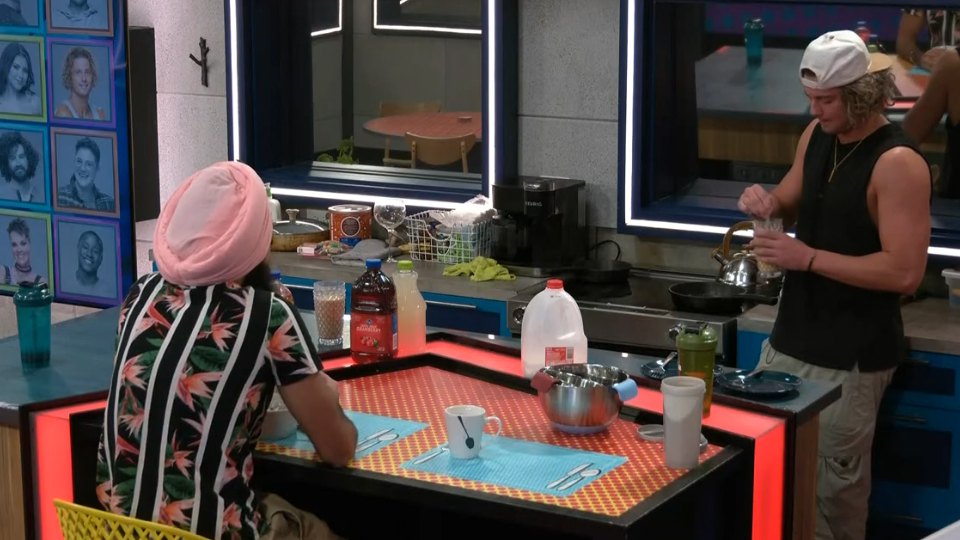 Matt was wondering why Bowie Jane isn't trying to convince him to take her like she has been with Jag.
"She knows you are going to take me, that's why," said Jag as Bowie Jane went into the Diary Room.
Matt and Jag stopped whispering.
"That's why it doesn't matter if she talks to you or me. It is not going to change anything," he continued.
"She knows how loyal we have been to each other," said Matt.
"It is what it is," said Jag.
"I think that is why she was upset yesterday. She knew she had to win. It was her only shot," said Matt about the second round of the final HoH.
"It is what it is," Jag repeated.
Later, Matt and Jag talked about their alliance as opposed to Cory and America's showmance.
"Our bromance is better than their showmance," laughed Jag.
"It was. Our bromance was never rocky. It didn't take us weeks to say: I love you, bro," said Matt.
The finale of Big Brother 25 airs Thursday at 8:00 PM, ET on Global TV.
Check back for the latest Big Brother news, spoilers and interviews.