Live Feed Spoilers: Anthony Scaramucci missing from Celebrity Big Brother house
Live Feed Spoilers: Anthony Scaramucci missing from Celebrity Big Brother house
By: John Powell – GlobalTV.com
Anthony is AWOL.
When the Celebrity Big Brother live feeds become active on Wednesday morning, Anthony Scaramucci, the financier and former White House Director of Communications, was nowhere to be seen in the Big Brother house.
Related Blog: Calamity As Tom Green Faces Eviction
His picture on the Memory Wall was still in colour though indicating he hasn't left the game in a permanent way just yet.
None of the houseguests spoke about the situation on the live feeds so it is not known what happened, if anything, to him.
The houseguests did talk about the Power of Veto Ceremony which is today and many wondered what Kato would do indicating he won the power.
In the HoH room, Ryan and Jonathan pondered how things would play out at the ceremony.
"In the Diary Room, going over all of the scenarios, I am exhausted. They are like…What does it feel like to be on the block? I have been on it for 10 days! It is the worst feeling in the world!" Jonathan said to Ryan as he prepared to go swimming in the backyard.
"It will be interesting tomorrow to see how we do this," said Ryan.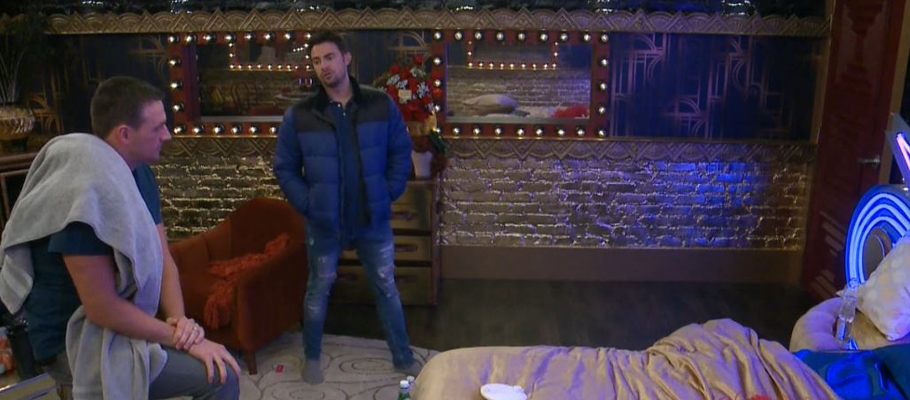 Jonathan agreed.
"I have a lot of blood on my hands already," sighed Ryan.
Currently, Ryan has put Tom and Anthony on the block. Jonathan was automatically nominated when he lost the second part of the HoH competition to Ryan.
On tonight's episode on Global the Power of Veto will be played and perhaps the mystery of Anthony's disappearance will be solved.
Here is the full Celebrity Big Brother schedule:
| | |
| --- | --- |
| Monday, Jan. 21 | |
| 8:00-9:00 PM, ET/PT | BIG BROTHER: CELEBRITY EDITION Second Season Premiere |
| | |
| Tuesday, Jan. 22 | |
| 8:00-9:00 PM, ET/PT | |
| | |
| Wednesday, Jan. 23 | |
| 8:00-9:00 PM, ET/PT | |
| | |
| Friday, Jan. 25 | |
| 8:00-9:00 PM, ET/PT | |
| | |
| Sunday, Jan. 27 | |
| 8:00-9:00 PM, ET/PT | |
| | |
| Monday, Jan. 28 | |
| 8:00-9:00 PM, ET/PT | |
| | |
| Wednesday, Jan. 30 | |
| 8:00-9:00 PM, ET/PT | |
| | |
| Saturday, Feb. 2 | |
| 8:00-9:00 PM, ET/PT | |
| | |
| Monday, Feb. 4 | |
| 9:00-10:00 PM, ET/PT | |
| | |
| Thursday, Feb. 7 | |
| 9:00-10:00 PM, ET/PT | |
| | |
| Friday, Feb. 8 | |
| 8:00-10:00 PM, ET/PT | (2-Hour Episode) |
| | |
| Monday, Feb. 11 | |
| 9:00-10:00 PM, ET/PT | |
| | |
| Wednesday, Feb. 13 | |
| 8:00-10:00 PM, ET/PT | BIG BROTHER: CELEBRITY EDITION Finale |