Live Feed Spoilers: A target appears, Cirie talks Survivor with Cory and strategy with Jared
Live Feed Spoilers: A target appears, Cirie talks Survivor with Cory and strategy with Jared
John Powell – GlobalTV.com
The houseguests haven't even been in the Big Brother house for 24 hours and someone has already made themselves a target.
Chatting in the kitchen, Red, Jared and Hisam talked about the game or more specifically how they were NOT playing the game, yet.
"We have to figure out the nuances of everyone's personalities and behaviors then we can start playing the game. There is no need to play the game the very first night. To do so actually puts a target on your back. You don't want to come in here and start playing too hard. You are supposed to have that honeymoon time," said Red leaning on the island.
"People need to get to know you. You need to build trust and a rapport…I think it is just important that you know what you know. I don't think it helps to wind up about it," agreed Hisam.
"My train of thought is don't even play the game right now. You need to get to know these people before you do anything," said Jared.
"I think it is crazy that people would play so hard so fast," said Hisam shaking his head.
"You would be surprised," laughed Jared.
"Are people playing hard and fast already?" asked Hisam.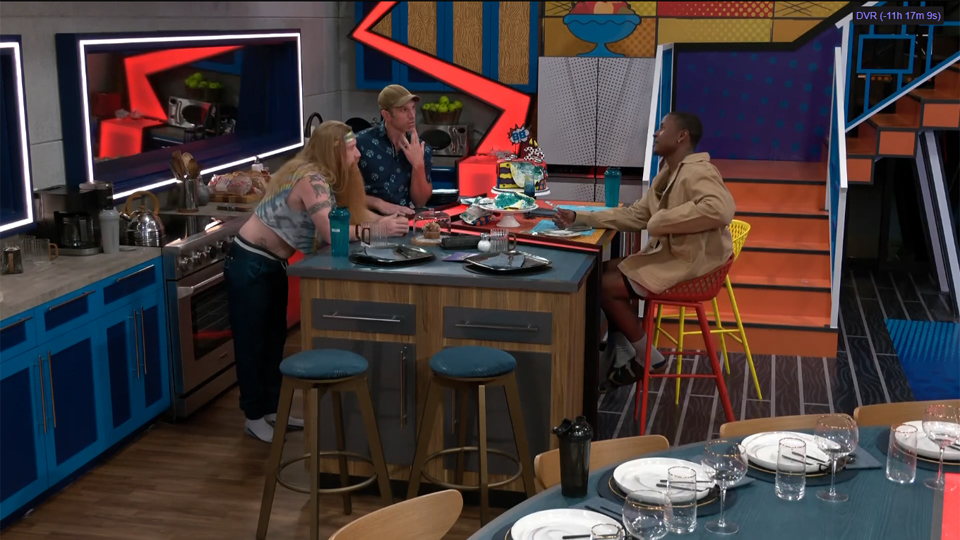 "Absolutely," said Jared nodding his head.
"Let them do their thing," replied Red.
What Hisam didn't know is at the exact same time he, Red and Jared were talking about playing too aggressively right out of the gate, Cory and Luke were in one of bedrooms discussing his gameplay.
"Did Hisam call you over yet?" Cory asked Luke.
"No. Why? What did he have to say?" asked Luke.
"We were the last ones in this room. He calls me over and says that he feels "really good" about the guys in this room. It was literally five minutes after everyone else left here," said Cory.
"We just started (the game) though. It is too early. You've got to chill," said Luke.
"It is way too early," replied Cory.
When Luke and Cirie entered, Cory quizzed her about her time on Survivor. It wasn't clear during the conversation if Cirie knows that Cory is the brother of Survivor 42's Zach Wurtenberger.
"So, is it fair to say more comfortable than Day One on the island?" asked Cory.
"I've got a sandwich. I've got a bed. I've got a robe on. I am not on the ground," Cirie laughed.
"That helps as well," said Cory. "I promise that I will stop being a fan."
"It's okay. I know people have questions," said Cirie.
"You got robbed in Micronesia. Exile Island…" Cory began.
"It was my own fault with the fire challenge," Cirie said.
"Heroes and villains? That's some b——t! You have had some creative ways to lose Survivor. They had to find out and invent new ways to get you out," said Cory.
"It was all in the experience though. With the same exact outcomes I would do it all again," replied Cirie.
"When you were called for this was there a question in your mind?" asked Cory.
"I was a fan of Survivor since Day One. I watched it when Richard Hatch won…I don't really know this world," Cirie confessed.
"This is awesome and very exciting. I hope you enjoy it," said Cory as they left the bedroom.
Cory hasn't spoken about being dragged into the NetherRealm on the live feeds or what happened to him but it appears that he wasn't gone for that long.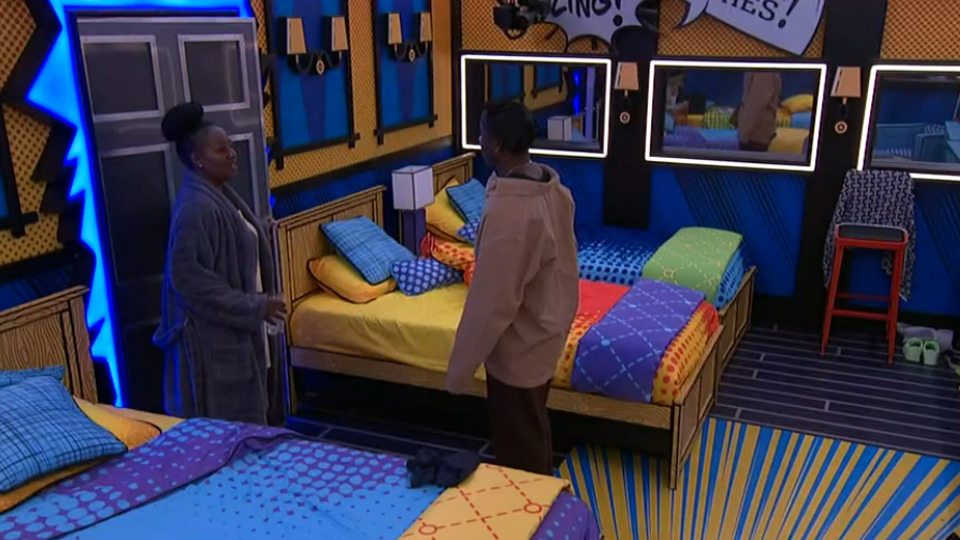 Later on in the evening, mother and son touched base. It appears none of the houseguests have figured out their connection yet.
"She just asked me if I had a 24-year-old son," Cirie said of Felicia.
"This crazy. You'd better enjoy the peace now because it is going to get crazy," she continued. Cirie revealed that she thinks she has both Izzy and Felicia in her corner. Jared wants to bring in Kirsten as well into their little group.
The volunteers to be Have-Nots this week are: Cory, Luke, Jared and Hisam.
Check back for all the latest Big Brother news and interviews.
Starting on August 6th Big Brother will air Sundays and Wednesdays (8:00-9:00 PM, ET/PT) and Thursdays (9:00-10:00 PM, live ET/delayed PT), featuring the live eviction show hosted by Julie Chen Moonves, on Global TV.