Big Brother 20 Spoilers: Family Drama Brings Houseguest to Tears
Big Brother 20 Spoilers: Family Drama Brings Houseguest to Tears
By John Powell – GlobalTV.com
Possible real world matters have caused one Big Brother 20 houseguest to break down.
On the live feeds this afternoon, Angie "Rockstar" Lantry began crying uncontrollably worried about how her partner, Chris, feels about her being on the series.
"You are a good mother, you care. It is all right to feel like this," said Kaycee Clark comforting her.
"It would be cool to know they are all cool. I mean, I know if something detrimental happens they would send a letter saying such and such happened," said Rockstar wishing she knew everything was okay back home.
WATCH: Big Brother After Dark Online – Season 20 Full Episodes
"He is missing you," said Kaycee of Chris. "This is also the paranoia of this house."
"Chris and I joke so f—–g much there was not a time where he was like…You got this! There was none of that. I know he was messing around but he was like…I will see you in a few weeks. That is what he said to me when I walked out the door. I was like…Cool, thanks. I just don't know how upset he was. He just kept saying…I don't understand why you are doing this and I did it anyway," sobbed Rockstar wiping the tears from her eyes.
"I just think I am failing at it. I am good with people and I am not good with these people," Rockstar said of her game thus far.
As she continued to cry, this week's HoH (Head of Household), Kaitlyn Herman, entered the room. She sat down and hugged Rockstar.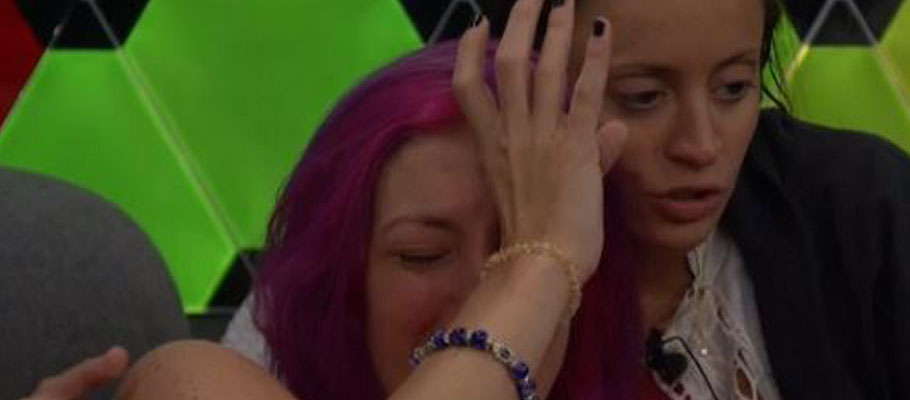 "I am sorry," said Rockstar.
"Why are you apologizing?" asked Kaitlyn.
"Because, it is stupid to cry," replied Rockstar.
"Why are you upset?" asked Kaitlyn.
"I really don't know if Chris is upset with me coming out here. He just kept saying…I don't know why you are doing this? I just want some word to say it was okay to do this for our family," Rockstar recounted saying she argued that one of the positives about Big Brother is it is a way for them to improve their finances.
"There is no way he feels that way now," said Kaitlyn about what occurred between the couple before Rockstar left for the show.
"This is a lot harder than I thought it would be," concluded Rockstar.
Big Brother airs Wednesdays and Thursdays at 9 et/pt and Sundays at 8 et/pt on Global. Watch Big Brother online the day after broadcast on GlobalTV.com/BigBrother or on the free Global Go app for iOS and Android.
CATCH UP NOW: Big Brother Full Episodes – Season 20