Eric Martsolf & Kassie DePaiva Show Why Their Chemistry Is Off The Charts : Q&A
Eric Martsolf & Kassie DePaiva Show Why Their Chemistry Is Off The Charts : Q&A
A Sassy Q&A with Days of Our Lives Kassie DePaiva and Eric Martsolf!
No matter how much Eve fights their chemistry on DAYS OF OUR LIVES, Brady is just not giving up on their unexpected romance. This love story has been rather cantankerous, but after just a few minutes dishing with portrayers Kassie DePaiva and Eric Martsolf, it's clear the Emmy-winners are rooting for the opportunity to keep knocking heads!
Q: How are you two doing?
Eric Martsolf: Each other.
Kassie DePaiva: Yeah. We're doing great! ​
Q: Well, not really! These two have been battling since Eve came back.
DePaiva: Battle is sexy. Battle is fun.
Martsolf: Battle is foreplay.
DePaiva: You get to see a lot of it with us, and I couldn't ask for a better guy to get into the ring with. Martsolf is awesome. Disasters are always waiting to happen on soaps, and I think Eve and Brady have been a surprising disaster. She came back to town with an opinion, a large bank account and a job. Poor Brady had to suck it up!
Martsolf: You know, it's one thing to have a Donovan sister just up and take off to Mexico with your son, without an explanation… but then to have her slightly older sister come to town and basically steal your corporation out from under you? The Donovan sisters have taken all my crap. I don't have a heart. I don't have a business.
DePaiva: We're going to be taking more of your crap too, that's all I can say!
Martsolf: So I'm not happy.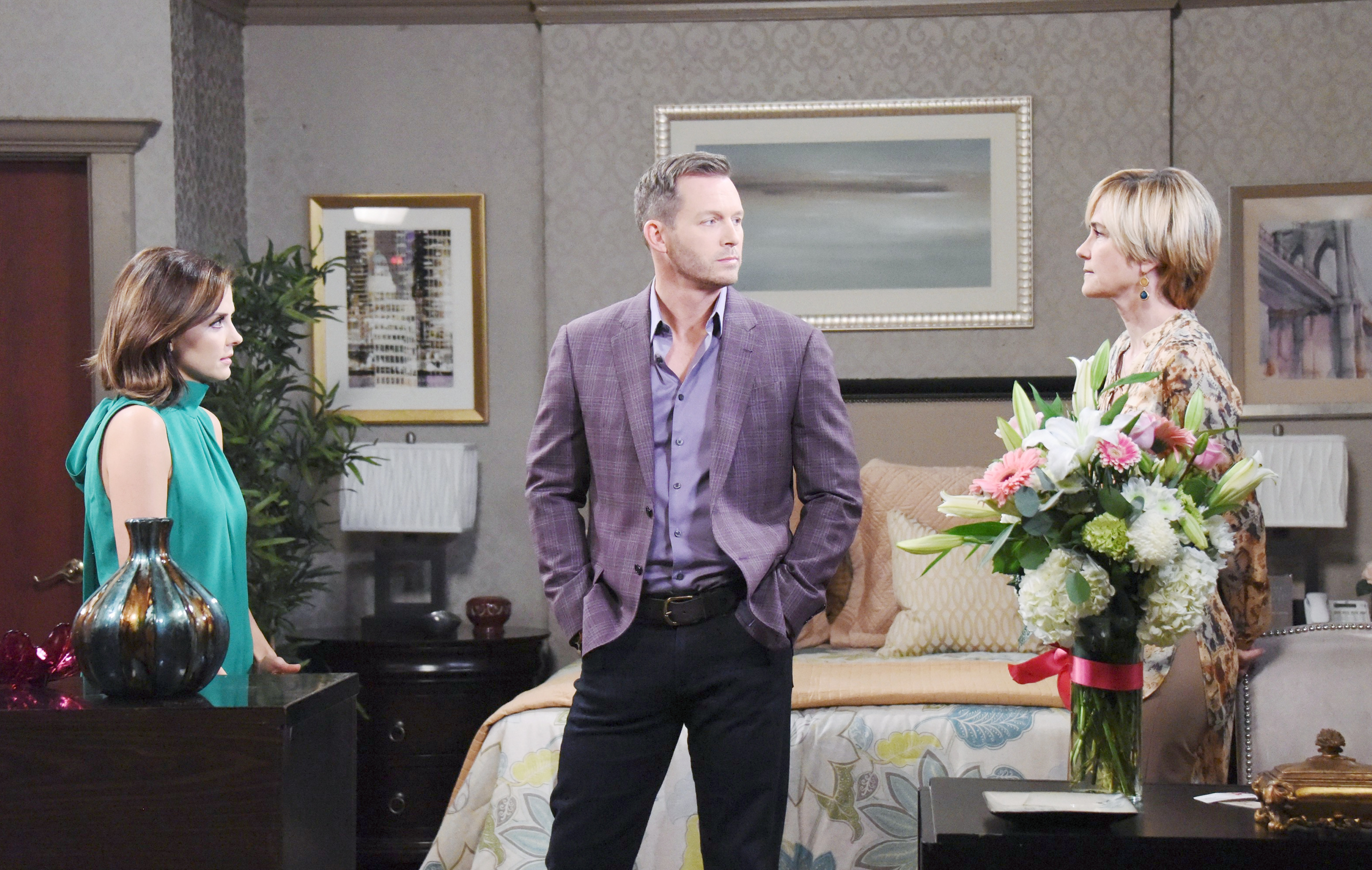 Q: Brady's not. Having made the mistake of falling for his mark, he's now desperate to win her back… but I suspect you, Eric, are quite happy with it all!
Martsolf: You know me by now! I don't want to sit in the bathtub and say lovey dovey things.
DePaiva: You don't?
Martsolf: No, I love the argumentative nature of couples. I want to get some meat.
DePaiva: Really? The only reason I came back to the show was so I could get into a bathtub with you!
Martsolf: I'll get in the bathtub with you. I love bubble baths. And I love our Ping-Pong.
DePaiva: I do too. We obviously have great chemistry.
Martsolf: She's very fun to go back and forth with. She's said a lot of words in her career and her pentameter and timing is very fun. It's always different too. Rehearsal's nothing like tape — which is great.
DePaiva: Really?
Martsolf: Yeah, you're full of surprises! I like it.
DePaiva: I do my best work in the dressing room.
DePaiva (laughs): I would say my best take is in the dressing room or on the car ride home. Sometimes when I get out on set, my nerves take over and I start editing myself. I freeze. "Ack!"
Martsolf: That's your humility kicking in. The fact that you still get nervous on stage, after all these years, is such a good freaking thing to have.
DePaiva: I get the sweat gobs. Oh my God, yeah. Every time it's, "Wait, what's my first line? What's my first line!"
Martsolf: "I have the first line, Kassie. You have the second line. Okay? I'm going to say something to you and you're going to respond."
DePaiva: "Okay. You're right. We're ready! We're ready! Wait, what is it again?"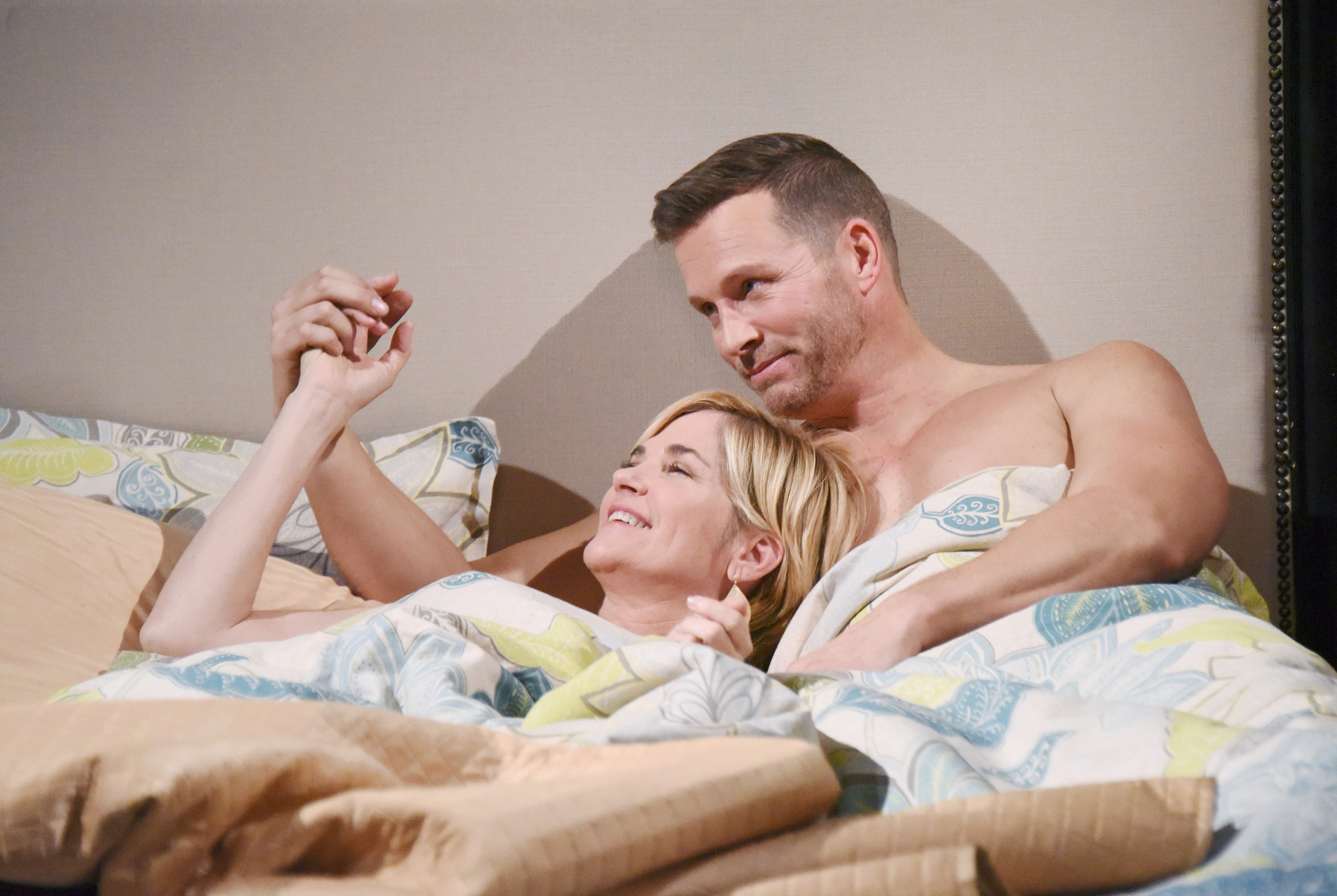 Q: You two are clearly so in sync: How did you break the ice when you first started working together?
DePaiva: Well, we've known each other probably for the past two and a half years, but never got to bump heads until this time around. And it's good.
Martsolf: I think there was a comfort factor there too. It didn't take very long for her to let me know I reminded her of her of her husband [James DePaiva, who plays Dr. Bensch on GENERAL HOSPITAL].
DePaiva: And I'm not the only one that's said that. Of course, Eric is a much younger version!
Martsolf: We're both German, blue-eyed guys who are zany and a little kooky. We're not afraid to be that silly guy.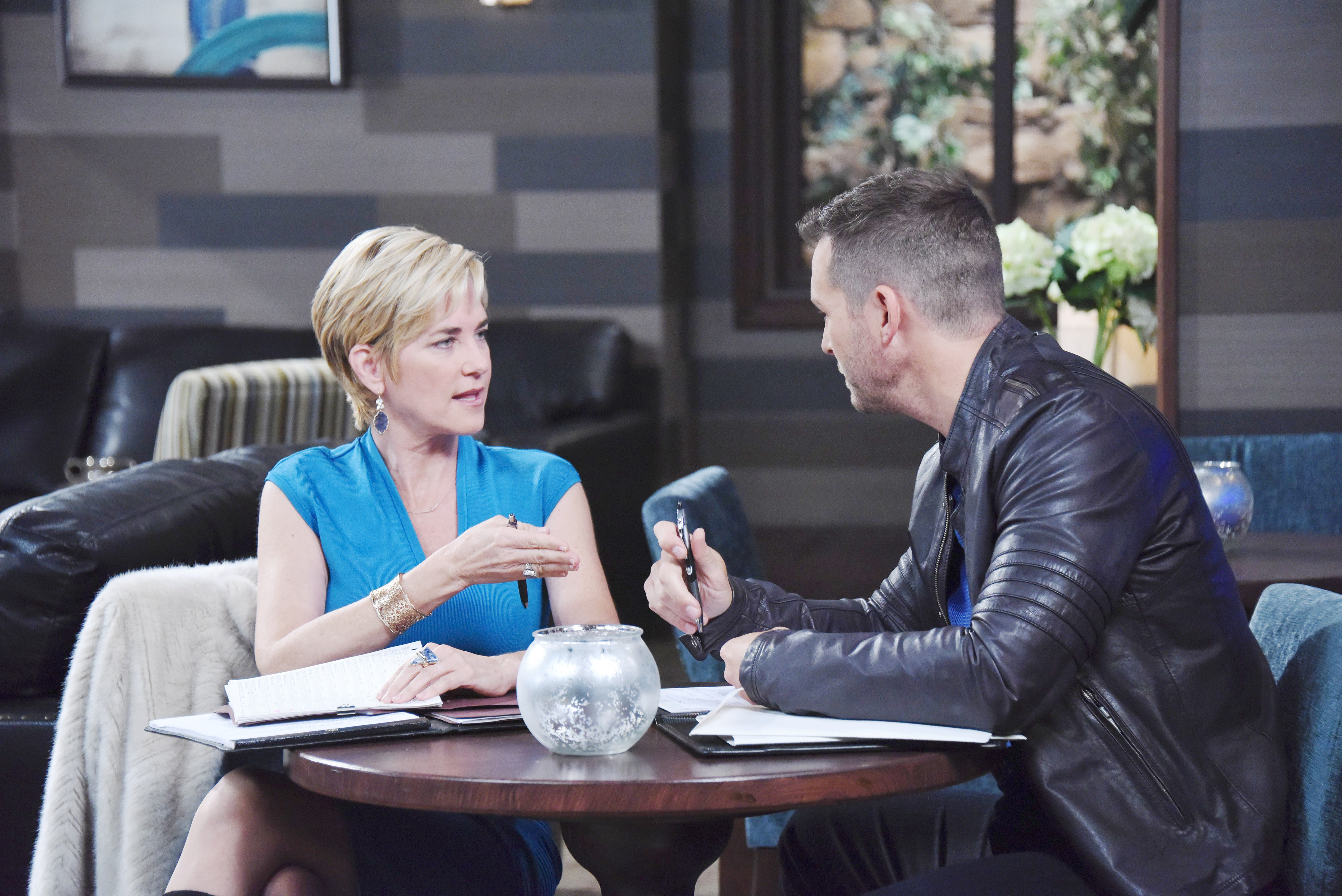 Q: Kassie, have you tuned in to watch your hubby, whose character has started sexually harassing his mentee on his soap?
DePaiva: It's not looking so good!
Martsolf: I don't think we need any more predators right now.
DePaiva: But it's timely.
Martsolf: It is, and I've always thought soaps were always very instrumental in telling society what we're doing, where we're going and how we resolve the conflicts we're facing. Lots of people look to soaps to figure out their own dilemmas, issues and tribulations in their lives.
DePaiva: It's interesting because we shoot six months ahead, so sometimes we think we're right on the curve, but we're ahead. Or something will air and we had no idea something just like it would happen! Sometimes it works out.
Martsolf: We're often ahead of the curve. Days had the first gay wedding in 2014 and we had the first interracial couple in 1976. How about that?
Q: Kassie, is there a soap you haven't done yet?
DePaiva: I haven't done The Young and the Restless or The Bold and the Beautiful, but I did a little pop in at General Hospital.
Keep up with Eric Marstolf, Kassie DePaiva and Days of Our Lives by following @ericmartsolf, @KassieDePaiva and @nbcdays on Twitter.