Departure: Q&A Interview with Karen LeBlanc
Departure: Q&A Interview with Karen LeBlanc
What's your favourite moment from the season and why?
My favourite moment is probably somewhere near the end. There were some dark, late, stressful, emotional nights. I can't exactly reveal the exact moment without spoiling it, but it's somewhere near the end when we're wrapping up and we're getting close to figuring out the "who done it". 
The actors in the show are just brilliant and they bring such emotionality to their roles. Working with Archie Panjabi, those are all of my favourite moments. Her character Kendra Malley is on her own mission so she wants to come on some of the FBI missions and we agree to disagree. Another favourite moment is when she wants to come on a ride along and I just toss her a vest and say wear this and pretty much succumb to the fact that Kendra Malley is coming whether she likes it or not. 
In what ways are you, or aren't you like your character?
Well I'm definitely stubborn. I also feel like I'm ready like Ellen Hunter. I feel she arrives on scene on a mission looking for a suspect and I kind of feel like I try to show up that way especially in my work and in my life. I'm also very committed and very passionate. I'm not sure if Ellen Hunter has ever done a Tina Turner impersonation in her past life. Maybe when she's off duty.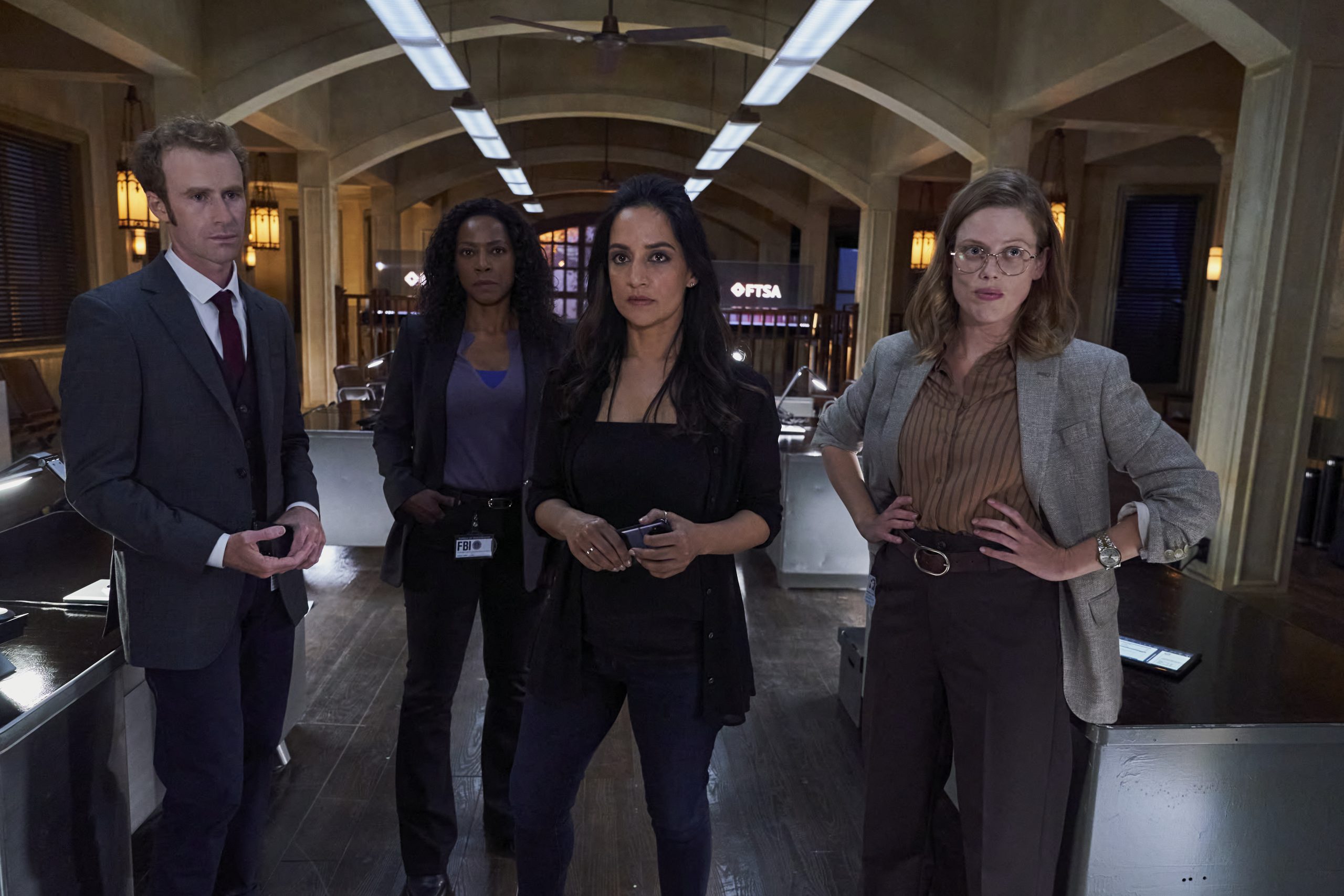 What's been the biggest challenge on taking on this role?
I found it pretty physically grueling. There's a lot of "running and gunning" i call it. Considering this show was one of the first or third up after the pandemic I found that a bit challenging just the unknown of what it was going to be like on set. Am I gonna be able to still kind of act through our masks and how is that gonna be. I did feel very safe though on set and getting tested every five minutes or so I felt safe in that regard. I would definitely say also one of the challenges is not getting to be an FBI agent for a long time. There were a lot of technical things you need to know. You need to know how to hold out the gun properly. So you only get a limited amount of time sometimes to prepare for these things so I would say that was one biggest challenges. Being an FBI agent is no joke.
If you could play any other character in this show, who would it be?
I would have to say Archie Panjabi's role. I love how challenging and braising she is. Also gorgeous and smart. I could see myself playing the TSA investigator. I also love Kelly McCormack's role. She's a really quiet and deep thinking intellect as well as Mark. These guys are on the technical side of things and they're such genuinely lovely characters. They're not as bold and out there but calm and intellectual. 
What's the best piece of advice you've ever received (and from who)?
The best piece of advice I received is from my manager. She told me about publicity and she said publicity is 80 percent of the gig. Obviously the importance of publicizing the work you've done and telling people a little bit about yourself so that was an incredible piece of advice.
She has given me the advice of overcoming my fears and second guessing. She's put me ahead of me so I certainly thank her for that.
What is something fans would be surprised to learn about you? 
That I'm shy. The interview process I'm still getting used to. I know it sounds bananas because I love being on stage. I'm a singer and an actress and I'm extremely comfortable once the thing starts going but I'm also nervous if i have too much time to sit back and ponder it. I'm an introvert and an extrovert. 
If you weren't in the entertainment industry, what would you be doing instead?
The first thing that pops into my mind is psychology or therapy. I'm constantly questioning who we are and how we grew up.I love talking about energy and connecting with people. I have an intrigue for human beings and wellness.