Brett, Haleigh reflect on their Big Brother rivals
Brett, Haleigh reflect on their Big Brother rivals
By John Powell – GlobalTV.com
They may have been on different sides of the house but there is one thing Brett Robinson and Haleigh Broucher can agree on: Kaycee is playing a solid game.
"She (Kaycee) is playing a great game. She has all of the benefits of being in an alliance but really none of the responsibility from it. She has the least amount of blood on her hands. She sent Haleigh home but I don't think Haleigh blames her or would vote against her, Brett told GlobalTV.com.
Brett may be right as Haleigh also thinks Kaycee is also playing one of the best games in the house.
"I would say Kaycee is playing a very good game as are Brett and Angela," she said not knowing that Brett was voted out after she was during last night's double eviction episode.
As for who has the worst game, Brett and Haleigh aren't fond of how JC or Angela have played.
"I think JC is positioned badly because I don't think he has established strong loyalties in the game. I hope it doesn't hurt him but I think it might," said Haleigh.
Brett, on the other hand, thinks Angela will be arriving at the jury house very soon.
"Worst game would probably be Angela. I don't see a scenario where Angela wins. She is targeted enough by Sam and JC, I don't think she will make it to the finale," said Brett who was stunned by one of the biggest blindsides in Big Brother history.
Despite being shocked by his eviction, Brett is taking it all in stride.
"I don't blame Kaycee and Angela. I do blame Tyler because of our final two. I would have gone to the end with him. I think Angela and Kaycee will be loyal to each other over Tyler," he predicted.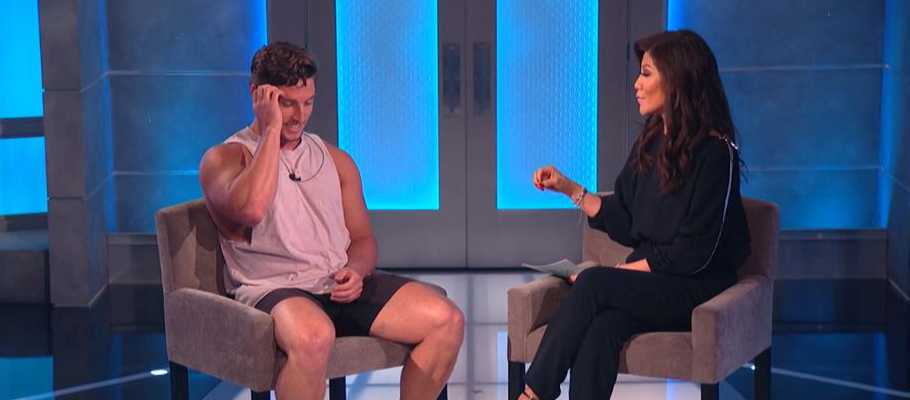 Although he spoke about being loyal to Level 6, Brett admitted that if he had won HoH last night, he would have nominated Kaycee and Angela as Level 6 anticipated he would have.
One of the most memorable feuds this season was between Rockstar and Brett. With Rockstar waiting for him in the jury house Brett thinks they might actually share a common bond.
"I'm gonna deal with it just like I dealt with living in the Big Brother house with her after she was upset by my eviction speech. I'm just going to avoid her at all costs. We might actually become friends with all the s–t we will have to talk about Tyler and Angela," he said.
Haleigh's rivalry with Sam was just as personal. During week four, Sam nominated Haleigh and Kaitlyn for eviction. Her reasoning was she didn't like how they were treating the "young men" of the house.
"I think they deserve more respect and I think it is the opposite of female empowerment and I think you both should respect yourselves more," said Sam at the time.
Sam's personal attack angered Haleigh. Now that some time has passed Haleigh is more reflective.
"I feel like everyone is entitled to their own opinion. I am lucky enough to be secure and confident to know who I am. I do not let what she said affect me to my core. I think it was unfair of her to pass judgement on me without having a conversation. I think there are always going to be people in your life who will have something negative to say. The best way to deal with that is to make sure you are being true to yourself," she advised.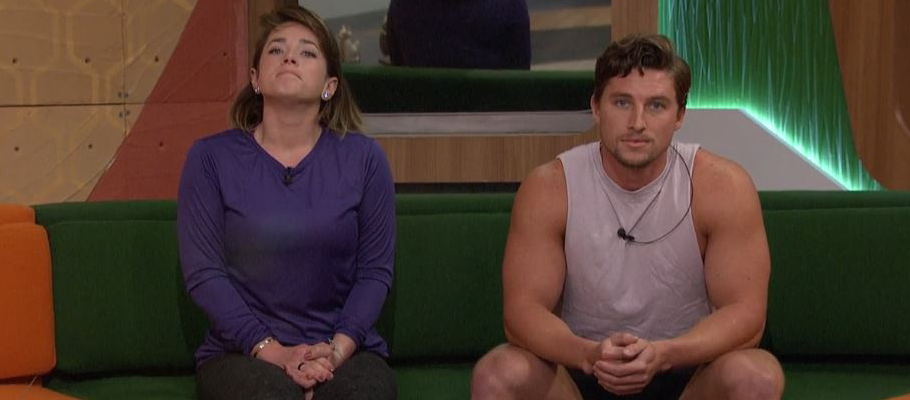 Only two weeks after Sam's nomination, Haleigh was put in another awkward situation when she became the Big Brother Hacker. Instead of keeping that information to herself though, Haleigh revealed all so that her friend Bayleigh would not be blamed for what she did.
"That comes down to my moral compass, that pesky little thing. I couldn't sit there and watch Bayleigh suffer without at least giving her a fair fight. To see someone go out of the game and take the blame for something I did was not something I could do. I was not made like that. At the very least I cleared my friend's name so that no one could justify voting her out under a false pretense," said Haleigh.
A member of the FOUTTE (Five Of Us Till The End) Alliance, Haleigh knew the ship was sinking early on but never felt welcomed in by Level 6. When he returned to the game, Scottie revealed to the house that the FOUTTE members of the jury were thinking of uniting for a unanimous jury vote. Haleigh doesn't put much stock in that theory.
"Considering we could not get a vote right all season I would be surprised if we could do it now," she joked.