Big Brother Spoilers: The Triple Threat debate who to evict
Big Brother Spoilers: The Triple Threat debate who to evict
By John Powell – GlobalTV.com
The newly-formed alliance between Turner, Monte and Michael – who we are calling The Triple Threat – are debating back and forth about who they want to send to jury this week: Terrance or Alyssa.
Turner and Michael weighed the options in the HoH room as Monte was preoccupied with Taylor outside.
"I view them both as being in the same boat," said Michael of the nominees.
Turner and Michael both agreed that nobody really finds Terrance a threat to their games.
"I definitely see both sides of it but for me Terrance staying terrifies me more. Even if the others want to work with Alyssa they have to realize they cannot take her to the end. There is a better chance if Alyssa is here that they will turn on her. They could drag Terrance to the final three and kick him out then. I am not sure they would even take that chance with Alyssa," said Michael.
Turner said he believes Brittany is trying to play both sides of the house now after she tried to make a final two deal with him.
"I am not intimidated by either of them in a competition so I don't necessarily think it is a big deal as I generally believe me or Monte will win. If Alyssa won though I don't know what she would do," stated Turner claiming that whenever someone tries play both sides everyone ends up finding out in the end.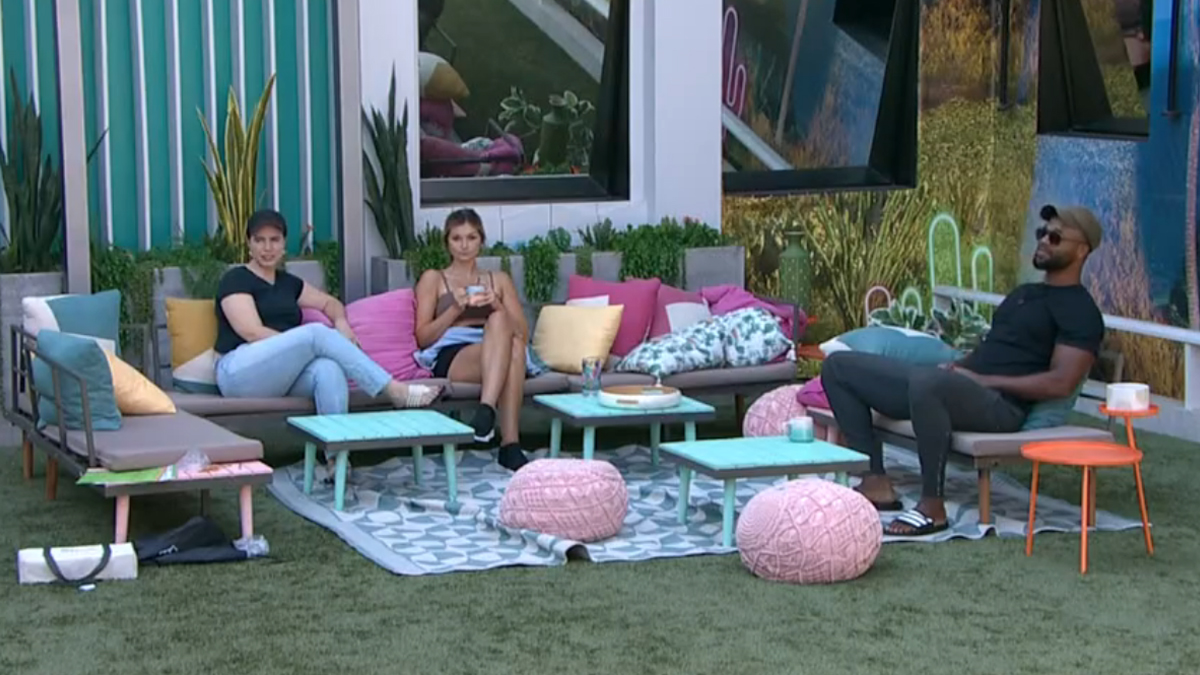 "I feel she must be panicked about something. This is like the Backstage twist all over again," said Michael of Brittany.
Turner is sure that Taylor is floundering too, making promises to both sides so she can come out on the winning end of things.
"Personally, I think I have a better chance of not seeing the block if Alyssa stays but I do think Terrance would put me and you up," said Michael telling Turner that Terrance is still mad at how the Dyer Fest alliance fell apart.
"He is a loose cannon," said Turner.
Michael is sure that once they let Alyssa in on the fact that Brittany is leaking information to both sides that she wouldn't consider aligning with her any longer.
"It is clear that Brittany is playing all sides," said Michael.
"She also has Alyssa wrapped around her little finger," replied Turner.
"They have been talking a lot this week," Michael confirmed.
Michael and Turner then went downstairs to play pool and strategize with Monte once Taylor was gone.
"What do we do with this information? Do we do nothing? Do we act normal? Does this change anything with this week's vote?" asked Monte of Brittany's flip-flopping in the house.
"If Brittany and Taylor want to go to Alyssa then they aren't obviously going to have our backs. If they are going to take a shot I don't see them putting Terrance up any way. I think it is kind of a wash there. Personally, I think if Terrance does win something I am for sure going up. He also told me he would put Turner up because he is mad about Dyer Fest not sticking together," said Michael.
"From my perspective there is a better chance with keeping Alyssa that we could make it out of a bad situation whereas with Terrance, I don't know," Michael added.
"I think this is a point of the game where I think either one of them is going to put one of the three of us up because I have heard from Terrance that he wants to put the both of you up but as far as Alyssa goes, I cannot get a read on her," said Monte.
When Taylor returned the strategy talk ended without a firm decision or conclusion.
Big Brother USA airs three times a week on Global TV. It airs Sundays and Wednesdays (8:00-9:00 PM, ET/PT) and Thursdays (9:00-10:00 PM, live ET/delayed PT), featuring the live eviction show hosted by Julie Chen Moonves.
To catch up on the recent episodes click here.