Big Brother Spoilers: Taylor speaks her mind
Big Brother Spoilers: Taylor speaks her mind
By John Powell – GlobalTV.com
The Big Brother experience has been full of ups and downs for personal stylist and former beauty queen Taylor Hale.
Sitting alone upstairs today while the other houseguests made their breakfast downstairs, she spoke to the cameras and anyone watching the live feeds. She shared her honest thoughts and feelings on her position in the game and her status in the house.
"I woke up to change the battery in my pack and what was waiting for me in the storage room? My suitcase once again, for the third time. I have touched the block on eviction night. It is the most out of anybody in this house as of tomorrow night," she said. "When you walk in the storage room in the morning and the first thing you see is your suitcase with your name on the tag it is just gut-wrenching and really demoralizing. It makes you question every single thing that you've done and if it'll be enough for you to take that bag and unpack it Thursday night. It's scary."
"At the end of this game it's only you making a case for yourself and seeing that suitcase in the storage room is when you feel alone. It brings you back to being a single player. So today I have to pack all of my things across this house for a third time," she sighed hoping that the conversations she has had this week will allow her to unpack that case once again.
She then talked about what the other side of the house is trying to do and why it won't work.
"Today is going to be very stressful but luckily all I have to do is just give people my reasons for why I should stay. I know the other side of the house is trying to convince Terrance to vote with them to keep Nicole but I am the one who told Terrance what he needed to know to stay in the house. I voted to keep Terrance. Nicole voted to boot Terrance. It is as black and white as that. If I stay in the house, Terrance gets to jury. We (the Leftovers) have the numbers to make sure that nothing changes."
Taylor also explained how she has tried to change her social game.
"I have no idea what the HoH competition is. I hope I am here for it. All I can do is rely on my alliance. Maybe I will have individual conversations with them. I cannot rub them the wrong way. I can't afford to rub anybody the wrong way," she told herself repeatedly.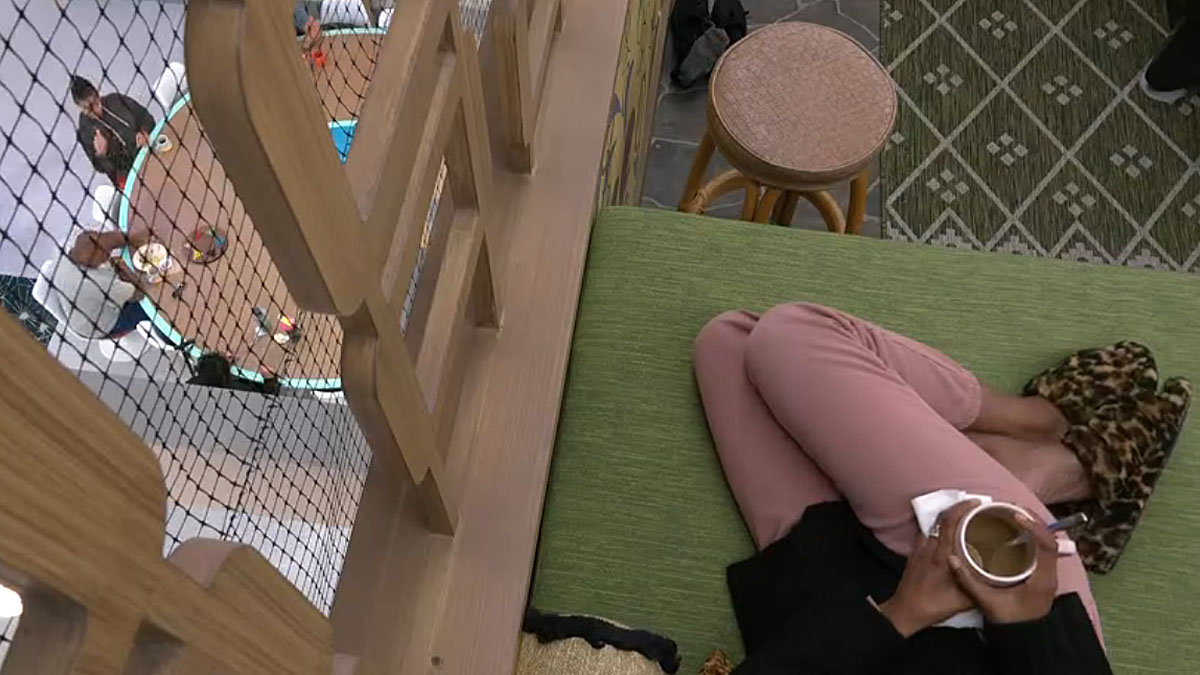 "Th scary thing about this house is that you can never feel too comfortable and I shouldn't be hiding away in bed every single day. Now, I finally feel like I can get out of bed and have conversations with people, I can do that a lot. Now, I'm nervous that I look like I'm too comfortable and maybe I am too comfortable. You just never know. This is a marathon not a race. Week four is almost over. I want to win HoH soon. Keep the steamroll going! We're just firing up the engine! I want that room. I want that letter from my family. I want pictures from home. I want to listen to Janet Jackson's music," she smiled just thinking about that.
"It is obvious who was meeting last night and who is meeting today. It is all the people we are targeting. Good for them for figuring it out," she said of those outside The Leftovers alliance.
Big Brother USA airs three times a week on Global TV. It airs Sundays and Wednesdays (8:00-9:00 PM, ET/PT) and Thursdays (9:00-10:00 PM, live ET/delayed PT), featuring the live eviction show hosted by Julie Chen Moonves.
To catch up on the recent episodes click here.