Big Brother Spoilers: Nominee lashes out when their fate is revealed
Big Brother Spoilers: Nominee lashes out when their fate is revealed
By John Powell – GlobalTV.com
One of this week's nominees has not taken the news of their imminent departure very well.
Just hours before the live show, Analyse learned she will likely be the next member of the jury because of the deals fellow nominee Christie has made to save herself.
"Congratulations, you are staying and you cannot even go after him because you promised him a f—-g deal!" Analyse snapped at Christie referring to her pact with Jackson.
As part of her campaign to stay, Christie promised Jackson she will not target him this week if she wins HoH. Jackson also promised to vote out Analyse if the vote resulted in a tie.
"Are you mad at me?" asked Christie following Analyse into one of the bedrooms.
"I am not mad at you. It is just f—–g annoying!" Analyse yelled as she furiously applied more and more make-up in preparation for the live eviction show.
"I was his number one target this week. He wanted me gone. You were a pawn. You were not supposed to go home but because I had to make a deal to stay I had to expose somebody else. My only other option was to go home. I am sick that you are upset. I am sick to my stomach," said Christie trying to comfort her.
"He (Jackson) is so annoying. I understand why America f—–g hates him!" cried Analyse brushing her face with rough strokes.
"If I could trade you with anyone on the block I would," said Christie.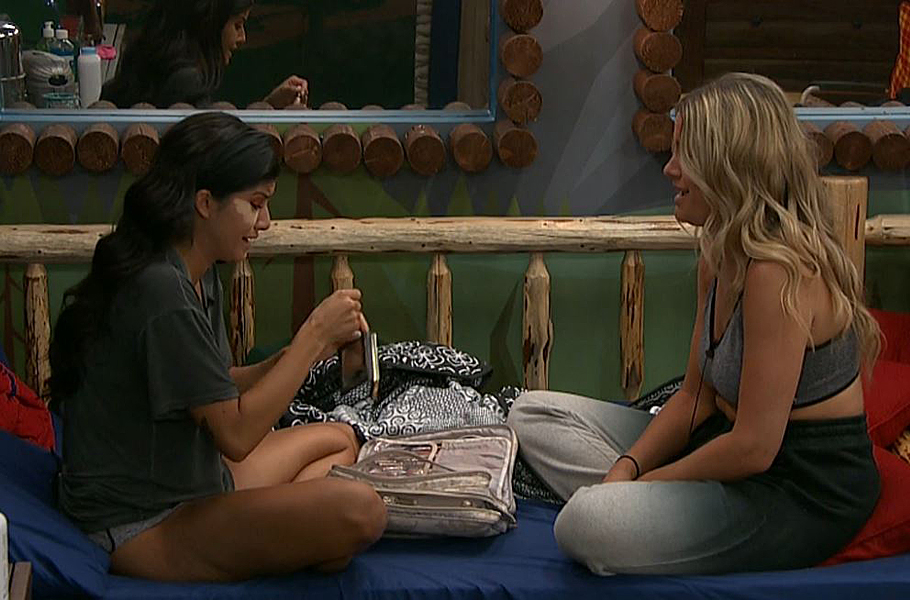 Calling Jackson a "bulls–t talker" Analyse wondered why Christie would make a deal with him in the first place.
"I had no choice," Christie confessed.
Jackson entered the room attempting to explain his side of things.
"Can you please just get out of my f—–g face! I literally don't want to look at you! I f—–g hate you! You shouldn't make promises to people that you aren't going to keep!" screamed Analyse.
"I didn't make a promise to anyone," said Jackson.
"You made a promise to me in Camp Comeback that I was a pawn!" yelled Analyse.
"I never said you were a pawn. I said that I didn't want you to go home," Jackson clarified.
"Okay, you f—–g liar!" said Analyse.
"I am a liar and you f—–g hate me. I am sorry you feel that way. It is a game and I am sorry you feel that way but I don't hate you no matter how much you hate me. You got to do what you got to do in this game," replied Jackson.
Later on, Jackson returned trying to plead his case again.
"I am sorry you feel I didn't make the right decision. I am sorry like someone else should have been up there instead of you. I am not doing what is best for anyone else's game. I had to do what's best for mine," he said.
"I get it. You have to do what's best for your own game," grumbled Analyse.
"I am sorry you hate me. I am sorry you think I am a f—–g liar. I am sorry I am dead to you. I told you the truth when I said I didn't want to see you go. I never said you were a pawn. I never made fake promises to anyone," he insisted.
"I have never done anything to you in the first place to be on the block," said Analyse.
"Did I ever tell anyone or you that you are my target? I gave the house two nominees and it was up to them to do whatever they had to do to stay in the house. I did my duties. I keep the nominations the same. After that, it is not in my control. I am sorry you are salty towards me. I gave you a fair opportunity to win the Veto. I gave you an opportunity to campaign. Why is it my fault if you couldn't rally the votes? That's not my fault," said Jackson.
"I had them until you said you wanted to go against me!" Analyse shot back.
Big Brother airs Wednesdays and Thursdays at 9et/pt and Sundays at 8et/pt on Global TV.
Return to Global TV for all of the latest Big Brother news and episodes.