Big Brother Spoilers: Houseguests Panic Over 'Halting Hex' Temptation
Big Brother Spoilers: Houseguests Panic Over 'Halting Hex' Temptation
By: John Powell – GlobalTV.com
Someone has won this week's 'Den of Temptation' power and that has put the Big Brother 19 house into a state of utter chaos.
The 'Halting Hex' allows the winner to halt one of the next four evictions during the live show making it a non-eviction night.
All the players know is that the temptation has put a curse on the entire house and unknown to the houseguests, that is likely the 'Battle Back' twist this Friday night.
When the feeds came back after the temptation was held, the houseguests couldn't help but to speculate about the outcome and interrogate each other as tensions ran high.
WATCH: Big Brother After Dark Season 19 Full Episodes Online
In the storage room, Paul Abrahamian, Elena Davies and Raven Walton ran scenarios.
"I am pretty sure somebody is going to come back into this house. Something like that is going to happen," said Paul.
"That temptation better have been f—–g good," Elena said.
Paul continued the conversation with Raven and Jason Dent in the front room. Jason discounted Paul and Christmas because they have accepted a temptation already. Mark Jansen and Raven claimed it wasn't them. Jason said that Josh Martinez and Matt Clines denied winning it.
"As long as Dominique [Cooper] didn't get it," sighed Paul.
In the HOH room, Alex Ow and Jason put their heads together.
"What are you going to do with the temptation you just got?" asked Jason.
"I didn't get a temptation but nice try trying to get it out of me because you know I don't have it," said Alex as Jason laughed.
"Who has it?" asked Alex.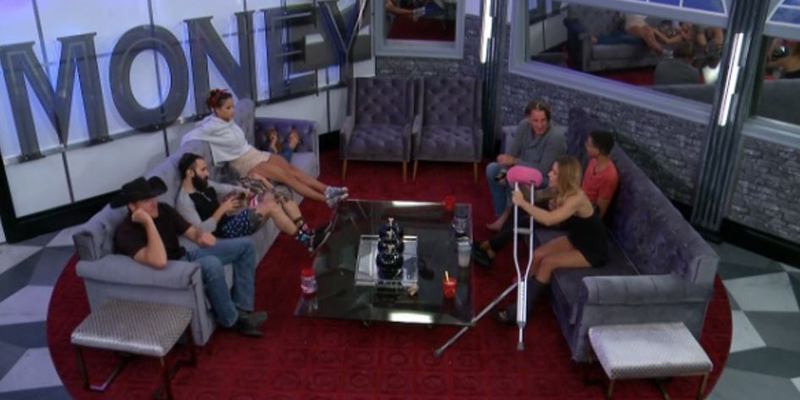 "I don't know. I was thinking Josh, Mark or Dominique," replied Jason.
"Do you really think Paul doesn't know who has it?" asked Alex.
"How would he know?" answered Jason.
"He has been asking everyone," said Alex.
"Why would they tell him?" asked Jason.
Tonight begins a three night Big Brother 19 event with the POV episode tonight, July 19 at 8 et/pt, the eviction episode tomorrow night, July 20 at 9 et/pt and the special 'Battle Back' episode on Friday, July 21 at 8 et/pt on Global in which the evicted houseguests – Cameron Heard, Jillian Parker, Cody Nickson and this week's evicted player have the chance to win their way back into the competition.
RELATED: Cody's Big Brother 19 Exit Interview: "Dominique & Matt Turned Their Backs on Me"
Watch Big Brother [BB19] online the day after broadcast on GlobalTV.com/BigBrother or on the free Global Go app for iOS and Android.
CATCH UP NOW ON THE LATEST EPISODE: Big Brother Season 19, Episode 9