Big Brother Spoilers: Houseguests Are Obsessed With Sarah Beth Mystery
Big Brother Spoilers: Houseguests Are Obsessed With Sarah Beth Mystery
By John Powell – GlobalTV.com
Surprisingly enough, the talk in the Big Brother house isn't about the game or even the upcoming eviction. It is about the romance – or should that be a showmance? – between two houseguests.
In the last few weeks, Sarah Beth and Kyland have gotten closer not just as allies but as perhaps something more. They have begun cuddling in bed alone together, having intimate conversations away from the others, the sort of things showmances or romances do on the series. The houseguests are a mite confused because Sarah Beth has mentioned that she has a girlfriend named "Shelly" outside of the house and that has caused tongues to wag inside of the house.
"The things that you do in here, you have to be prepared for the fact that online there might be repercussions," said Azah to Derek Frasier in one of the bedrooms on the live feeds. Derek had just finished showering and was wrapped in a towel.
"You might be looking like a cherub sitting in the Sistine Chapel with a towel on and there will be someone who is really upset about that. That is just how it is," she continued shaking her head.
"Someone being upset because I am in a towel?" laughed Derek.
Azah said it was just an example of how the world might be crashing down on Sarah Beth and Kyland.
"I love how you have this kindhearted glow about you. I love that about you. It is beautiful. I get that because you are an African Queen and you believe in giving chances but at this point, it has been six weeks and I have been waiting. Everyone else has been waiting. Like Tiffany says, nothing at this point is making any sense. I can understand the cuddling, we all do it, whatever. Actually, we don't even all do it because there were houseguests who came in here in a relationship and that was Travis, Frenchie and her (Sarah Beth). Frenchie never did it. Travis never did it. She is the only one so I am confused," said a puzzled Derek.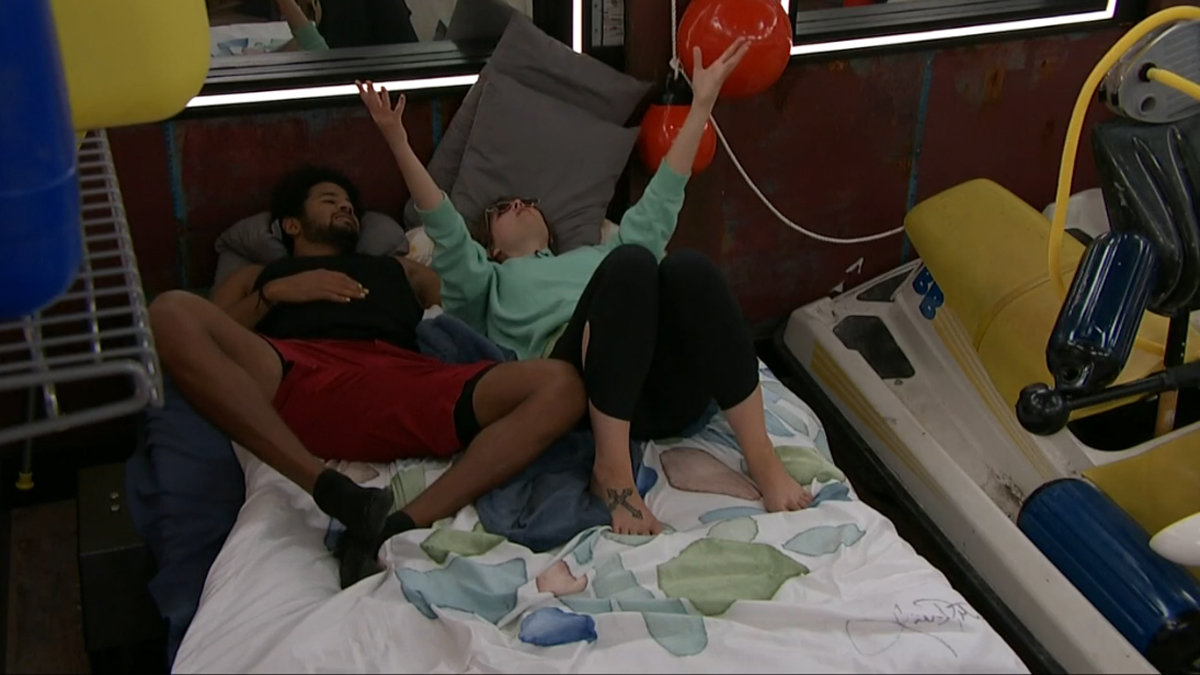 "There is a difference in me cuddling with Xavier in front of everybody but I am not going to be sleeping or staying in the same room with Xavier when there is nobody else around. There is plenty of space and plenty of beds so I am very confused," he continued saying he will question Sara Beth about it later.
Azah explained that she knows someone who went through a public, online shaming which is why she is staying out of the matter altogether.
"I have been able to extend people a lot of grace in those situations and I understand that people put themselves in those situations but being close to somebody who has had to deal with the vitriol, I would not wish that on my enemy. That is why I am trying my best not to contribute to this. That is why I keep my mouth shut," said Azah.
"I respect that and I get that. We are not here trying to bring her down. We are actually trying to say…Hey, is there something going on?" said Derek.
"At this point, it is too late now," sighed Azah.
"But we have been trying. We have been respectful," responded Derek.
Derek and Azah spoke how they did question Kyland about it. When Kyland claimed there was nothing between them Azah said she just backed off entirely.
Xavier jumped into the conversation adding his thoughts.
"People are going to do what they are going to do. She (Azah) just doesn't want to add fuel to the fire. I also understand what he (Derek) is saying. We all knew coming in here that if we behaved a certain way there would be consequences. The fact that people are talking about it shouldn't be coming as a shock to anyone. She said she is in a relationship. We don't know what to be true but from what we do know, it doesn't look good," said Xavier reminding everyone that their only source that Sarah Beth is in a relationship is what she has said herself. Being shut off from the rest of the world they have no real confirmation about her true relationship status.
"It doesn't mean the house should be gossiping about it but at the same time we are not going to sit here and do nothing especially if we care about these people," he continued.
Check back here for all the latest news from the Big Brother house.
News
News
Watch Big Brother USA's Most Epic Moments:
News
News
News
News
News
News
News
News