Big Brother Spoilers: HoH In The Hot Seat
Big Brother Spoilers: HoH In The Hot Seat
By John Powell – GlobalTV.com
The current HoH came under some friendly fire after the Power of Veto ceremony today.
Kyland, this week's Head of Household and Power of Veto winner, decided not to change his nominations leaving Tiffany and Hannah on the block.
In the living room with Tiffany, Hannah and Derek afterwards, Kyland was the butt of many jokes. It was hard to tell if they were playful, friendly shots at him or passive aggressive jabs meant to make him feel bad.
"You STILL want to be his friend?" said Tiffany to the others about Kyland as she entered the room.
"I was only saying mean things about you, I promise," joked Kyland laughing.
He told Tiffany he was crying a few minutes ago about how everything went down and she missed it.
"Why didn't you call me?" said Tiffany to Derek and Hannah.
"So you could see his tears?" laughed Hannah.
Kyland told Tiffany her hair looked great today.
"You could have said nice things about me during the Power of Veto meeting," she slapped back.
"Just listen to this, he nominates me on my father's birthday. It is my parents' anniversary and I am on the block. You are giving my parents a heart attack. They already have cholesterol and blood pressure issues so if anything happens to them, it is on you," said Hannah before saying she was just kidding.
The Big Brother producers called Kyland to the Diary Room.
"Yes, Kyland they want you to apologize. You put two black women on the block. What kind of guy are you?" said Tiffany.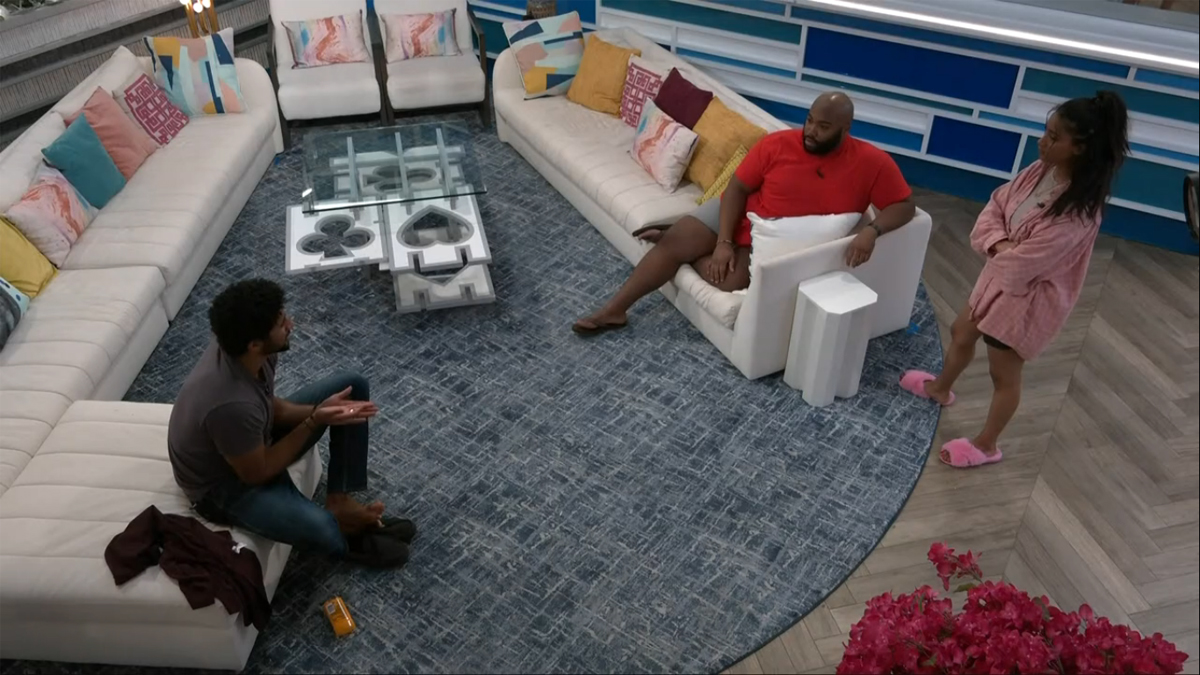 "There it is. I was waiting for it," said Kyland disappearing into the Diary Room.
When Xavier joined the others the conversation went to the prize money. Hannah and Derek agreed that if they were given the choice they would rather split the money with the other five than continue playing.
Xavier warned them that kind of wheeling and dealing is against the rules.
"I don't think you are allowed to say that because then it would seem like you are colluding with the jury. It is like you are bribing the jury," he said.
Check back here for all the latest news from the Big Brother house.
News
News
Watch Big Brother USA's Most Epic Moments:
News
News
News
News
News
News