Big Brother Spoilers: Dyer Fest Update, Kyle gets serious about Alyssa
Big Brother Spoilers: Dyer Fest Update, Kyle gets serious about Alyssa
By John Powell – GlobalTV.com
After a whirlwind weekend the feeds have finally returned to the backyard of the Big Brother house and the Dyer Fest inhabitants: Kyle, Alyssa, Terrance, Turner and Joseph.
Head of Household and Power of Veto winner Terrance did change his nominations. He left Joseph on the block, took Turner down and replaced him with Kyle.
Alyssa and Terrance hashed out their strategy for when the twist ends tomorrow.
Terrance hopes that HoH Michael managed to persuade the Big Brochella players to send Monte to the jury.
"It would be great if Monte is not in that f—–g house," said Terrance.
"I think Jasmine is good with Michael and Taylor said she wouldn't vote her out," said a hopeful Alyssa.
"I think he (Michael) should take the f—–g shot. A shot will be taken out here and you or Kyle will win the next HoH. Michael and Taylor, have a seat," said Terrance about what will happen if Turner, Kyle or Alyssa win HoH this week.
"We have to make those moves and I am ready for it," replied an excited Alyssa.
Alyssa then picked Terrance's brain about if they should reveal to the rest of The Leftovers that they know everything about the alliance.
"So, me and you are the only two people not in this alliance. Are you going to act like you don't know about it or are you going to say that on his way out Joseph spilled the beans?" she asked.
"I don't know," answered Terrance.
"We need to think about that," suggested Alyssa.
"I think I am going to keep it under my hat because I already know what I am up against. What's the point of giving them more fire power?" said Terrance.
Joseph asked to chat to Alyssa when she was done with Terrance. Joseph didn't express much hope in staying this week but figured he might as well give everyone his best pitch to stay. He immediately targeted Kyle.
"In the truth he has sprinkled so many lies and it is just too late for me to undo all of that," he said to Alyssa.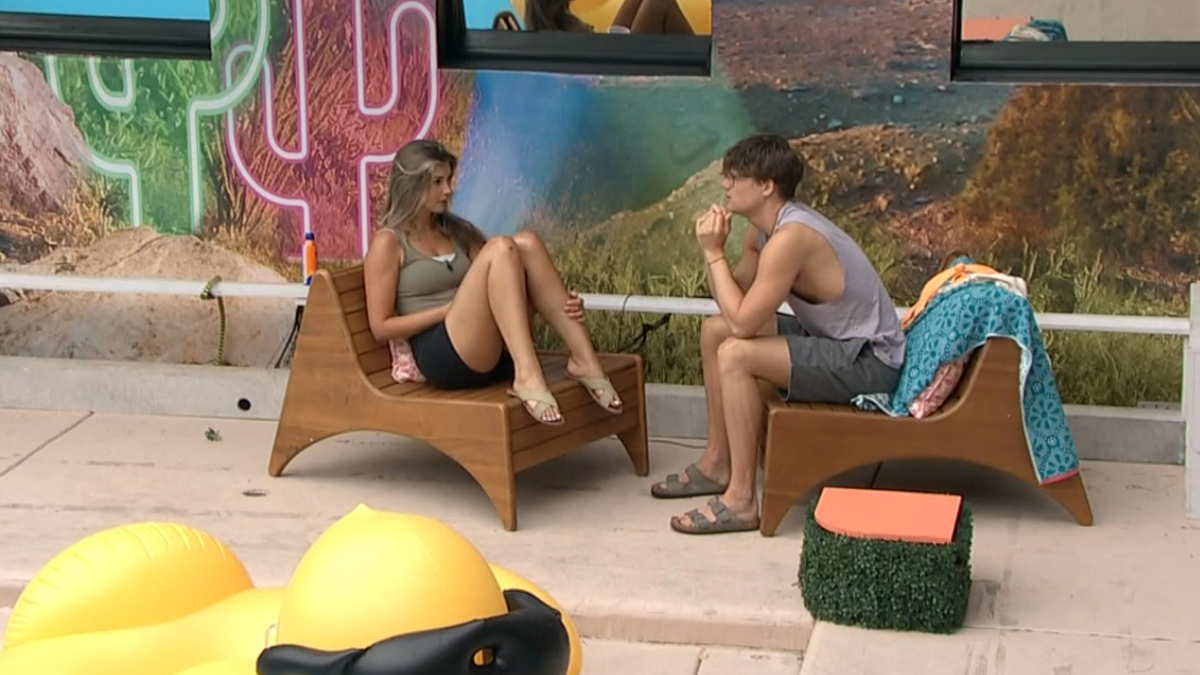 Joseph gave an example of Kyle twisting things around. Joseph insisted that it was Kyle who told him about the Old School alliance not Ameerah. Kyle has told everyone his versions of what has happened in the house. Joseph promised Alyssa he would be more loyal and dependable to the rest of the Dyer Fest crew.
"He has incentive to lie and manipulate. He beat me to telling you everything which was probably in his favour," Joseph grumbled.
Alyssa told Joseph directly that she had nothing to ask him or discuss with him but she would think about the things he had talked about.
Kyle was quick take Joseph's seat when he left. Kyle explained that he cannot help to be nervous seeing Joseph conferring with everyone else.
"He does things for no reason. He lies for no reason," Kyle said of Joseph's overall gameplay.
"Nothing he does makes sense but I don't think anything is going to change. There is nothing he can say," said Alyssa trying to calm Kyle.
Alyssa predicted that Joseph's pitch to Turner will be that Kyle turned his back on The Leftovers.
Kyle told Alyssa as far as the game is concerned he would "go home" for her and he planned on moving to Florida to be with her. Alyssa welcomed that idea as she wants to explore where their relationship is headed after the show.
Big Brother USA airs three times a week on Global TV. It airs Sundays and Wednesdays (8:00-9:00 PM, ET/PT) and Thursdays (9:00-10:00 PM, live ET/delayed PT), featuring the live eviction show hosted by Julie Chen Moonves.
To catch up on the recent episodes click here.