Big Brother Spoilers: A Simple Blindside Gets Complicated
Big Brother Spoilers: A Simple Blindside Gets Complicated
By John Powell – GlobalTV.com
One houseguest doesn't want any blood on their hands and is letting the other players know it.
Tiffany met with Britini and Azah late last night and told them they need to be straight with Christian about how they are voting this week so he stops pestering her.
"I might be forced to say that you Britini are not voting for him because I don't want him chasing me around this house thinking all he needs are votes from me and Claire to stay," Tiffany told the group.
"That is putting HER in a bad position," said Azah defending Britini.
"That is putting ME in a bad position because he is telling me and Claire he needs our votes," Tiffany snapped back.
"He thinks he has an opportunity to stay and he does not. I am not going have him keep chasing me around," she continued.
Tiffany claimed it is making her and Claire look bad to Christian when the reality is nobody is voting for him to stay besides Alyssa, his showmance partner. Tiffany isn't telling Christian the truth yet because she still has to live in the house with him and Alyssa.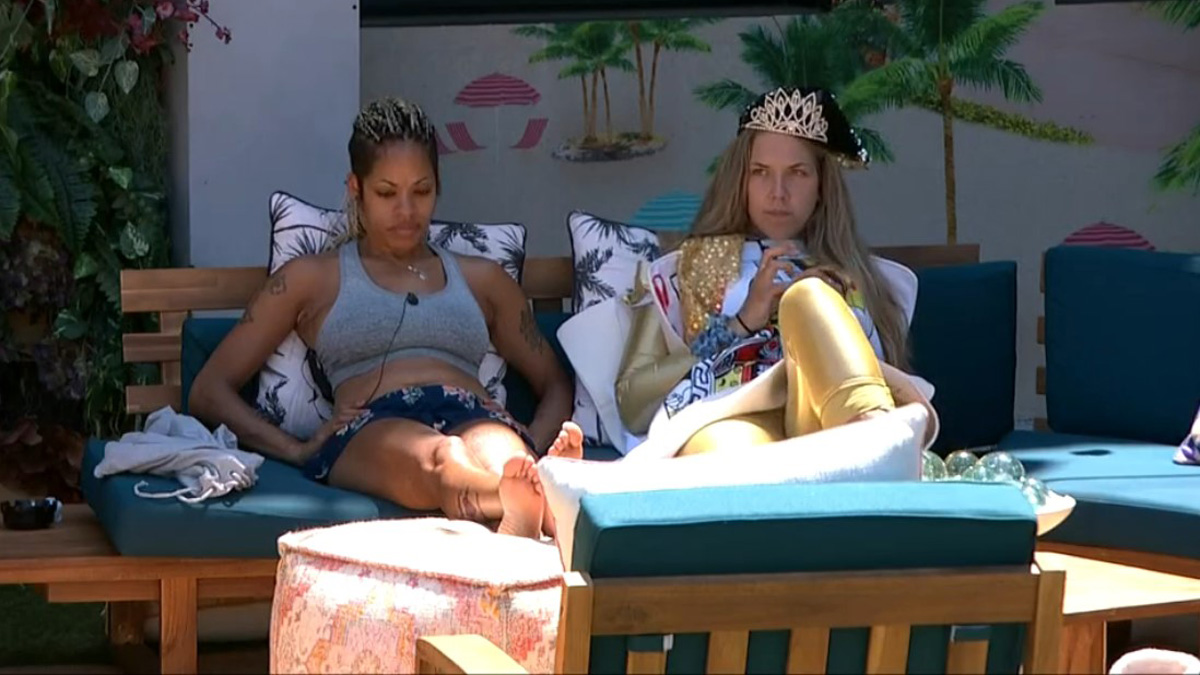 "Alyssa thinks you are all voting to keep him. How's your damage control for that or is it that you don't care?" asked Tiffany.
"He needs three more votes but he doesn't know that and he is pressuring me like I am the swing vote and I am not," said Tiffany.
Tiffany told them that if Christian calls a meeting she will tell him the truth even if everyone else won't or doesn't want to.
"I understand that. I don't want to be in this position either. It sucks," said Britini.
"So what is your plan? Not tell him anything and vote him out on Thursday?" asked Tiffany.
"That was one. The other would be to tell him on Thursday. Today was hell for me. I got pulled aside eight times!" a frustrated Britini answered.
Derek Frazier entered the room and Azah gave him the lowdown.
"She wants you to tell Christian the answer is 'no' or she will tell him," she said.
"You can tell him whatever you want. You are playing your own individual game," said Derek.
Britini explained that Christian wants her to bring everyone together so he can quiz people on their votes.
"That is not your job," said both Tiffany and Derek.
Tiffany said she didn't want to throw anyone under the bus but if he approaches her again she will let him know that she isn't the swing vote.
"I am coming to you all telling you this because I don't want any issues. We have been working together. I want us to continue working together," said Tiffany.
"You can say whatever you want to say. Just like we are going to say whatever we are going to say. If that is the route you are going to go then we are getting a little bit…you know," warned Derek.
"No, I don't because you are all lying and I haven't said anything," Tiffany fired back.
"Okay, this is kind of getting like…" Azah sighed.
"I got this. Here is my thing. When Christian asks me a question I tell him I don't know. I am thinking about it. I will let him know," replied Derek.
Azah suggested that everyone sleep on it because the discussion was going nowhere fast.
Big Brother USA airs on Global on Sundays and Wednesdays at 8:00-9:00 PM, ET and Thursdays at 8:00-9:00 PM, ET.
Check back here for all the latest news from the Big Brother house.
News
News
Watch Big Brother USA's Most Epic Moments:
News
News
News
News
News
News
News
News