Big Brother: Celebrity Edition Recap & Highlights – Episode 6
Big Brother: Celebrity Edition Recap & Highlights – Episode 6
By: Cristina Deguara – GlobalTV.com
This Valentine's Day there's no love lost in the Celebrity Big Brother house!
We pick up with Keshia Knight Pulliam leaving the house and Omarosa is oh-so-thankful that everyone respected her wishes, for Keshia's sake of course. But before her grand departure, Keshia spills the beans to Omarosa and reveals that the rest of the house wants Shannon Elizabeth out.
CATCH UP NOW: Celebrity Big Brother Season 1, Episode 5
Brandi Glanville is frustrated because she wanted to backdoor Shannon this week and feels like Keshia taking the easy out makes her game that much harder. Valid argument. Did she forget she had a baby at home when she signed up for this game? Brandi started out as the woman I loved to hate but she's here to win this thing and is giving it her all.
It's time for the HOH (Head of Household) competition and Ross Mathews is decked out in full sailor gear. The yard is set up like a cruise ship and mini golf is on the menu. The celebs are going to compete to see who can sink three golf balls in the least amount of time. To raise the stakes giant fans will be bringing in the winds of change to throw them off their game.
Brandi is up first and it's a flop. I thought rich white women were supposed to be good at golf? There goes Big Brother shattering stereotypes. Shannon is up next and nails the first two holes. If she makes it to HOH Omarosa will certainly be the next to go and let's face it – is there even a show without Omarosa? Thankfully she gets stuck on the third hole and that beefs up her time.
Omarosa and Marisa Winokur are up next but they can't beat Shannon's time. It's Ari's turn. It takes her a minute to get the hang of it but she sinks her balls quickly, coming out in top place. Gorgeous and athletic. I'll bet she's written a bestseller too.
Metta World Peace is up next and he's looking seasick. Is it bad form to barf on the green? He sinks the first two holes easily but doesn't stand a chance on that third hole. This competition is still Ariadna Gutierrez's to win. Mark McGrath takes his turn and he is also no match for the ex-beauty queen.
James Maslow is the last contestant and like the others he quickly sinks the first two holes. He gets slightly stumped on the third hole and sinks it by a mere hundredth of a second more than Ariadna! Who even needs the Olympics with these kinds of stats?
Ari is the new HOH and everyone is thrilled. Shannon feels safe. Omarosa feels safe. Brandi feels safe. How can such a beautiful face cause anyone harm? If the grim reaper looked like Zac Efron under that hood I'd bet we'd all feel a little bit better about crossing over.
Omarosa is doing her happy dance and it's strange to see the house celebrate with Omarosa. Behind the scenes Brandi's got Ari's ear and is doing a great job of planting her own seeds of destruction. James is oblivious and still thinks Omarosa is the target. Even Mark and Metta know what's going on. Can the houseguests keep this secret? My money is that Shannon knows about it before the next commercial break.
In a private moment in the pantry Metta World Beast is thrilled. He's vowed revenge on everyone in the house for not sending him home when he wanted to leave. This is a side of him we haven't seen much of, but boy is it entertaining!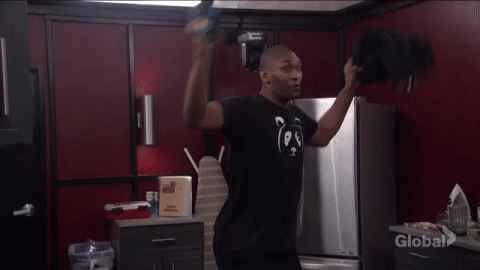 Now when you're in the big brother house a couple of days (even hours) and the overall strategy of who the next target is hasn't changed (i.e. Omarosa) or is even being discussed it should be pretty clear that something's up but Shannon is still living in a fool's paradise.
Ariadna and team decide the best bet is to put up Shames. They're the best bet to get one of the two strongest players out of the house.
Back in the HOH room Shannon is dying to get in to talk shop but everyone knows she won't reveal their strategy with Metta in the room. When she walks in Operation Talk-Block is engaged. Brandi starts rambling about pounding chicken while Metta does his best to look natural in the most uncomfortable position known to man. Frustrated, Shannon eventually gives up and leaves.
Shames is starting to figure out that the tides might be changing. Everyone is getting along far too well and Shannon can tell she's on the outs. Even Omarosa is having a much better time than she is. Now that she's pieced it together Shannon gets pouty and claims the whole house has been against her since day one. Cue the waterworks.
At the nomination ceremony Shannon has her back up and confronts the house. Omarosa brings up the fact that Shannon campaigned against her when she was in the hospital (fighting for her life!). Thankfully Ari finally shows up for the actual nominations. She puts up James and Shannon as expected. It feels like Shannon has already given up which is disappointing and quite frankly I expected more from this smart player. This is a great play for Ari who hasn't really done much this season but is proving she has the cohones to make it to the end.
RELATED: Celebrity Big Brother Full TV Schedule on Global
On Friday we find out who will win the power of veto and who will be evicted from the house in a special two-hour episode. Will it be bon voyage James, sayonara Shannon or will there be a new target?
Who would you love to see backdoored this week? Leave a comment below.