Big Brother 20 Spoilers: Veto Played and Won – Week 3
Big Brother 20 Spoilers: Veto Played and Won – Week 3
By John Powell – GlobalTV.com
This week's Big Brother 20 POV (Power of Veto) has been claimed.
Scottie Salton, the HoH (Head of Household) is also the Veto holder which means besides those with BB Power Apps (Sam Bledsoe and Bayleigh Dayton), he holds all the power in the Big Brother house this week.
"I had it," a regretful Brett Robinson told Winston Hines in the storage room on the live feeds.
WATCH: Big Brother After Dark Online – Season 20 Full Episodes
Winston hatched a plan. In the middle of the night the Bros will go talk to Scottie in the HoH room, have a meeting, just the three of them. They need to convince Scottie to use the Veto on Brett as he didn't blow up on Scottie during the competition and Winston did.
"We are going to tell him we are doing a final three. He has nobody to ride with right now. I have it in my back pocket that he lied to his entire alliance saying he voted for me. I will shut up and not spread that and he saves you and backdoors Kaitlyn [Herman]," Winston suggested saying it was the only offer they could make him at this point in the game.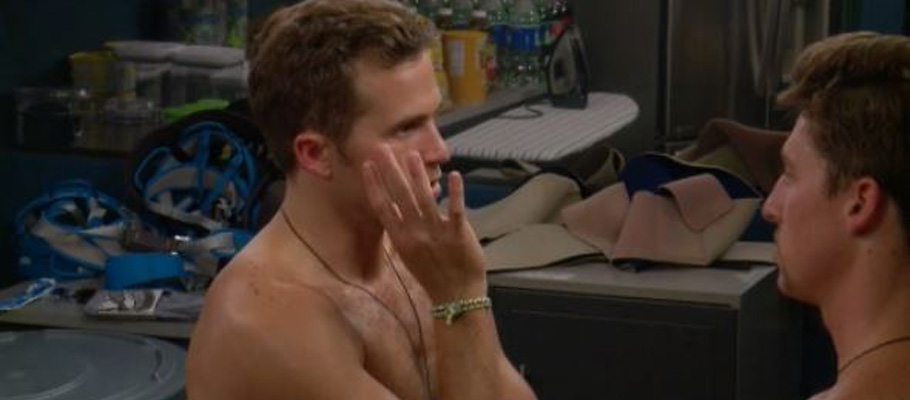 "Everyone knows I am pissed off at him. Nobody would suspect we are working together. Not a soul," Winston continued saying they don't tell the other members of their alliance.
As the Bros were scheming, Scottie entered the storage room. The Bros congratulated him.
"That was brutal," said Scottie.
"Congrats, man. Sorry for blowing up on you out there. I was heated. I know it is a game. I am not going to be all pissy over it. It just sucks," Winston apologized.
Winston asked Scottie who he will take on the trip he won. Scottie didn't know. He has never been out of the country.
Will Scottie accept their deal? Tune into Big Brother 20 on Wednesday, July 18 and find out.
Big Brother airs Wednesdays and Sundays at 8 et/pt and Thursdays at 9 et/pt on Global. Watch Big Brother online the day after broadcast on GlobalTV.com/BigBrother or on the free Global Go app for iOS and Android.
CATCH UP NOW: Big Brother Full Episodes – Season 20