Big Brother 20 Spoilers: Scottie Makes His Noms, Power App Awarded
Big Brother 20 Spoilers: Scottie Makes His Noms, Power App Awarded
By John Powell – GlobalTV.com
As this week's Big Brother 20 HoH (Head of Household), Scottie Salton is setting his sights high putting two more alpha males on the block.
At today's nomination ceremony he nominated The Bros, Winston Hines and Brett Robinson.
"I want to break his face," snarled a disappointed Winston of Scottie as he sat on his own in one of the bedrooms.
In the storage room, Winston met with Tyler Crispen and Kaitlyn Herman.
"He did it. I am trying to think of a way out of this," said Winston. "One of us has to win the Veto. There is no question about that."
"You need to separate yourself from Brett for a hot minute and go around telling people why you deserve to stay over Brett. It is what it is. You want to make it to the end," Kaitlyn advised.
"You don't have to campaign against him. Just tell people why you should stay," said Tyler.
WATCH: Big Brother After Dark Online – Season 20 Full Episodes
Winston felt disappointed that only Tyler, Kaitlyn, Sam Bledsoe and Kaycee Clark came up to speak to him after the ceremony.
"I think everyone just wants to give you some space," said Kaitlyn.
"I am used to this. I was on the block last week. I just don't understand why he (Scottie) is lying to the entire house?" replied Winston.
"Unfortunately as HoH he can do whatever the f—k he wants and nobody will question it," said Kaitlyn.
Upstairs, Brett met with Scottie. Brett wanted answers as to why he was nominated.
"You have connections with every girl in the house and by the time we get the votes later, you will be unstoppable and I am not about that backdoor s—t. I want everyone to have their chance especially a competitor I respect."
"I respect that. It is fine, Scott," said a sullen Brett.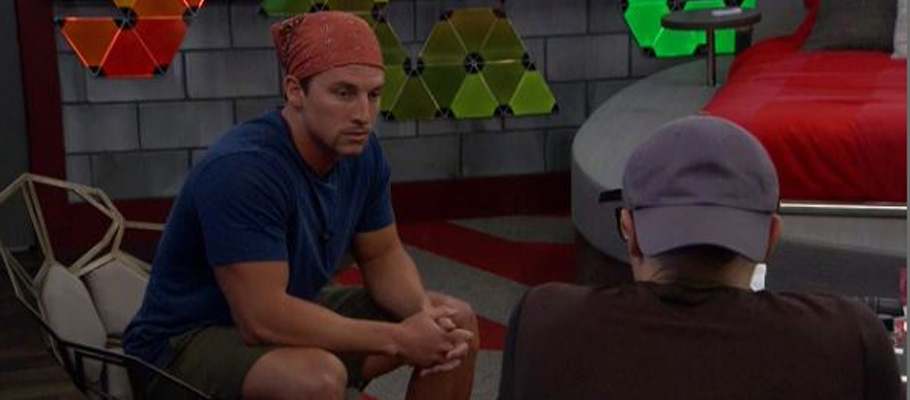 "I just feel like your votes are always going to be the same," Scottie added.
Brett insisted he had been upfront with Scottie the entire time and wanted to work with him.
"I think you made the wrong choice but at least you gave me the chance to fight for the Veto," said Brett.
Later, when Brett entered the storage room with Faysal Shafaat, Winston questioned him about speaking with Scottie in the HoH room.
"I just wanted to hear his case, that's about it," said Brett. "He just restated what he said is all."
On the live feeds it was also revealed that Haleigh Broucher won this week's Crap App and Bayleigh Dayton won the Power App.
Will Brett or Winston win Veto and save themselves? Will a Power App be used this week? Tune into Big Brother 20 on Wednesday, July 18 to find out.
Big Brother airs Wednesdays and Sundays at 8 et/pt and Thursdays at 9 et/pt on Global. Watch Big Brother online the day after broadcast on GlobalTV.com/BigBrother or on the free Global Go app for iOS and Android.
CATCH UP NOW: Big Brother Full Episodes – Season 20