Big Brother 20 Spoilers: Nominees react to the block
Big Brother 20 Spoilers: Nominees react to the block
By John Powell – GlobalTV.com
HoH Haleigh has made her nominations for the week but her choices think they know who the real target is.
After Haleigh nominated Angela and Kaycee, they and Tyler chatted in one of the bedrooms on the live feeds.
"I am going to get backdoored but don't freak out," Tyler predicted.
"Just don't freak out," Angela advised.
"We have to win the Veto," said Tyler as he left the room.
"F—k. I just didn't want to be in the Diary Room all week," laughed Angela.
"What a BIG move, Haleigh. Legendary," joked Angela.
Angela thinks Haleigh put up two people that were not even going to target her. Angela called Haleigh "dumb" but is certain she is trying to backdoor someone.
"We will chill. Whatever happens, happens but we will go for this hacker s—t and the Veto," said Kaycee.
Kaycee thinks someone got in Haleigh's ear.
The conversation then switched to the Have-Not Room and Tyler rejoined them.
They began talking about Sam and her gameplay. They all think she is playing way too personally.
"She is f—–g with our game," complained Kaycee.
"She doesn't understand s—t," said Tyler.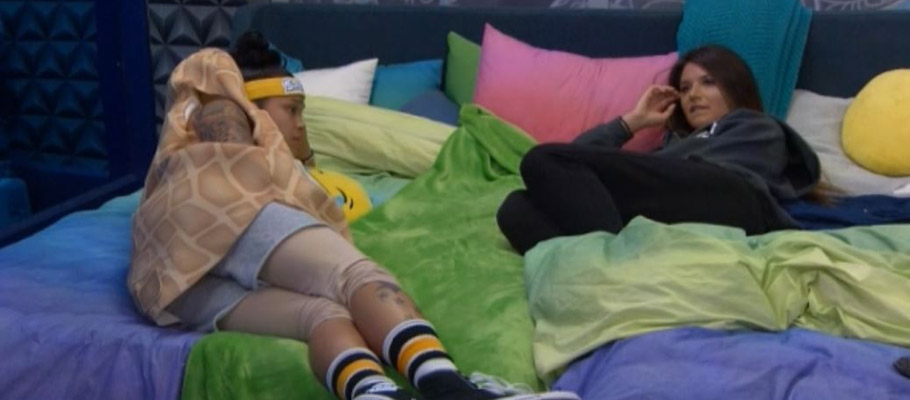 "We are playing a game and there are two separate sides," said Kaycee.
Tyler said if he wins the Hacker Competition he will take Kaycee down and perhaps put her or himself in the Veto Competition.
"We should be fine," said Kaycee.
They all agreed to put Rockstar up if they win the Hacker Competition.
Kaycee doesn't understand why Haleigh isn't after Sam since Sam put her up on her HoH.
"Probably because she voted to keep Baleigh and is playing an emotional wreck," said Kaycee.
Tyler says he doesn't check in regularly on Sam, baby her and that's why she isn't close to him.
Reader Alert: Global viewers, on Sunday Aug 12th, Big Brother will be airing at 10 et/pt.
Big Brother airs Sundays and Wednesdays at 8 et/pt and Thursdays at 9 et/pt on Global. Watch Big Brother online the day after broadcast on GlobalTV.com/BigBrother or on the free Global Go app for iOS and Android.
CATCH UP NOW: Big Brother Full Episodes – Season 20