Big Brother 20 Spoilers: Houseguest Resorts to Pots, Pans for Retribution
Big Brother 20 Spoilers: Houseguest Resorts to Pots, Pans for Retribution
By John Powell – GlobalTV.com
Thanks to Survivor's Susan Hawk and Big Brother's Evel Dick [Donato]  and Josh Martinez. The familiar clanging of spoons, pots and pans has returned to the Big Brother 20 house.
On the live feeds, Angie "Rockstar" Lantry paid back fellow houseguest Brett Robinson by harassing him with a stainless steel symphony. In his speech on the live eviction show Brett told everyone that Rockstar had come to him with a plan to flip the vote and betray her alliance.
WATCH: Big Brother After Dark Online – Season 20 Full Episodes
As they prepared for the HoH (Head of Household) competition, Rockstar confronted Brett demanding to know why Brett would target her on her daughter's birthday.
RELATED: Big Brother 20 Spoilers – Accusation Causes Houseguest to Snap
Later in the evening as Rachel Swindler, Brett and others prepared to go to sleep, Rockstar grabbed a pan and a spoon from the kitchen as JC Mounduix egged her on.
"I have a feeling we are going to get woken up with pots and pans," predicted Brett.
Seconds later, Rockstar began chanting out Brett's name while banging on the pot.
"Kiss my ass, Brett! Let's not talk about his micro penis! Brett! Brett! I am so happy he is here!" shouted Rockstar as she entered the Have-Not bedroom where Brett was.

Brett smiled and clapped along.
Rockstar then jumped on the bed Brett was resting on, sat on his legs, singing and chanting in his face.
"You can get off of me," said Brett.
"No, I am here for you," Rockstar sang as she continued to bang the pan.
Brett asked Rockstar to move again several times before she did.
Brett left the room and Rockstar followed him.
"Yo, Brett! Shake that ass!" Rockstar sang as Brett wandered around the kitchen.
"You are doing a good job. Keep it up," said Brett. "This is an original idea. I think Josh already did this."
Finally, HoH Sam Bledsoe came downstairs to speak to Rockstar.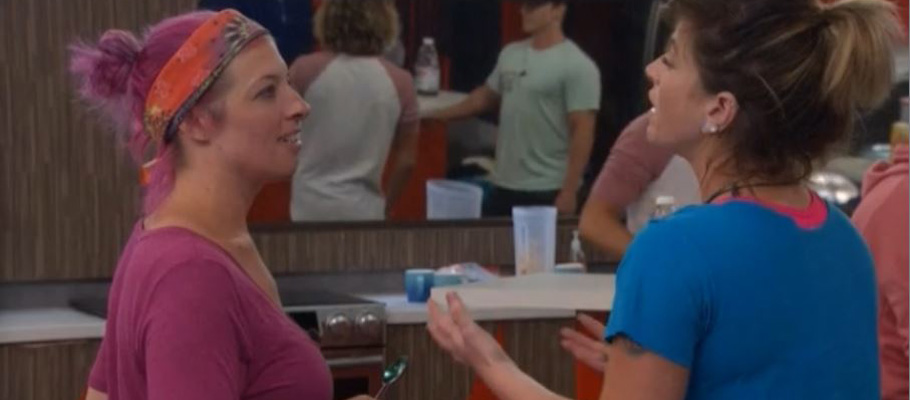 "Sorry, I am just really excited that Brett is here," said Rockstar sheepishly.
Sam asked her to call it a night for everyone's sake and if she wanted to, resume things in the morning.
"You can do it as long as you like but I prefer that you didn't," asked Sam.
Rockstar eventually listened to reason and ended her performance.
Big Brother airs Sundays and Wednesdays at 8 et/pt and Thursdays at 9 et/pt on Global. Watch Big Brother online the day after broadcast on GlobalTV.com/BigBrother or on the free Global Go app for iOS and Android.
CATCH UP NOW: Big Brother Full Episodes – Season 20