Big Brother 20 Spoilers: Hacker Meeting Leads to an Absolute Meltdown
Big Brother 20 Spoilers: Hacker Meeting Leads to an Absolute Meltdown
By John Powell – GlobalTV.com
A Big Brother 20 house meeting held by the hacker led to a nasty war of words between Bayleigh Dayton and Tyler Crispen.
In order to take the perceived heat off of Bayleigh and to clear her own conscience, Haleigh Broucher chaired a house meeting to set things right and reveal that she was this week's hacker.
"There are several people here that owe Bayleigh an apology including myself because last Thursday I won the Hacker Competition," Haleigh admitted.
Haleigh said she didn't nominate Tyler for personal reasons. She did so because Kaitlyn had told her that Tyler had stated nobody would put him up in the house.
"That combined with your four competition wins made you an obvious target," she said to Tyler.
WATCH: Big Brother After Dark Online – Season 20 Full Episodes
Haleigh maintained she never wanted to steal Angela Rummans' power as HoH (Head of Household).
"This has been the only opportunity in this game to make a move and I took it," Haleigh said justifying her overriding this week's nominations.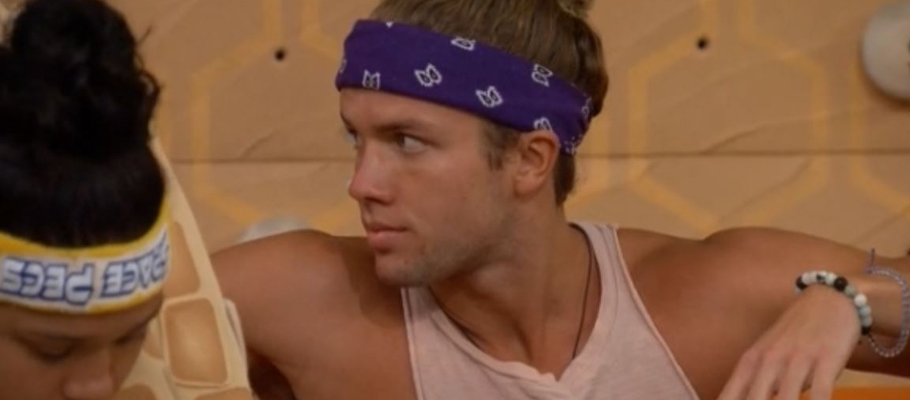 Haleigh said she is not going to let Bayleigh take the fall for what she did.
"I would also like to add that last week Tyler came to Bayleigh and asked that Angela be backdoored," Haleigh alleged as Tyler laughed out loud.
"That is hilarious, dude," he said.
Bayleigh argued that Tyler pushed for Angela to be a replacement.
"Every single person knows that is a lie," declared Tyler.
"Stop. Stop. Angela came to me this morning and literally goes you are the one who got me out of the competition. You are the one who told me to put it in her's and I told you..No. So, for you to throw me under the bus when I have been protecting you the whole time is vicious!" said Bayleigh as her voice grew louder and louder.
"Oh, my god," sighed Tyler shaking his head.
"Why are you treating me like trash? I didn't even come after you! I want an apology! Instead of treating me like f—–g trash!" screamed Bayleigh at the top of her lungs.
"Own it. Why would I lie about that?" said Tyler calmly. He said Bayleigh is twisting things because it was her as HoH who was throwing out all sorts of names as a replacement and Angela was one of those names.
Bayleigh denied that.

"You are caught! The way you treated me this week was trash!" yelled Bayleigh again.
Tyler rejected that notion. He said he never mistreated her in any way. He was just up front with her in saying he was going to vote her out this week.
"You can be a man and apologize to me, right now!" shouted Bayleigh.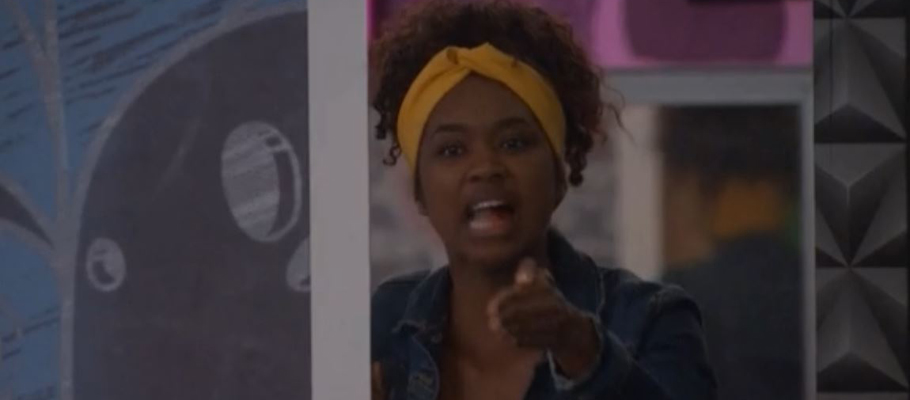 "It is irrelevant," said Tyler. He had thought she was the Hacker and nominated him for eviction. Why would he be happy about that?
"It is not! You treated me like trash this whole week!" Bayleigh bawled.
"It is irrelevant if you were the hacker, Bayleigh," Tyler explained once again.
"Shut up! Shut up! Just shut up!" yelled Bayleigh.
"Okay, respect. Is that what you want?" asked Tyler. "You are screaming at me and she (Haleigh) is the one who did this to you. She is the one who set you up."
Haleigh interrupted ending the meeting but Tyler and Haleigh argued on.
"She was trying to set YOU up, sweetheart," said Bayleigh crouching down and getting into Tyler's face.
"It didn't work, sweetheart," replied Tyler.
"You are over here acting crazy towards me when I literally have done nothing to be nice to you," said Bayleigh.
Bayleigh asked Tyler for another apology. Tyler responded that there was nothing to apologize for.
Bayleigh began screaming again.
"Just because you scream doesn't make it true. You can scream all you want, all day," he said.
"You are such a child. You could have said sorry and it would have been over. I would have forgiven you," she shouted.
"Why would I say sorry?" asked Tyler.
"Everyone has treated me like trash! You still cannot apologize!" Bayleigh yelled some more.
"The more you scream…" said Tyler before he was cut off.
"You are out of control! Shut up! Just shut up!" Bayleigh screeched her voice now cracking.

"There is no reason for me to throw Angela under the bus, Bayleigh. No matter how much you want to scream and yell and throw personal shots at me, I did not do that. Everyone knows I did not do that. You are the one who lied to everyone about not having a power and you got called out about it," said Tyler still not raising his voice at all.
Tyler explained that she got set-up as the hacker.
"Swaggy (Chris Williams) got backdoored and I was left in this house by myself! That's why I got a power! I didn't ask for it! Are you kidding me? You are terrible! You made my life in this house a living hell! You are f—–g terrible!" she screamed before exiting the room and slamming a door.
Earlier in the day, Bayleigh had been set-off and was fuming after her first discussion with Angela since the Veto Meeting.
READ MORE:  Big Brother 20 Spoilers – Nom Explanation Infuriates Bayleigh
Either Bayleigh or Rockstar will be voted out this week.
Reader Alert: Global viewers, on Sunday Aug 12th, Big Brother will be airing at 10 et/pt.
Big Brother airs Sundays and Wednesdays at 8 et/pt and Thursdays at 9 et/pt on Global. Watch Big Brother online the day after broadcast on GlobalTV.com/BigBrother or on the free Global Go app for iOS and Android.
CATCH UP NOW: Big Brother Full Episodes – Season 20