Big Brother 20 Spoilers: Apologies after Veto strategy plays out
Big Brother 20 Spoilers: Apologies after Veto strategy plays out
By John Powell – GlobalTV.com
Apologies aren't enough for one of this week's Big Brother 20 final nominees.
At the Veto Ceremony Tyler used the power to take Angela off the block. Haleigh, this week's HoH, put Kaycee up in her place.
Either Rockstar or Kaycee will be voted out and be joining the jury.
When the live feeds returned, Rockstar was in the backyard fuming.
"F—–g spoiled bitch!" Rockstar said about Angela as she and Sam sat down together.
"Going into next week, Brett and Angela are still bigger targets than you," said Sam.
"If I get to stay. I am still on the block. I am going to give my third eviction speech," said Rockstar tearing up.
Sam assured Rockstar she has the votes to stay.
"You stay positive," said Sam before acknowledging minutes later that she "loved Kaycee so dearly".
Tyler came over and sat down.
"I am sorry you had to catch the heat from that, Rock," said Tyler.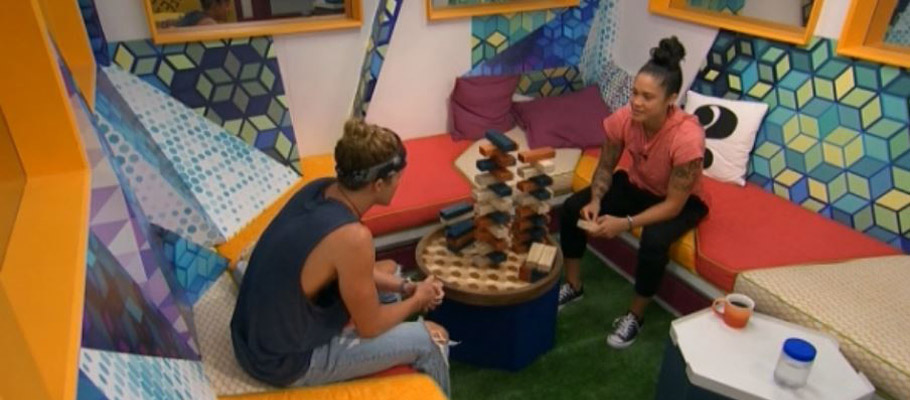 "We're two different people," said Rockstar of her and Haleigh.
"Yeah but I cannot put her on the block," replied Tyler.
"I am sorry. I really am," said Tyler before leaving the two women alone.
Tyler went to speak to Kaycee in the lounge.
"She had to put me up," said Kaycee of Haleigh.
"Because her target has the Veto," laughed Tyler.
"It is a good thing you won that s—t," said Kaycee.
"If I didn't it would have been me and Angela up there for sure," answered Tyler.
Rockstar came in interrupting the conversation.
"Expect the expected in this game," sighed Rockstar when Kaycee asked her if she was okay.
"I wish it wasn't you that got the heat from this but you have Haleigh to thank for it," explained Tyler to Rockstar.
"I don't have Haleigh to thank for it," replied an indignant Rockstar.
"She put me up last week," said Tyler.
"Okay, but I didn't put you up last week," Rockstar replied.
"You want me to put Haleigh on the block? She is HoH," asked Tyler.
Rockstar said she doesn't understand why Angela wasn't kept up so Kaycee would stay.
"That is what I wanted but that isn't for me to decide," said Tyler.
"You are right but I also wanted to stay," said Rockstar.
"I understand that. I also wanted to stay last week when the Hacker put me up," said Tyler emphasizing he using the Veto on Angela was not a personal move against Rockstar.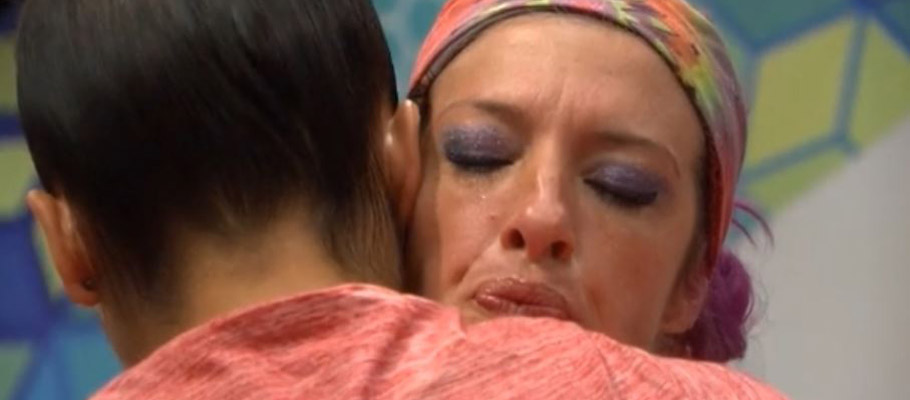 "Well, if you don't mind, I would like to talk to Kaycee alone," asked Rockstar.
Tyler left the room.
"We are not supposed to go home. Maybe you still won't," sobbed Rockstar feeling sorry for herself and Kaycee.
When Rockstar left after their chat, Kaycee spoke to the cameras.
"I am not going anywhere," she smiled.
Tyler entered the lounge and Kaycee gave him the lowdown on what Rockstar said.
"She (Rockstar) was like I am so sorry you are up there. You are not supposed to be the target. It was supposed to be Angela going home. She (Angela) is so entitled. She always gets what she wants," recounted Kaycee smiling saying she is a great actor.
Tyler laughed that Brett has lied to Haleigh saying he is going to vote Kaycee out when he is definitely booting Rockstar for everything that has transpired between them.
Big Brother airs Sundays and Wednesdays at 8 et/pt and Thursdays at 9 et/pt on Global. Watch Big Brother online the day after broadcast on GlobalTV.com/BigBrother or on the free Global Go app for iOS and Android.
CATCH UP NOW: Big Brother Full Episodes – Season 20