Big Brother 19 Spoilers: Paul Scrambles, Initiates Damage Control
Big Brother 19 Spoilers: Paul Scrambles, Initiates Damage Control
By: John Powell – GlobalTV.com
Paul Abrahamian may have won this week's Head of Household but he had a lot to answer for afterwards.
Cornered by Cody, Jessica and Mark after the live show, Paul had to justify why the house voted out Ramses Soto instead of Josh Martinez .
"Please don't attack me because I am not attacking you," Paul said to Jessica.
"I am not attacking you. People didn't give me all the information once again. I was blindsided once again. I knew something was going on," said Jessica.
"He (Josh) didn't know anything. I told him to stop poking and prodding," answered Paul. In reality, it was Paul who unleashed Josh on Jessica, Cody and Mark. Paul insisted the decision to evict Ramses was a split-second decision when it was not.
Cody called Paul "wishy-washy" and Jessica called Josh, "Paul's attack dog."
"I agree with you. Josh is a piece of s—t but Ramses was on everyone's radar for the past three weeks and if we did not pin him down now who knows what could happen? He has no loyalty to anyone and he won the $25,000," said Paul lying about the very first temptation of the season, a temptation which Kevin won not Ramses.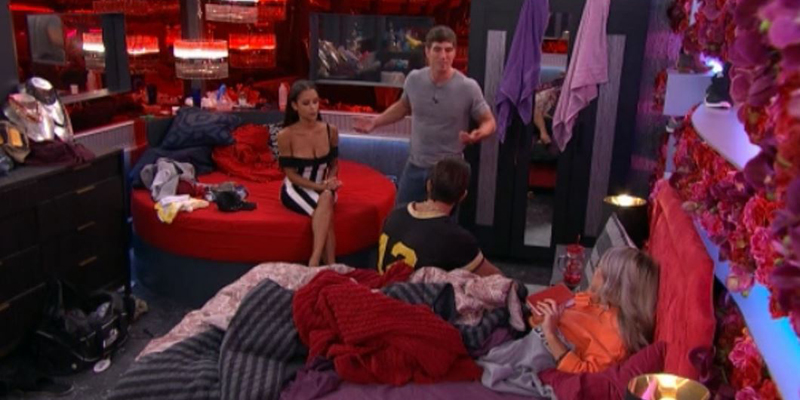 "The fact that you left us out of the decision made us feel like outsiders who are going to get targeted the next week," argued Cody.
The conversation bounced back to Josh's behaviour in the house.
"Josh is doing douchebag things to people like me every single day. Who deserves to be in the house? Someone who is playing the game or someone who is taking low blows at a female every chance he gets?" asked Jessica who insisted seven people lied to her face.
"It wasn't something against you. It was something against Ramses," said Paul.
In one of the bedrooms, Paul also spoke to Elena Davies laying out the same reasoning: Ramses won the $25,000, he was going to ace the HoH competition and he couldn't be trusted.
"I am fine with what happened. What I am not fine about is the fact that people I thought I was close with in this game, I trusted and I thought I was working with lied to my face and didn't include me in any game talk that happened," said Elena sternly. "Just the fact that I was excluded is really irritating."
RELATED: Big Brother 19 Spoilers: House Has Secured Nominations
Paul claimed he was being put in the awkward position of being a bridge between the two sides of the house.
On the live eviction show, Ramses was evicted by a vote of 7 to 3. Cody, Mark and Elena were the three Houseguests who voted the way Jessica wanted them to and evicted Josh.
When host Julie Chen asked Ramses why he didn't campaign, he said he did.
"I feel like I did. I was working really hard. I was making sure that I get those votes but I feel that other people already had really good links they had already been working together since the beginning of this game," said Ramses.
After Paul won the Head of Household competition, Host Julie Chen announced the next twist in the game. Because Jessica accepted the last Temptation a new challenge has been unleashed in the house. For the next three weeks, the Temptation Competition will take place before nominations. The Houseguests will determine if they want to compete or not. The winning Houseguest will be safe for the week while the one who finished last or loses will be automatically nominated as a third nomination for the week.
Watch Big Brother [BB19] online the day after broadcast on GlobalTV.com/BigBrother or on the free Global Go app for iOS and Android.
CATCH UP NOW ON THE LATEST EPISODE: Big Brother Season 19, Episode 14