Bayleigh still waiting for Tyler's apology
Bayleigh still waiting for Tyler's apology
By John Powell – GlobalTV.com
Well, if nothing else, she definitely went out with a bang. Bayleigh Dayton, the former flight attendant, is now the first member of the Big Brother jury. Before she left the house, she gave Tyler a piece of her mind.
During as house meeting Bayleigh insisted Tyler apologize for being upset with her and thinking she was the Hacker who put him on the block. The real culprit was Haleigh. Tyler refused to say he was sorry and didn't think he treated Bayleigh badly at all. That sparked a heated argument between the two and Tyler's decision still doesn't sit well with Bayleigh.
"I definitely deserve an apology because Tyler was wrong. We could have gone further in the game together than against each other. I think Tyler is a young boy who hasn't figured out things in life yet and he will learn very quickly," she told GlobalTV.com
Although she made some controversial comments in the house including calling the other houseguests "crazy white people" and saying – "You can come give me hugs, I am no longer a big scary black lady." – before she left the house, Bayleigh doesn't believe race had anything to do with her eviction.
"I don't feel like race played a role in my eviction. I just think that I come off more intimidating than I think I am and I was a bigger threat to the house than I thought," she said.
As a member of the jury now who does Bayleigh think is outplaying the others?
John Powell: Who do you think is playing the best game and why?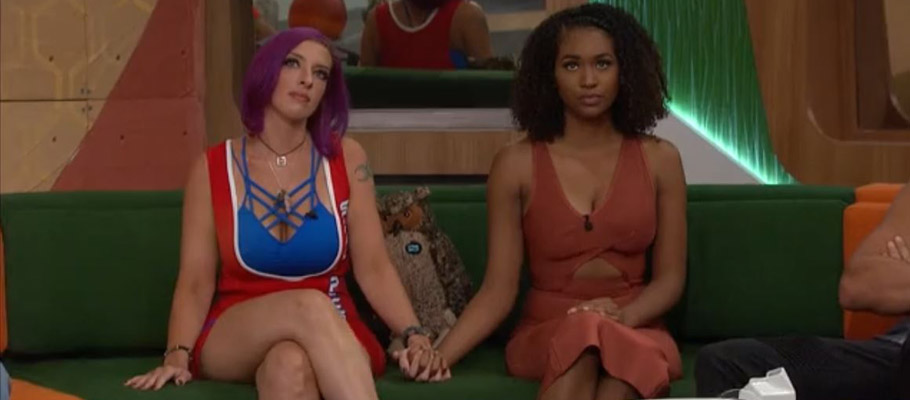 Bayleigh Dayton: Scottie, because he is winning competitions, winning prizes and winning people's trust without anyone suspecting anything of him.
John Powell: How do you feel about Angela's explanation about your nomination the other morning?
Bayleigh Dayton: "I think it was a cop out. I think that she genuinely just found any reason not to trust me. I don't think that she ever wanted me to win."
John Powell: Looking back do you wish you had used your power and when would you have done so?
Bayleigh Dayton: "I think if I would have used my power this week than I would have been exactly the person Angela would have accused me of being: a power hungry person trying to take over her HOH. So, I don't think there was a time to use it without getting myself into more trouble."
 
John Powell: When did you know you were in love with Swaggy and why?
Bayleigh Dayton: "I knew I was in love with Swaggy when he tried to separate from me to save my game and I just couldn't stand to be apart from him. I've never been smitten by someone so fast. I love everything about him."
 
Reader Alert: Global viewers, on Sunday Aug 12th, Big Brother will be airing at 10 et/pt.
Big Brother airs Sundays and Wednesdays at 8 et/pt and Thursdays at 9 et/pt on Global. Watch Big Brother online the day after broadcast on GlobalTV.com/BigBrother or on the free Global Go app for iOS and Android.
CATCH UP NOW: Big Brother Full Episodes – Season 20