Angela: Tyler and I need to clear the air
Angela: Tyler and I need to clear the air
By John Powell – GlobalTV.com
Before there can ever be a future for Tangela, Angela says she and Tyler have a lot to talk about.
"I don't know what our future holds. It is hard for me to speculate right now. We need to have an extensive conversation about some of the half-truths and things he said to me," Angela explained to GlobalTV.com
Angela became the latest member of the Big Brother jury last night when Veto winner Kaycee, the sole eviction vote, chose to send her to the jury and take Tyler into the final three.
During her interview with host Julie Chen Moonves, Angela was made aware that Tyler didn't tell her about the Day One alliance he had with Kaycee and he had "The Cloud" Power App. The night before, Tyler also admitted to Angela that he was a die-hard Big Brother fan. Although she told Julie Chen Moonves the revelations didn't mean that much to her, they do.
"I never told him a lie or held anything back from him. It hurts a little bit so we have to have a conversation before we can clear the air and move forward but I am hopeful. We'll see, so stay tuned," said Angela.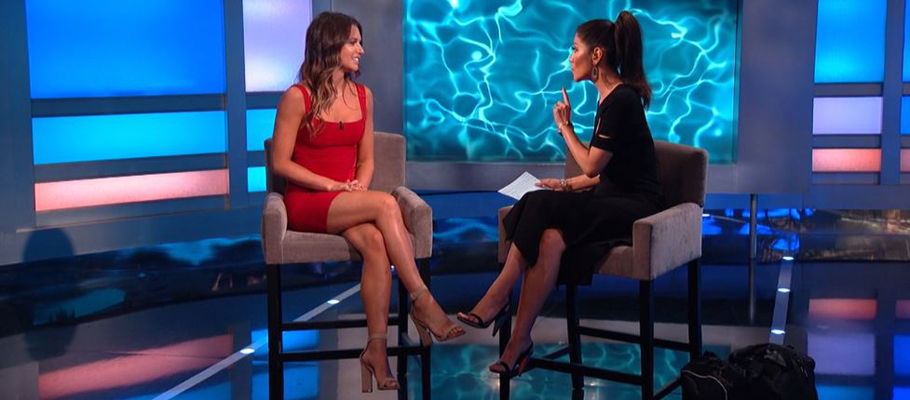 According to Angela, what drew her to Tyler in the first place was their connection to Hilton Head, a resort island in South Carolina. Hilton Head is Angela's hometown and is where Tyler lives now. Speaking about Hilton Head brought a bit of home into the Big Brother house for them both.
"He was such a good person. I knew he was a genuine good soul. He had such positive energy and I always wanted to be around him. There is a lot of negativity in the house so I always wanted to be near him and his positive energy," Angela said of Tyler.
Revealing that her biggest regret in the game was not fighting harder for Sam to use her power app to keep Winston, Angela admitted that if she won the Veto she would have kept Tyler because her relationship with him outside of the game is "stronger on an emotional level".
During her time in the house Angela bore many personal attacks including Scottie making a crude joke about her and Tyler's relationship before he left the house for a second time. The remark didn't impress Angela but she has moved beyond it.
"Honestly, I am the kind of person that will forgive and forget. I think Scottie wanted to go out with a bang and make a bold statement that people would find memorable. I forgive him. I think it was rude but I'm pretty much already over it," said Angela.
Angela took as good as she got though. Some of her goodbye messages to departing houseguests were not very civil, to say the least. Angela is unrepentant.
"When I made a few of those jury goodbye messages I knew there was no salvaging that relationship so I let them know exactly how I was feeling. I don't regret it," she said.
Big Brother airs Sundays and Wednesdays at 8 et/pt and Thursdays at 9 et/pt on Global. Watch Big Brother online the day after broadcast on GlobalTV.com/BigBrother or on the free Global Go app for iOS and Android.
CATCH UP NOW: Big Brother Full Episodes – Season 20