Analyse applauds Tommy, knocks Nicole, Nick and Jackson
Analyse applauds Tommy, knocks Nicole, Nick and Jackson
By John Powell – GlobalTV.com
As a member of this year's jury, Analyse Talavera will be casting her vote for who she thinks deserves the $500,000 grand prize. If she were at the finale today, the college soccer star would be voting for Tommy and not Nicole.
"I think Tommy is playing a great game. He has a great social game which is why he's still going strong and everyone loves him. I think Nicole might be playing the worst game as of now just because it seems like she's not really doing much other than hiding behind Nick and Cliff," she said.
Analyse's game ended when Christie's campaign turned the tables and flipped the house. Part of that was cutting a deal with HoH Jackson which angered Analyse.
"I blame Jackson for putting me up in the first place even after I made a deal and campaigned to him to use the Veto. I also blame Nick for going around and preaching that he made a promise to me to keep me safe," said Analyse making it clear who she blames for her demise.
Fans wondered why Analyse didn't campaign harder against Christie to save her game. Analyse couldn't bring herself to do so.
John Powell: It seemed like you were reluctant to campaign against Christie. Did you see your friendship with her being more important than your game?
Analyse Talavera: "I didn't see my friendship with her being more important. It's just not in my character to bash someone and their game. Someone who is so close to me and has never done anything to me but have my back."
John Powell: Why didn't you counter Christie's Taco Tuesday rant to make sure the votes stayed on your side?
Analyse Talavera: "I didn't know of any way to counter it. Everything she said was true about Nick and who he's protecting. I could have said that I'm not protecting him but no one would believe me because of how close Nick and I were."
John Powell: This may be a forgone conclusion but if you had stayed and won HOH who would you have targeted?
Analyse Talavera: "I would have targeted Jackson. One, because he put me up. Two, because he's a physical threat to my game. Three, because he's in a showmance and if I had stayed in the game longer with them they would have always had each other's backs rather than mine."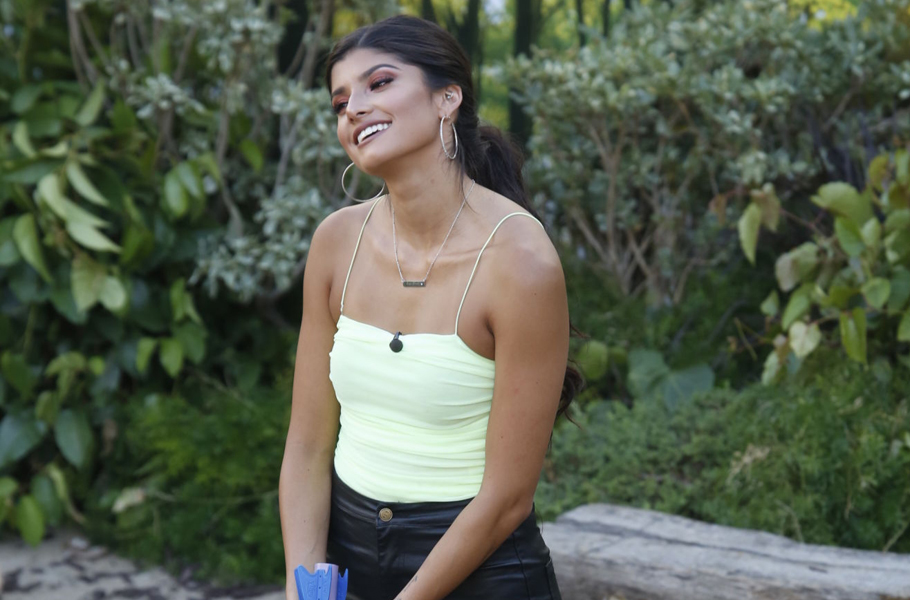 John Powell: What was your strategy going into the house and did it change once you were in the game?
Analyse Talavera: "My strategy going into the house was to have a great social game and lay low then go hard once it was crunch time. The only time it changed was when I was on the block. I wasn't able to lay low anymore. I was the center of attention and had to game hard to save my life."
John Powell: Being an athlete did your performances during the challenges disappoint you in any way? What was the most challenging one or one you enjoyed the most?
Analyse Talavera: "I think I did really well in the competitions that were designed for athletes, like all the endurance competitions. I have a really bad memory so I'm not surprised that I was horrible at the memory competitions. The hardest one was the Slip and Slide. I felt like a hamster running on a wheel and going nowhere. The most fun but also super challenging was the Pose in Ivy one. It showed me how much mental toughness I really have."
John Powell: If you had gotten to the end what would your pitch to the jury have been?
Analyse Talavera: "My pitch would have been I played an impeccable social game and I was a strong and true competitor. I stayed loyal to my people I started the game with. Even though it's so easy to jump ship to other sides when they are in power, I stayed loyal to my side. I stayed true to who I was throughout the whole game."
John Powell: As a member of the jury what are the attributes you will be looking for in a winner?
Analyse Talavera: "I am looking for someone who was loyal to their people and someone who had a great social game and someone who was a great competitor."
John Powell: Who do you hope follows you into the jury house next week?
Analyse Talavera: "I really hope Jackson follows me because I'm still salty he sent me home and because the showmance needs to break up if people want to move ahead  in the competition."
Big Brother airs Wednesdays and Thursdays at 9et/pt and Sundays at 8et/pt on Global TV.
Return to Global TV for all of the latest Big Brother news and episodes.