Week number three already! It's been a heck of a ride so far. This past week had a lot to offer: Donald Trump, social justice and lots and lots of content on the Pope. Here are the ten best moments of week three of The Late Show with Stephen Colbert!
10. Pope toss
After dancing with his life-size cardboard cutout of Pope Francis, Stephen had no more use for him so backstage he went!
9. The Hughs of the Global Poverty Project
It's a Hugh deal. Joking aside, Hugh Evans and Hugh Jackman came on the show to promote the Global Poverty Project and global citizenship. These Aussies are out to make the world a better place! The annual Global Citizen Festival will occur on Sunday September 26 in New York City, and will be hosted by our very own Stephen Colbert and Hugh Jackman.
8. Stephen Curry admits to playing himself in NBA videogames
But seriously, who wouldn't?
7. Jon Batiste releases his Late Show tell-all book
 In a heartfelt and endearing bit, Stephen questions bandleader Jon Batiste about his new book – a tell-all about the past two-and-a-half weeks of being on The Late Show with Stephen Colbert.
6. Pope panel
Thursday's "very special show" was a very Catholic show to commemorate Pope Francis' visit to New York. Stephen had a panel of Catholic celebrities to discuss the Pope's visit, Catholicism in America and where the church is headed. The panel included journalist Maria Shriver, comedian Jim Gaffigan and author Andrew Sullivan.
5. A friendly game of "Trump or Colbert"
Donald Trump was challenged to a game of "Trump or Colbert." He had to guess if the absurd quote presented was said by himself or by Stephen Colbert's conservative parody character. Trump did surprisingly well.
4. Stephen sets a precedent for how his guests are to be treated
When Ted Cruz was on Monday's show, he danced around his opposition to gay marriage, despite Stephen trying hard to pull it out of him. The audience began to boo, but Stephen halted it, and in a pleasant display of journalistic integrity said to his studio audience, "However you feel, he's my guest so please don't boo him."
3. Dung of the devil
Pope Francis has been quoted as calling rampant capitalism "the dung of the devil." It turns out "Dung of the Devil" was the name of Stephen's high school metal band.
 2. This Donald Trump GIF
There are no words.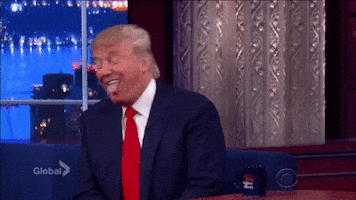 1. Malala Yousafzai explains how to treat people
The inspirational Nobel Peace Prize winner talked to Stephen about forgiveness, the golden rule and how we should all treat each other.