My, my how the weeks fly! Earlier this week was the first monthiversary of The Late Show with Stephen Colbert – that's celebrating one month of being on the air, from September 8 to October 8! Has it been that long already? It seems like just yesterday we were teased with a preview of George Clooney's fake movie Decision Strike, or that Stephen was arbitrarily yelling "Jeb!" (though to be fair, he was arbitrarily yelling "Jeb!" yesterday). All that to say, here's another top ten best moments of this past week!
10. John McCain, the jokester
When US senator John McCain was sitting across from Stephen, he unexpectedly fired off a few zingers! Look out Stephen, someone might be gunning for your job!
9. Didgeridoo
On Thursday, Stephen brought a didgeridoo on his show as a prop for his new segment, "Digital Doo." When the Australian actress Cate Blanchett sat across from Stephen that evening, she was impressed – and Stephen had to oblige her with more didgeridoo!
8. Coining the phrase "You bet your olives!"
Face it; "you bet your olives" is probably going to catch on faster than you can say "but that colloquialism doesn't make any actual sense."
7. Song and dance with James Corden


The host of The Late Late Show stopped by to sign and dance with Stephen (among other things). It was wonderful and lovely and heartwarming!
6. Return of the big furry hat
Not since Stephen's first episode have we seen the big furry hat – a hat that, when it descends from the ceiling and rests atop Stephen's head, Stephen has the power to denounce all social contracts and make people eat their words, as well as clearing up some eternal questions.
5. Audience goat


There was a goat in the audience. It was really cute, but Stephen screamed at it until it left, over the curse of the billy goat that was placed on the Chicago Cubs in 1945.
4. Ear wink


Stephen can do this. Have you ever met anyone able to do this?
3. Stephen tackles a robot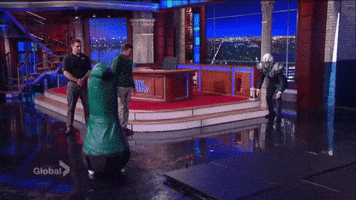 The Dartmouth College Football Dummy – basically a padded robot on wheels – came by for a visit. And what does Stephen do to show his appreciation? He tackles it! Some way to treat a guest.
2. Stephen takes a polygraph test
Stephen needed to find out "who am me." Is he really Stephen Colbert? He thinks so, but he has to know so – so, he takes a polygraph test, to truthfully find out if he is Stephen Colbert.
1. Yo-Yo Ma performs with Stay Human


World-renowned cellist Yo-Yo Ma sat in with Stephen's house band Stay Human. Like they're not already good enough, but having Yo-Yo Ma did class up the joint a bit. Look at him rock out!
Another amazing week! Be sure to tune in for the next one, airing at 11:35 et/pt on Global!