It's Friday again, and time to honour another list-worthy week of The Late Show with Stephen Colbert – with a list! If you don't know how this works (David Letterman who?), the following list is of the ten best things to happen this past week, and yes, it's in order – one being the very best, and 10 being the sort-of best.
Now that you've had what a list is unnecessarily explained to you, here it is, the top ten best things to happen this week on The Late Show with Stephen Colbert!
Vlad vs The Internet
Stephen suspects that Russian leader Vladimir Putin is up to no good – with his sights focused on The Internet.
Desk cat
Fearful that Russians will cut the under-water Internet cables, Stephen created an emergency Internet-outage bag. It includes a picture of a baby to replace Facebook, printouts of racist comments to replace Twitter, but most importantly, a cat in a tuxedo to replace YouTube.

Stephen's Banderas
Antonio Banderas was Stephen's guest on Tuesday, and to honour his presence during the monologue, Stephen did his very short impression (yep, that's all there is):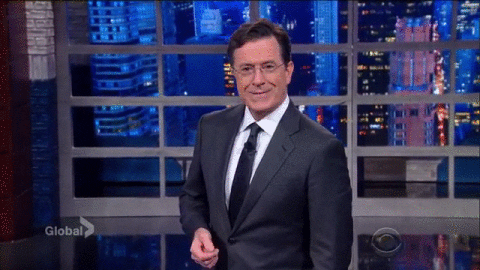 Elizabeth Gilbert's creative inspiration
The author of Eat, Pray, Love gave Stephen – and anyone else who tuned in – some incredible advice regarding creative energy and inspiration. Got a project on the go? Take some words from Elizabeth Gilbert!
Stephen's adorable slip-up
While trying to say the word invisibility (speaking of the infamous cloak from beloved book series Harry Potter), Stephen stumbled quite considerably (he eventually did say the word, in its entirety, without problem):
How Stephen treated Donald Trump's book
Seems appropriate.
Hanging with Stephen and Jon
Before The Late Show premiered in September, Stephen visited bandleader Jon Batiste and his family in New Orleans – and of course, they filmed it. Taking Stephen through his old stomping ground, Jon taught Stephen the intricacies of hangin'.
Bryan Cranston doing "Big Questions with Even Bigger Stars"
Ah, the ol' tartan blankey. Bryan Cranston lies back with Stephen and gazes into the fake studio stars as they share non-sequiturs. Very funny, very watchable, very Cranston and Colbert!
Paul Dinello and Stephen share a tender moment
Stephen's old friend and former Second City companion Paul Dinello came out to help him explain that Twitter's new "like" feature, being a heart icon, won't make you gay – and that you shouldn't be using that word as a pejorative, anyway.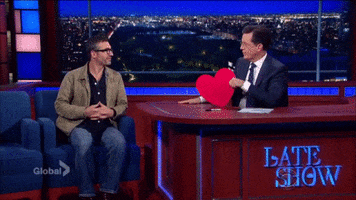 James Bond tries to rent a car
Daniel Craig was Stephen's guest – and when you have James Bond as a guest, you force him to do a sketch as James Bond in a ridiculously mundane situation. Here he is going through the tedious and awkward experience of renting a car – a thing that he frequently and thoroughly destroys:
It was a really great week, wasn't it? Tune in for another one, back again on Monday at 11:35 et/pt on Global!